In her debut book, American sleep consultant Kerry Bajaj stresses on the importance of sleep routines for children, and how parents can help achieve them.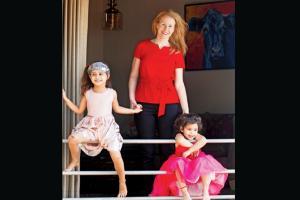 Kerry Bajaj with daughters Leela and Rumi at her Juhu residence. Pic/ Ashish Raje
Before we talk about her newly released debut book — Sleep, Baby, Sleep, (HarperCollins India) — Kerry Bajaj maintains that she didn't lose sleep over writing it. But her sleep cycle was certainly affected after her second daughter, Rumi, was born. Having lived in New York, the holistic nutritionist had to move to Mumbai in 2016 when Rumi was six months old as part of husband and bestselling author Karan Bajaj's job. But since sleep had been a "love language" for the family, they managed to correct it. Now, the two daughters — Rumi is three and Leela is five — enjoy sound sleep from 7 pm to 7 am in a city that never sleeps.
Leela and Rumi's bedtime routine certainly attracted eyeballs at the playschool they went to. Bajaj says she started getting phone calls from strangers asking her how she managed to do it. "I then said to my husband, 'This is a book.' You can't help anyone with their sleep with a five-minute conversation because it affects everything — micro-decisions like 'should our kid enrol in ballet class that starts at 5 pm?' The answer is no," she shares. Her book has garnered praise from celeb moms like Sunny Leone, Gul Panag, and Soha Ali Khan.
ADVERTISEMENT
Bajaj begins by explaining how sleep enhances various aspects of your life by touching on topics like brainpower, immunity, mood and family harmony. Then, she delves into the Indian context where co-sleeping and bed-sharing are a common phenomenon. The title reads like reportage; the author has interviewed health experts and parents, too. "I worked with Dr Frank Lipman in New York for over five years. I learnt the gift of simplifying information from him enough so that patients don't feel overwhelmed to take action," Bajaj, 38, says, adding that her first job at a publishing house also helped her understand what structure the book needed. Sleep training, she says, makes for the juiciest conversation. "New parents have that glazed look in their eyes while talking about it; it's like reminiscing about climbing the Kilimanjaro."
It's a wrap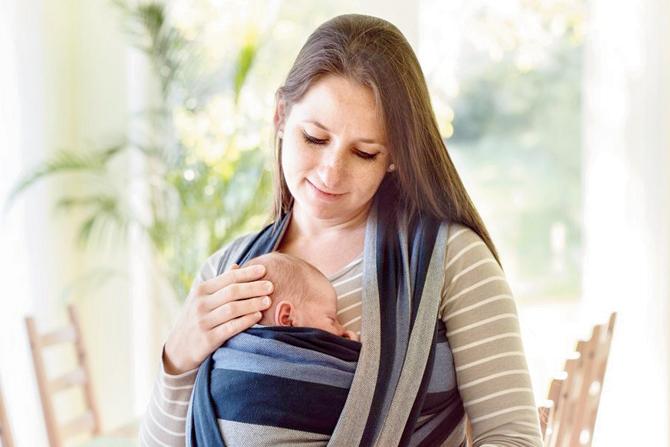 Bajaj writes that the bouncy womb sensation is important to babies, and baby-wearing helps facilitate bonding between parent and child. She used a cotton sling for her newborn daughters and switched to a structured carrier after three months. For uninterrupted sleep, she advocates a massage, bath, music and a "sleep smell" — a scented organic lotion for instance. She advises parents to not be worried about babies getting addicted to this support during the time.
Variety matters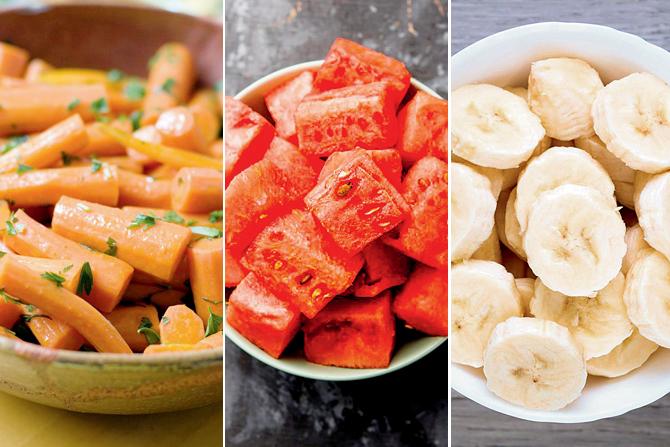 When it comes to self-feeding, Bajaj recommends a platter comprising slices of banana, steamed carrot, watermelon, hard-boiled egg or omelet — thus exposing them to various tastes and textures. She also follows a principle called "Division of Responsibility in Feeding" drawing from Ellyn Satter's Child of Mine. The parent decides the content, location and timing of the food while the child handles how much and whether they eat.
Swaddle away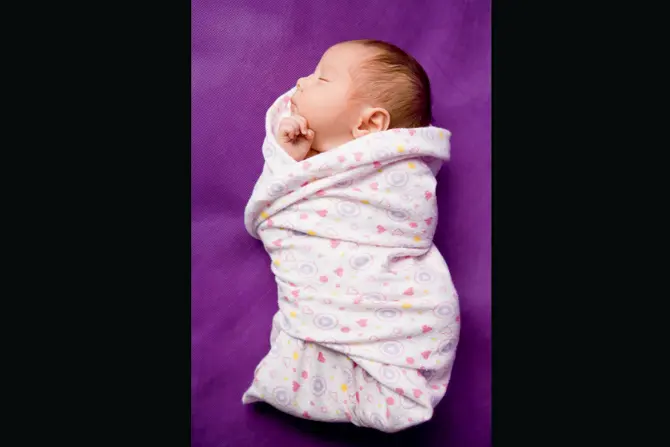 In order to restrict the newborn's limb movements as they get adjusted to life outside the womb, swaddling involves wrapping infants in thin blankets. Bajaj advises a breathable fabric like a muslin blanket or a velcro swaddle for easy operation. Swaddle only for naps and night sleep. Make sure that the head isn't covered. "Putting the babies to sleep in a sleep sack [wearable blanket] can also be really helpful. It helps them feel cosy and when they get older, keeps them snug so they don't climb out of the cot," she says.
Handy tools
A baby monitor not only helps parents track their baby's sleep activity, but also gives them a sense of security. On a holiday, Bajaj used WhatsApp video chat as a makeshift baby monitor. Another helpful tool is a white noise machine that generates noise having many frequencies with equal intensities, which has a calming effect. Bajaj also uses a free white noise app called Sleep Pillow. She has also outlined sample daily routines for age-appropriate sleep patterns in the book.
Baby dos and don'ts
Always talk to your paediatrician about your baby's weight gain and breastfeeding. After the first six months, if your child is following a healthy growth pattern, you can stop waking them up for feeds — most of the calories can be taken during the day. Sometimes you might mistake a growth spurt for a feeding-sleep association, ie if the baby is being fed at bedtime and wakes up during the sleep cycle, the only way they know how to fall back to sleep is via feeding. So, you might end up with a baby that is reverse-cycling.
Your sleep quality is as important as your child's. If the baby is occupying a large portion of the bed and making you uncomfortable, you need to reconsider your set-up. Maybe, add a bolster.
There is a difference between a want and need. Although your child may think they want something, you as a parent have to exercise your critical thinking.
Catch up on all the latest Mumbai news, crime news, current affairs, and also a complete guide on Mumbai from food to things to do and events across the city here. Also download the new mid-day Android and iOS apps to get latest updates
"Exciting news! Mid-day is now on WhatsApp Channels

Subscribe today by clicking the link and stay updated with the latest news!"
Click here!