A virtual talk will deep-dive into the city's pre-Portuguese history, shedding light on the rule of the Shilahara dynasty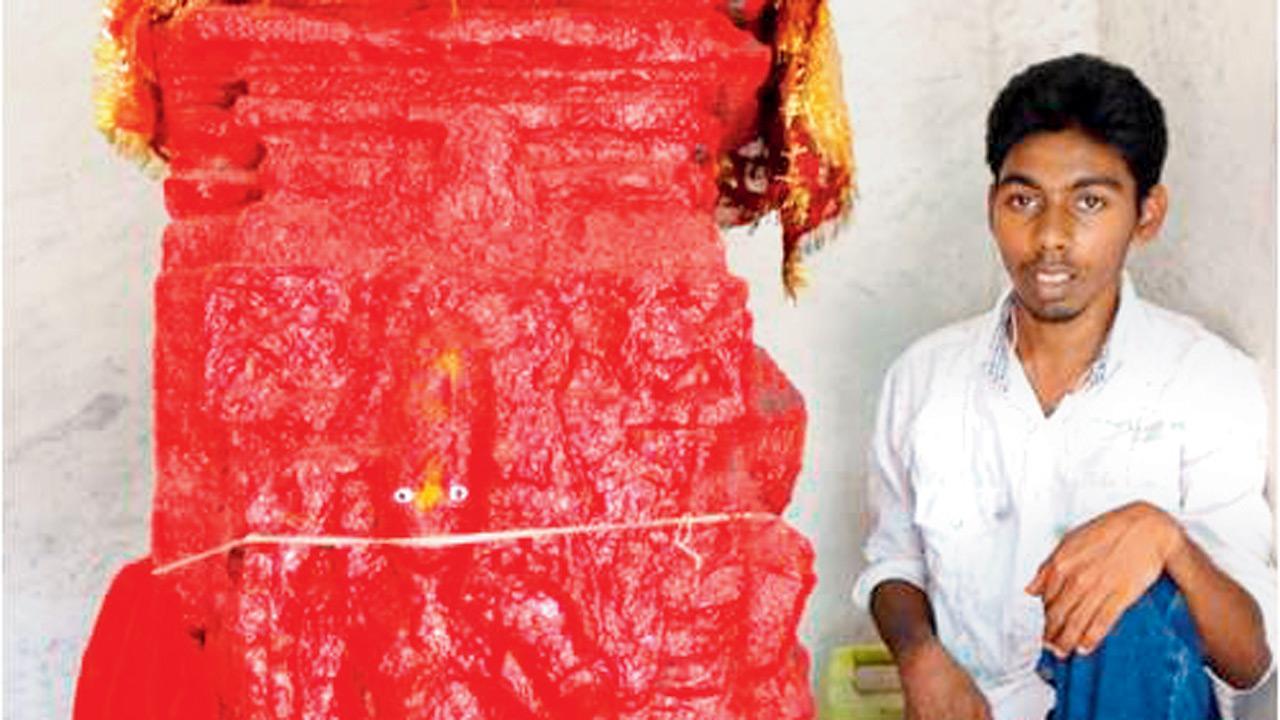 A fragment of a pillar worshipped even today in Marol dating back to the Shilahara dynasty
We have been learning from our childhood that Mumbai, as we know it today, came into existence after the Portuguese descended here [in the early 1500s]. But within the boundaries of the city, we have several antiquities dating back to the pre-Portuguese period. Then the question arises, from where have these come?" shares Dr Suraj Pandit, head and associate professor, Department of Ancient Indian Culture and Buddhist Studies at Sathaye College. And, in an upcoming lecture hosted by Chhatrapati Shivaji Maharaj Vastu Sangrahalaya (CSMVS), Dr Pandit will delve into the pre-Portuguese urban history of Mumbai, vis-à-vis the Shilahara dynasty.

A fragment of an inscription from Mulgaon, Marol. Pics Courtesy/Dr Suraj Pandit
ADVERTISEMENT
Titled Shilaharkalin Mumbai or Mumbai during the Shilaharas, the talk in Marathi and English is going to highlight the "Golden Age of Mumbai's pre-Portuguese urban history", which was witnessed during the rule of the Shilaharas. "There were various royal branches of the Shilahara family ruling in the Maharashtra-Karnataka region from 10th to 13th century CE. One of them was from the north Konkan region, and their capital was Thana [today's Thane]. Initially, they were feudatories of the Rashtrakuta dynasty, but then later, they became independent rulers. Their rule was brought to an end in 1265 by the Yadava dynasty," explains the professor, who has written the book, Mumbai Beyond Bombay, which details the rich, pre-Portuguese history of the city.

Dr Suraj Pandit
The Shilaharas played a crucial role in promoting the region as a centre of art, learning and culture, apart from politics; even king Aparaditya had penned a commentary on the Dharmashastra, titled Apararkatika. "This was the period in which urban centres such as Thana, Marol and Mahim cropped up. People were experiencing a prosperous life, as reflected in archaeological and literary remains of the region," Dr Pandit informs us. He will also be referring to, and presenting glimpses of antiquities from the era that have been found in Thane, Marol, Mahim and other suburbs. "We'll trace the cultural life of people during the 10th century to 13th century period," he signs off.
On: Today, 5.30 pm
Log on to: @csmvsmumbai on Instagram to find the Zoom registration link