At the recent House of Gucci UK premiere, Jared Leto sported a heart-shaped clutch, white nail polish and sparkling jewellery. Here's our guide for men on how they can get the gender-bending look right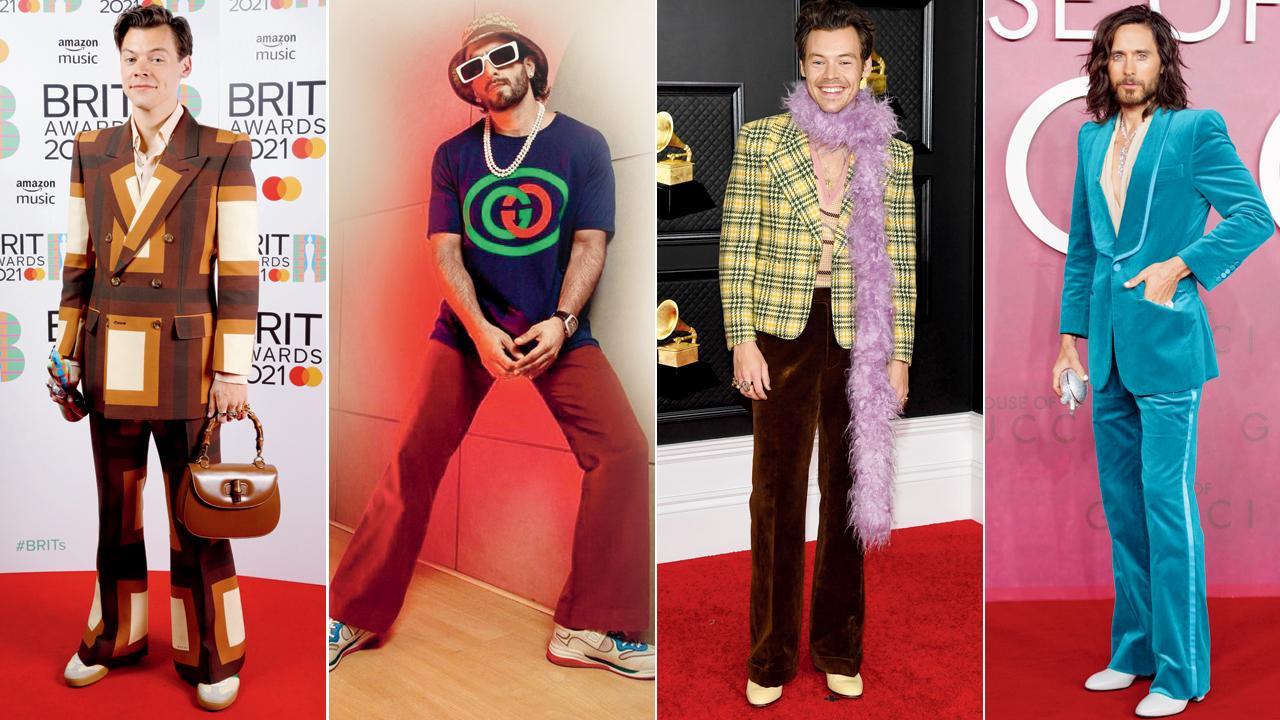 Harry Styles with a murse; Ranveer Singh sports a pearl necklace; Feminine accessories create a stylish contrast in neutral looks; Jared Leto at the movie premiere. Pics/Getty Images, Instagram
You don't have to look too far on the Internet to spot Lady Gaga mouthing the iconic one-liner 'Father, Son and House of Gucci' in promotions for the upcoming biopic. But at the recent UK premiere of the film, it was her cast member Jared Leto who upped the fashion stakes in a teal velvet suit, which he accessorised with a lot of bling, including a diamond pendant, a chunky diamond ring and a silver clutch shaped like a human heart. Rounding off his look were white-heeled boots and matte white nail polish, which brushed aside any residual remnants of the (now-outmoded) notion that these accessories are intended to be worn only by women.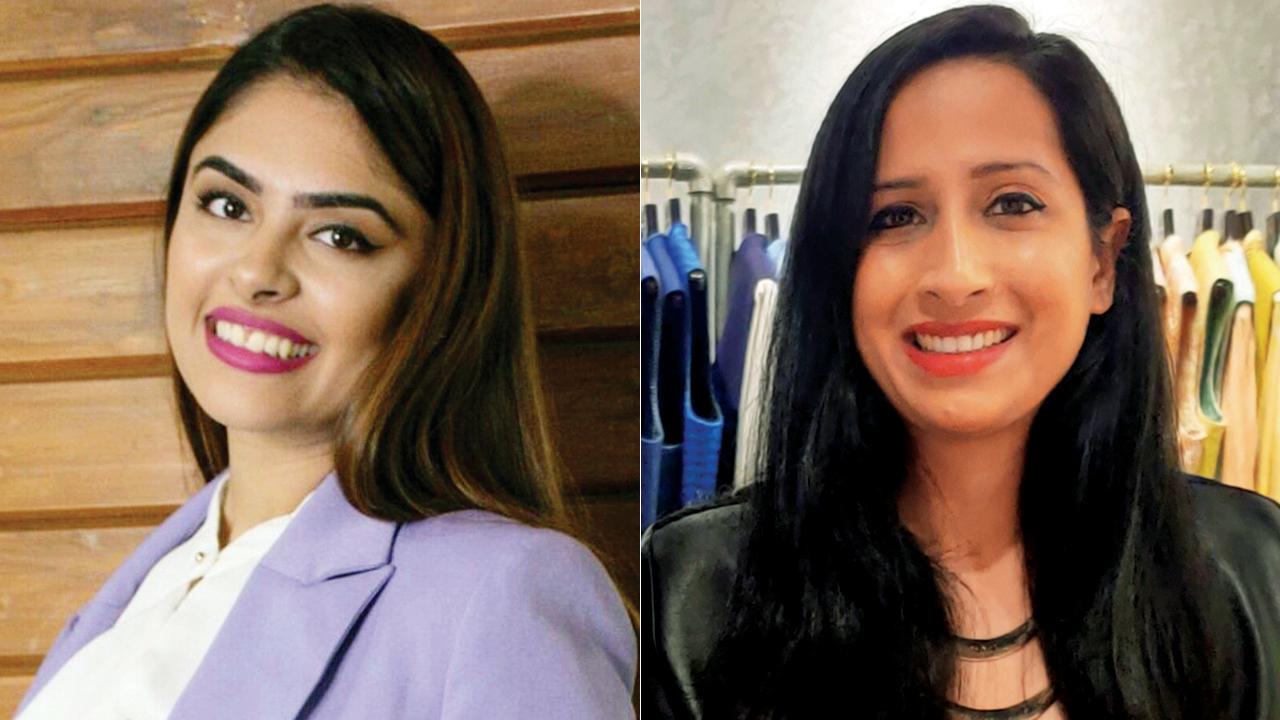 Mihika Bhanot and Sanjana Bubber
ADVERTISEMENT
"It's becoming increasingly clear, at least in the world of fashion, that the boundaries of gender and sexuality are being challenged to greater lengths by fashion-lovers who place their individuality before stereotypes. Accordingly, we're seeing women gravitate towards more structured clothing and accessories, such as blazers or chunky sneakers, for instance, while men are adopting elements of women's wear into their wardrobes. It's a very exciting time for fashion as there was always this chasm between men's wear and women's wear, which has now become the focal point for designers and fashion-conscious dressers alike, as is evident in the rise of androgynous or gender-fluid trends," explains Sanjana Bubber, a fashion designer. She points out that style icons such as Harry Styles and Ranveer Singh are bringing such trends into the mainstream and popularising them. 
Strike a balance 
When it comes to accessories, Bubber believes that the key is not just choosing the right pieces but also styling them well. "The trick is to pick two or three statement-making focal points and keep the rest of your outfit relatively neutral. So, if you're wearing sparkly jewellery, pair it with neutral clothes. The idea is to break up an outfit that is conventionally masculine with feminine elements," she explains. Another good way to break gender norms is with bold prints — you could, for instance, wear a paisley-printed suit and pair it with a shirt or pocket square in a clashing print. In doing so, you are taking a masculine silhouette and adding a gender-bending element, in the form of prints, she adds.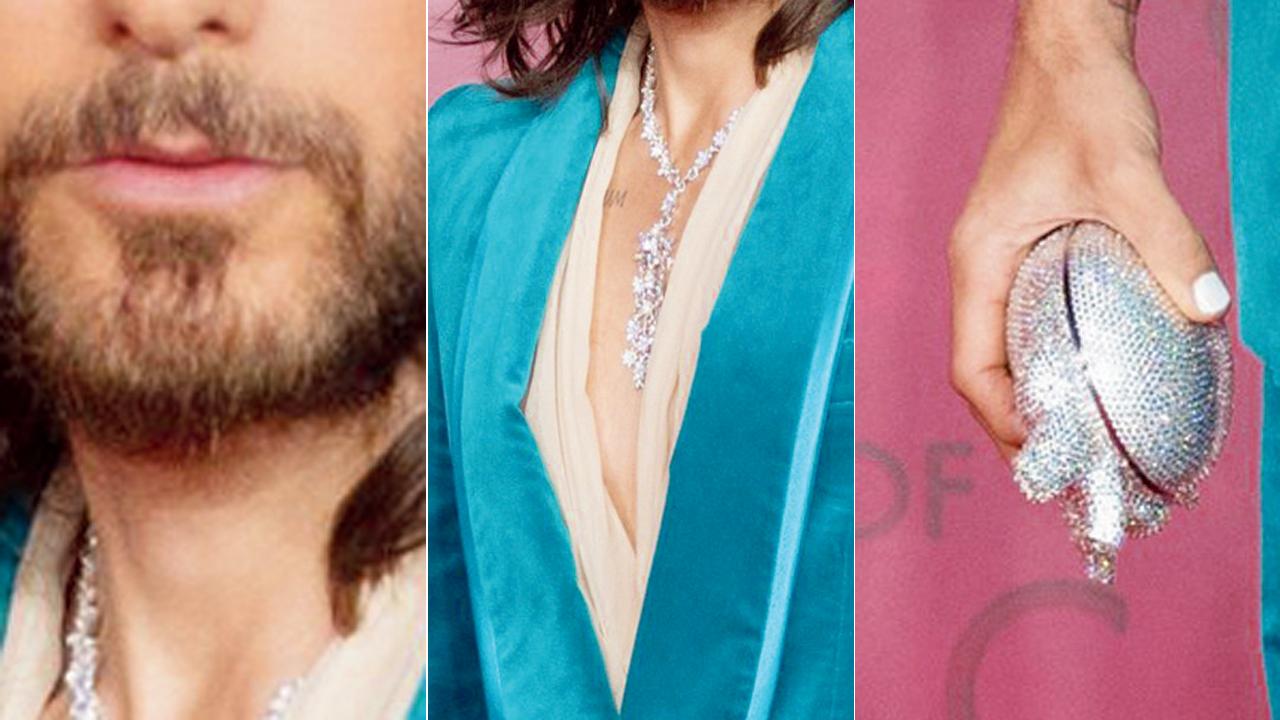 Glossy lips soften your look; layer blingy necklaces and a sparkly clutch makes a statement
Bling is in 
Chunky gold necklaces can easily be paired with a variety of looks, as can pearls, says Bubber. Similarly, sparkly rings, brooches, cufflinks, and tie pins help to break the monotony of formal suits. You could even experiment with floral designs to convert these accessories into statement pieces. "Glitter or rhinestones can be incorporated into your apparel or even your footwear to soften your look. Sparkly patches near your cuffs or running down the sides of your pants work well for occasion-wear," advises image consultant and personal branding expert Mihika Bhanot. While wearing brooches, she advises pinning them to your lapel, on the other side of your pocket square. Another way to work bling into your outfit is with chunky, shiny watches, she points out. For risk-takers, she advises wearing glittery ear cuffs that can be clipped onto your ear. If you have pierced ears, dangling earrings make a stylish statement — these often have anchors or crosses or other masculine charms attached to them, which add balance to your look, she says. Stacking multiple bracelets on one wrist can add colour to your look and soften masculine silhouettes.  
Bag's the way 
Bubber points to the invention of the murse, a portmanteau of man and purse, to highlight the growing popularity of bags for men. "In addition to satchels and cross-bodies, clutches are now taking centrestage on the red carpet," she shares. To add more character to your hold-all, Bhanot suggests knotting a brightly printed scarf on the strap. 
Nails and lips 
Thanks to pop icons such as Styles and A$AP Rocky, nail art is no stranger to the red carpet. For more versatility, Bubber recommends that you stick to neutrals (black, off-white and taupe) for your tips. Bhanot adds that glossy lips are another fashion do for gender-bending fashion lovers. "Glosses with a light tint of colour can instantly brighten your face and add softness," she points out.