In a new book for children, Jerry Pinto uses episodic flashbacks to paint a sensitive, life-sized canvas about Mehlli Gobhai, his friend and acclaimed abstractionist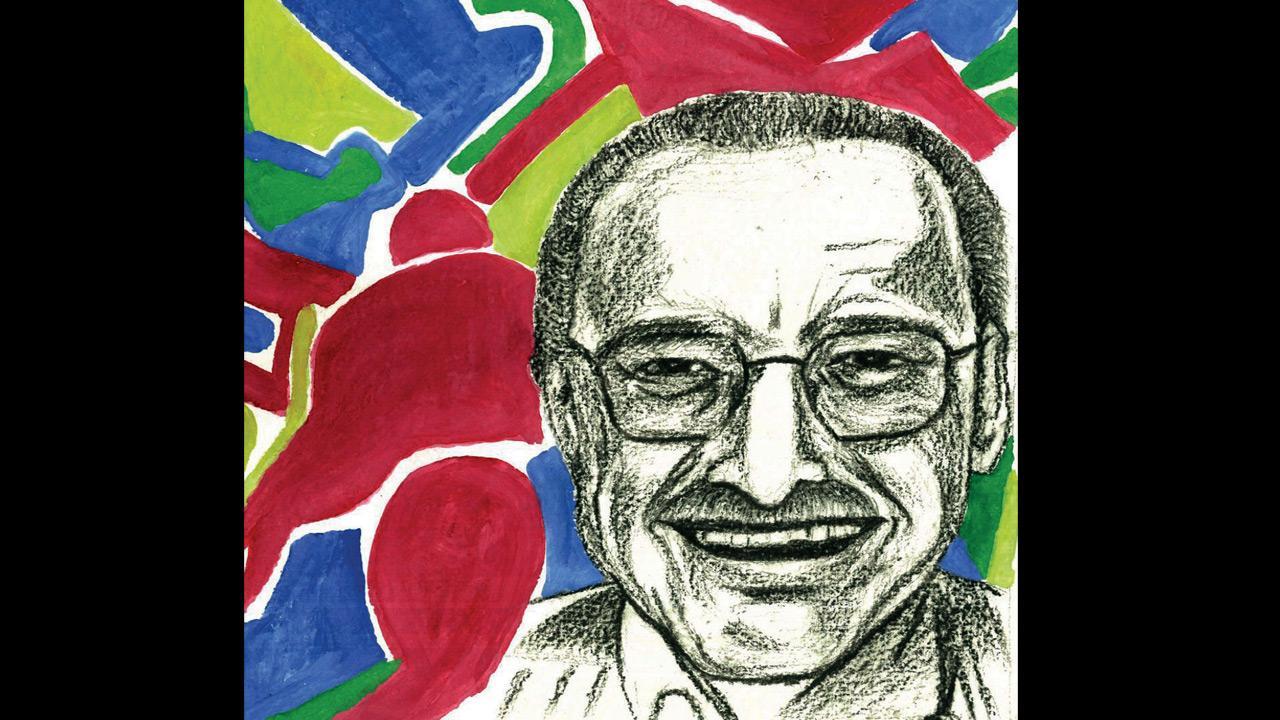 Portrait of Mehlli Gobhai by Kripa B. The reader will appreciate the subtle palette, attention to detail and gentle strokes that bring Mehlli's story to life
There is melody, as well as melancholy that you experience when you turn the pages of The Secret World of Mehlli Gobhai: The Man Who Found Art Everywhere (Pratham Books). Written by Jerry Pinto and illustrated by Kripa B, this new title will draw the reader towards unknown aspects in the great abstract artist's life; simple episodes and elements that moved and inspired him to create exceptional art. Pinto evocatively brings to the fore aspects and anecdotes of his life as only a friend can. And so, we too as readers are privileged to access this special bond and journey. Excerpts from an interview:
What was going through your mind when you began to write this special book about your friend, Mehlli Gobhai?
In many ways, walking the streets of Mumbai or the bylanes of Gholvad was part of my ongoing sentimental education. Each time we talked, I came away with another perspective: gravity as the enemy of the body, dragging everything down; the melodrama of the arrival of the monsoon; the colours of death in nature… I wanted to share how a 30-year-old man could become a child when confronted by genius.

Untitled, lithograph, year unknown. Explaining this abstract artwork by Mehlli, Pinto asks the reader if they can see the Nandi Bull, the mount of Lord Shiva, and to look out for the horns and the bump
In what way will this book inspire young impressionable readers (and aspiring artists) to pursue their dreams, and think and create freely?
I hope this book will work book magic. And that is a unique sort of alchemy which involves two unknown factors. Every author thinks s/he knows the book that s/he had written. S/he doesn't. She only knows the words; the magic begins when the book floats free and encounters the reader. Then the reader makes of the book what s/he needs and a new book emerges. The lovely thing about writing for children is that you are dealing with a community that has not lost faith in the possibility of everyday miracles and so is even more open to book magic.
Be it his reasoning about mistakes, why murky streams are better or leaving every canvas untitled, these beautiful recollections offer insight into Mehlli's life and his thought process towards art. How did you zero in on these specific moments while piecing this book?
It was so difficult because there were so many ways in which Mehlli could surprise you. I remember when I had bought material for a kurta, an indigo print. He looked at it and said, 'Yes, yes,' in a meditative sort of way. He flipped it over and there suddenly we both saw another beauty, the floral patterns only suggested, the colours muted. 'Yes, yes,' I said and had it stitched that way. Mehlli had a whole series of notebooks in which he copied down things from art books and magazines. It did not matter that he owned those books and magazines. By writing them down, by copying them, he made them his own; he re-experienced the magic of words. And that was what made him a special friend: that he responded to the magic of language but had mastery over another language: colour. Oh and yes, he was a magnificent dancer too. He learned how to dance the tango and when the course was complete, he and his partner had to hold a vinyl record between their thighs and finish the entire dance without dropping it. Pushpamala N cast him as the slick operator in one of her photographic creations.