Are you going the eco-friendly way with your Ganpati celebrations this year? Start with shadu maati idols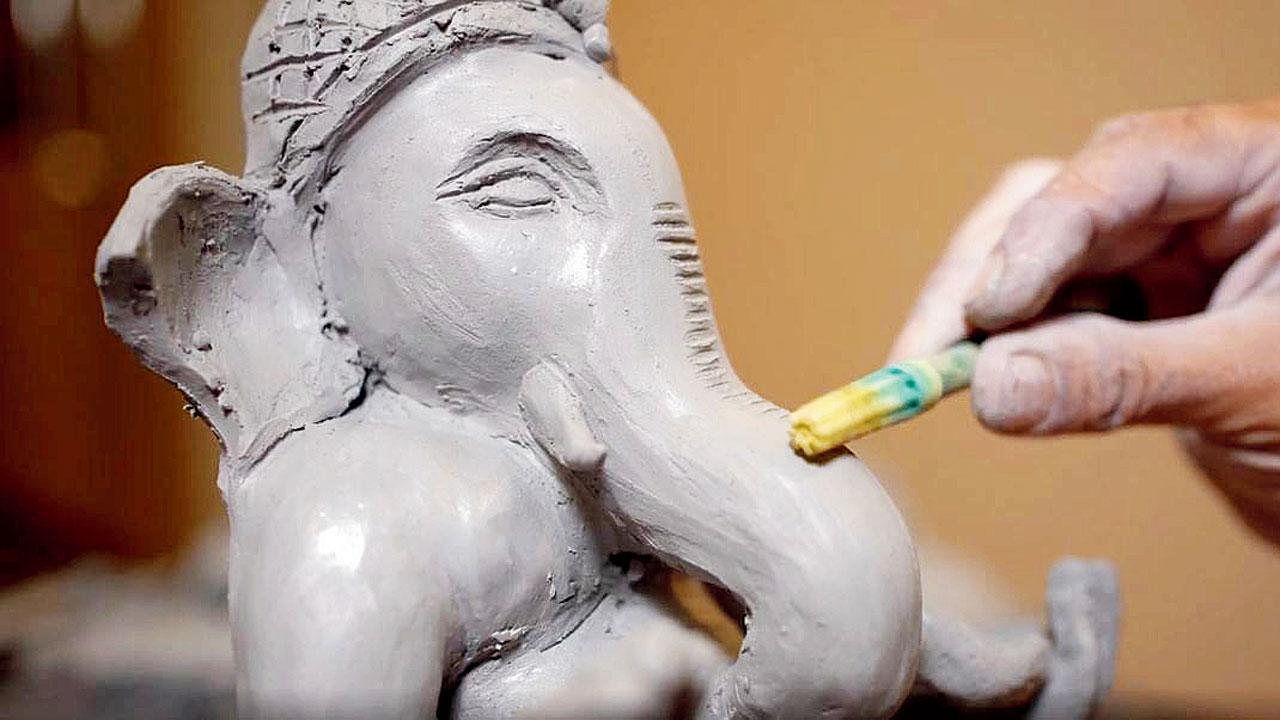 In a video tutorial accompanying the kit, Anand Tambat demonstrates how to carve the sculpture
Every Ganesh Chaturthi, the switch from plaster of Paris (PoP) to eco-friendly idols has been a challenge, not just due to higher costs of sustainable materials but also because of the convenience of transportation of PoP sculptures and the demand for it. A green option that is available, although not as widely as PoP idols, is idols made from shadu maati, which is natural clay found on the banks of rivers. Shadu maati idols, while water-soluble and non-toxic to the environment, are heavy and more susceptible to breaking, becoming a difficult alternative for artisans to switch to.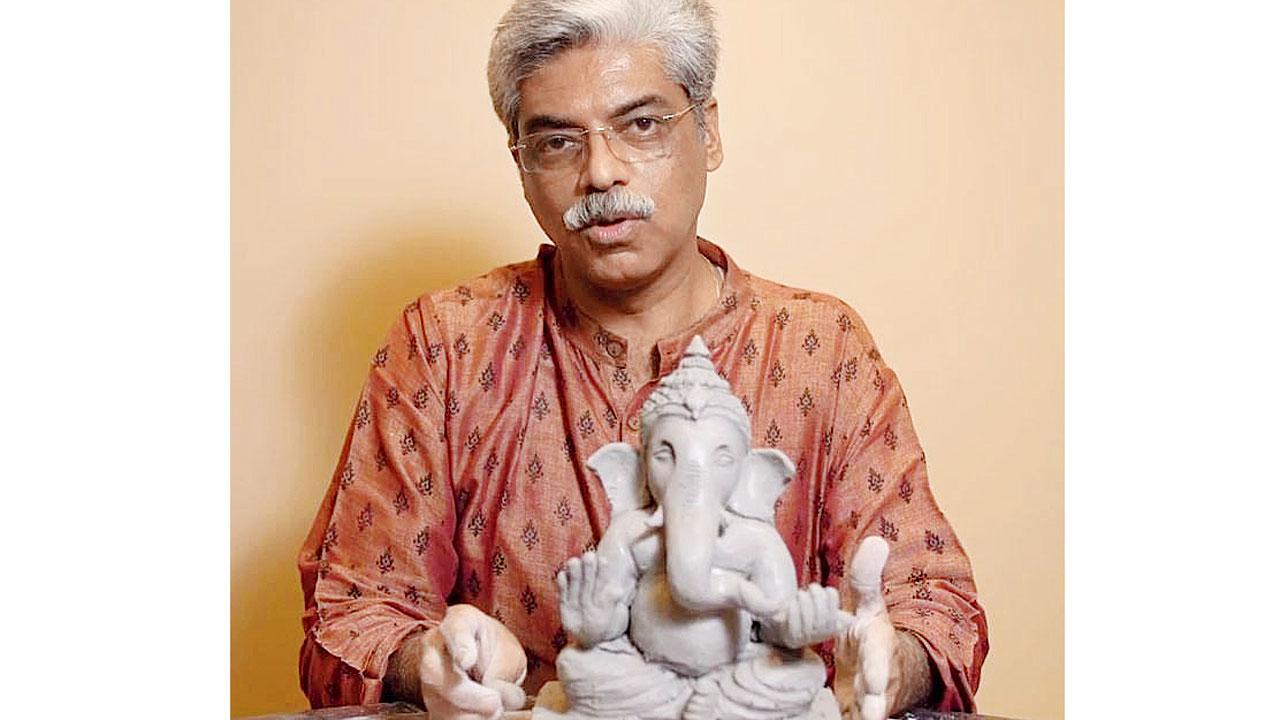 Tambat displays the final idol
ADVERTISEMENT
There has been an emphasis on green celebrations that many platforms and brands are paying heed to and offering eco-friendly products. And customers, too, are open to environmentally sustainable options if they're available and reasonably priced. One such platform is Book A Workshop. Started in 2020 by 26-year-old entrepreneur Nidhi Agarwal, the platform curates creative experiences in DIY kits that come complete with a how-to video. Their offerings include 60 types of boxes in arts and craft, food, perfumery, educational toys, and in its second edition, a DIY shadu maati Ganesha. The kit comes with a three-kg pack of shadu maati, carving tools, a red cloth to cover the idol with once it's ready, and a QR code with unlimited access to a step-by-step tutorial.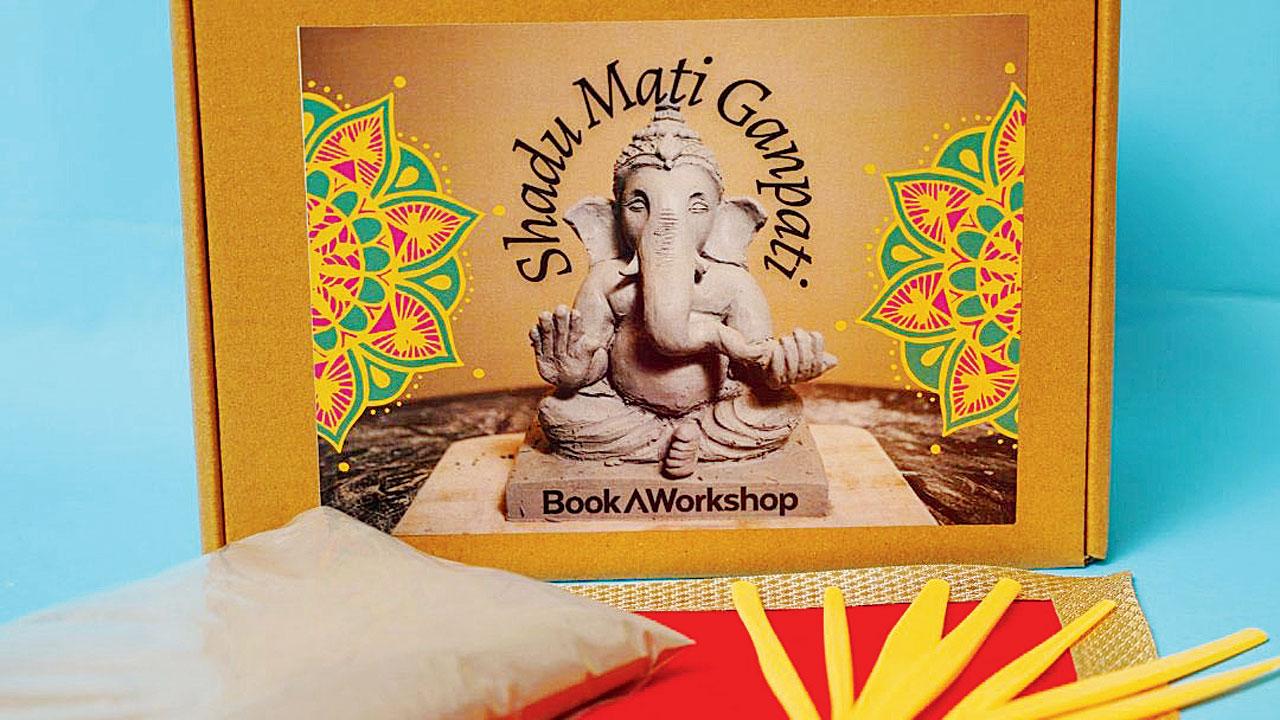 Shadu maati Ganesha kit
"We launched the kit last year and received a great response," Agarwal tells us. While the finished sculpture gives you a non-toxic and water-soluble product, Agarwal lists convenience as another benefit of the kit. "Workshops are great ways to teach, but a pre-recorded video on demand is far more convenient for people to fit into their schedules. I can see people logging in to watch and learn from the video at 1 am," Agarwal shares. The founder tells us about future plans to include natural colours in the kit, adding, "Right now, we encourage customers to use natural dyes, food colouring or organic products like haldi for yellow and beetroot for red, so that the idol remains eco-friendly Paints like acrylic, watercolours and oil paints will defeat the purpose of having a green immersion."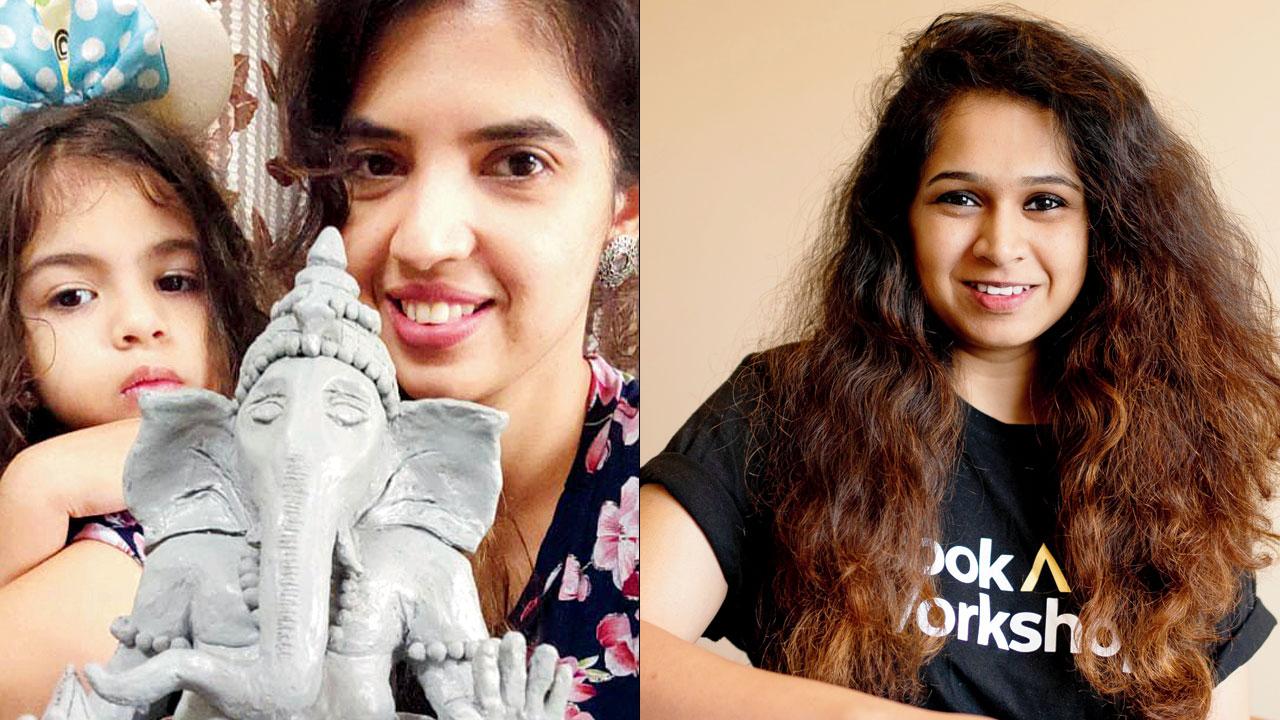 Monica Mahajan's finished idol (right) Nidhi Agarwal
Agarwal also shares a sneak peek into Diwali celebration kits such as a bedazzle kit and terracotta puja plate kit. Intending to promote and tell the stories of Indian arts and crafts, the founder tells us, "We try to work with artisans from across India either in the materials we source or the video created. Our Lippan mirror art and Warli painting kits are such examples."
Log on to: @bookaworkshop.in on Instagram
Cost: Rs 751
Tips from a user
Monica Mahajan, a consultant dietitian from Thane, was drawn to making the Ganesha murti herself to feel a closer connection with the festival. "It not only fuelled my creativity but it also made me very attached to the idol. I was more than happy with the result, and received many compliments for the sculpture." She shares her review of the kit and a few tips as a beginner.
>> The video takes you through the process step by step. It's easy to follow and make the idol even if you're not very creative.
>>  It was unclear how much water and clay to mix for the dough. I used half a litre of water for three kg of clay.
>> My idol took around 25 days to dry. If you're looking to paint the idol, start one month in advance.
>> Pay attention to the proportions of the hands, legs and trunk so they match.
>> It's okay if your idol is not the same as the master's in the video. Everyone's creativity is expressed differently.
The idol way
>> Tree Ganesha
Made from red soil, organic fertilisers, natural colours and seeds, you can plant a tulsi, marigold or other plants post your home visarjan.
Log on to: treeganesha.com
Cost: Rs 2,200 onwards 
Call: 8879672071
>> Eco-friendly Ganpati
For idols in 12, 15 and 18 inches that come with 15 organic colour variations.
Log on to: ecofriendly-ganpati.in
Cost: Rs 1,799 onwards
Call: 9326900763
>> Vighnaharta Arts
For customised shadu maati Ganesha idols of all sizes and designs.
Log on to: vighnaharta_arts_official
"Exciting news! Mid-day is now on WhatsApp Channels

Subscribe today by clicking the link and stay updated with the latest news!"
Click here! Do you believe shakes, powders and pills can replace natural dietary intake of proteins?