Unravel the perceptions of dishonour and respect in Dr Ulka Mayur's solo-act Cast Off All Shame this weekend in Juhu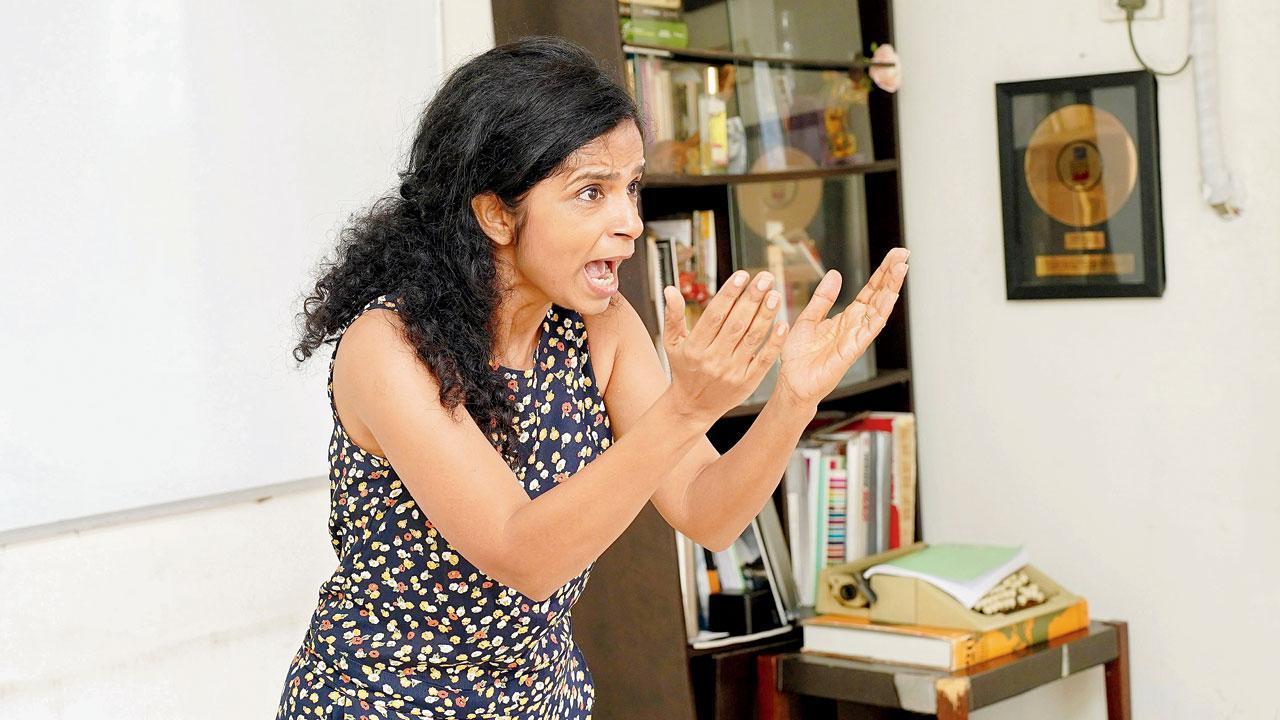 Dr Ulka Mayur enacts a scene during rehearsals at her studio in Goregaon West. Pics/Aishwarya Deodhar
Listen to this article
Why you should attend Dr Ulka Mayur's solo act 'Cast Off All Shame' this weekend in Juhu
x
When we meet Dr Ulka Mayur at her Goregaon West studio, the storyteller and theatre practitioner is snapping in and out of characters from her one-woman play Cast Off All Shame, launching into lengthy monologues with no visible cue. These snippets of performances were, in part, responses to our questions, but it might help that we were present at her apartment-turned-studio during rehearsals.
Mayur is readying for her next show this Saturday at Method Juhu, for what could possibly be her last ticketed performance in Mumbai after over 50 invite-only shows and 10 open performances across India, including venues like Dr Bhau Daji Lad Museum, Asiatic Society Library, city colleges and literature festivals.
ADVERTISEMENT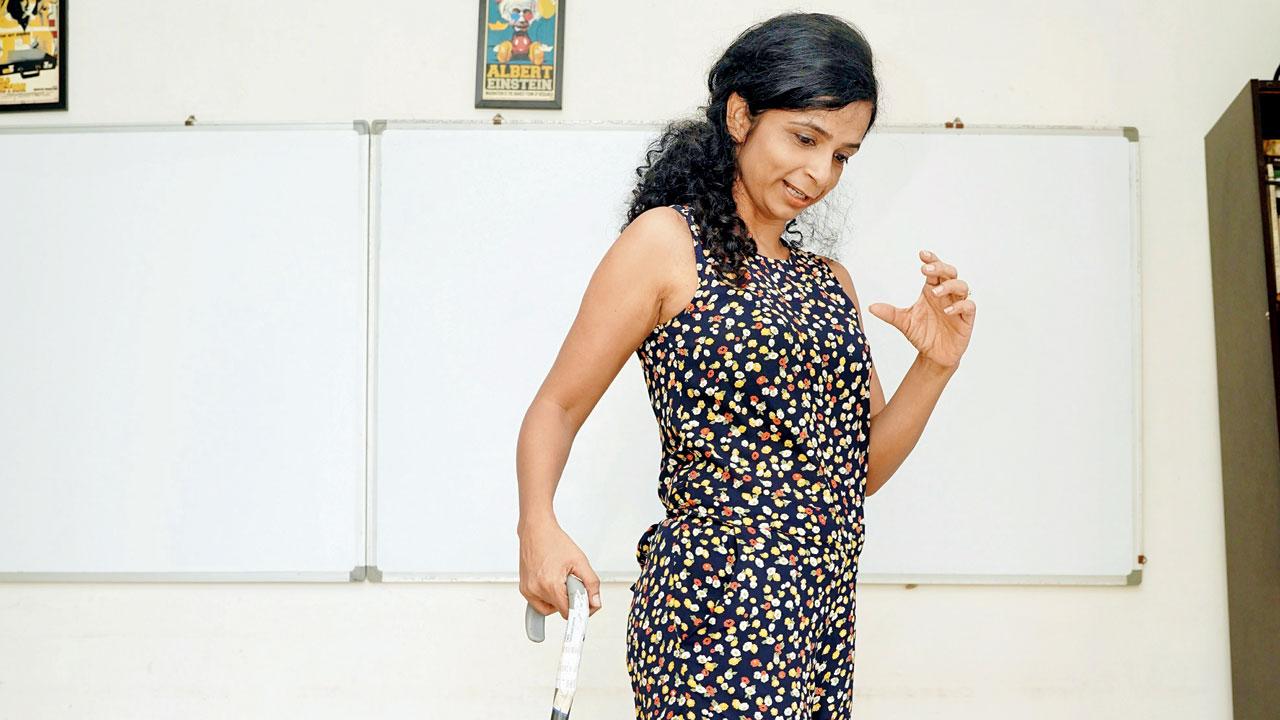 The play unpacks the illogical restrictions being placed on women to protect them from the actions and evil intentions of others. "Women are often told to be quiet about injustices they face to protect their 'izzat' and the family's respect. But what about respecting ourselves?" Mayur iterates the thought that the play encompasses. The play, which blends Bhakti poetry with tales by today's women, is led by the character Janabai, the modern-day radio jockey avatar of the 13th-century Marathi Bhakti poet. Janabai takes up the role of an Agony Aunt as different women call in to share their stories. As rehearsals progress, Mayur exchanges places with these characters — Uma from Gujarat, Ambika from Kerala and Devi from Bareilly — who narrate their experiences of slut shaming, domestic violence, menstrual taboos, and mental harassment.
The piece has also undergone several changes since it was first performed in 2017. "It's heartening to observe that certain changes take place for the better. There were scenes that spoke about the way we buy pads, covering it in a newspaper. I deleted that section because in some places that situation has changed," she remarks. With an intent to keep the focus on the words of the poetry instead of it getting lost in music, Mayur shares her observation of establishing a powerful connection with her audience in simpler production set-ups. It will be interesting to see this piece in an art gallery where the performer 
and viewer stand in close proximity.
The beauty of this play lies in the way individual stories have been written, as characters speak with humour, grit, and sass masking vulnerability. As a response to situations, Janabai recounts poems by women Bhakti poets Lal Ded, Akka Mahadevi, Avvaiyar and Soyarabai, where verses have been uniquely interpreted.
Mayur's approach of empathy and humour disarms audiences, allowing them to let down their guard to contemplate ways in which we uphold patriarchal norms, and to question feelings of shame. She explains, "I want to keep this play as relatable, and honest to vulnerable situations we face," she explains, "Janabai shares in the play 'I am every woman and perhaps every man too'. We share these experiences or at least the emotions of vulnerability."
On: September 30; 8 pm to 9.30 pm
At: Method Juhu, Armaan Bungalow, NS Road 6, JVPD, Juhu. 
Log on to: themethod.art
Cost: Rs 440
"Exciting news! Mid-day is now on WhatsApp Channels

Subscribe today by clicking the link and stay updated with the latest news!"
Click here!