A new children's book comes to the rescue of parents and educators with content that discusses topics like consent and touch with sensitivity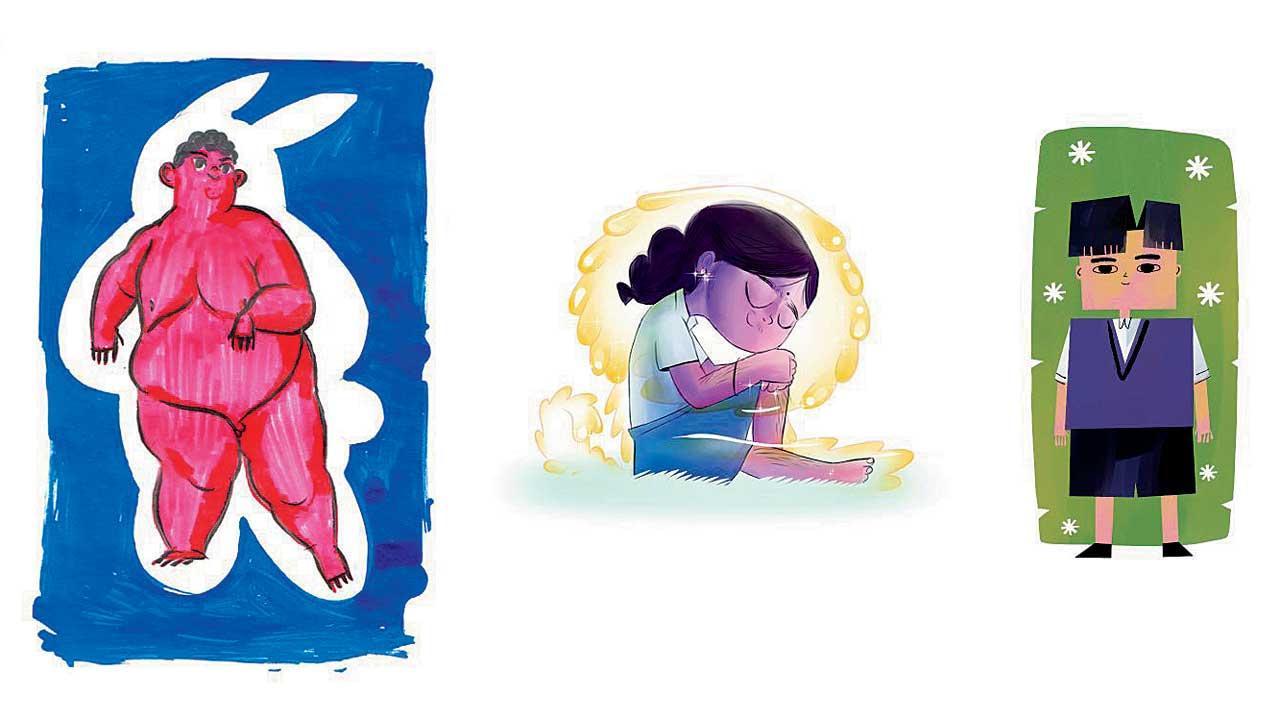 Your Body is Yours helps children get comfortable with their body, irrespective of the shape, appearance and size
On January 19, the Nagpur bench of the Bombay High Court stated in a case that pressing of the breast of a minor cannot be considered as "sexual assault" under the Protection of Children from Sexual Offences (POCSO) Act 2012, as there was no "skin-to-skin contact" and clothes were not removed, and that groping does not fall under this definition. This sent shock waves among women activists and child safety groups.

The cover design shows a young girl enjoying the sun, with her arms raised behind her head. Due to dysphoria and harassment, many girls have a complicated relationship with their chests. I wanted to show the girl unafraid of scrutiny and shaming. Instead of stooped shoulders, hands folded, she is outside experiencing the beauty of nature. I found illustrators like Elise Gravel's work on consent hugely inspiring. - Aindri C
On January 27, the Supreme Court stayed this order after Attorney General KK Venugopal stated it as a "disturbing" conclusion that could set off a dangerous precedent. After the first judgment, the Nagpur bench and the same judge, Justice Pushpa Ganediwala were in the news again, when they stated in a case involving a minor that "the act of holding a girl's hands and opening the zip of pants will not come under the definition of sexual assault" under the POCSO Act.

Aindri C
This prevalent climate is far from the rainbows-and-butterflies-picture book-view that our children are typically exposed to in their formative years. That's why accurate information about consent, touch and personal boundaries must be sensitively disseminated by parents and educators. And it is in this scenario that Your Body is Yours (Pratham Books), released earlier this year, shines a light on these rarely-discussed topics, aided by relatable characters and a simple yet powerful narrative.

Yamini Vijayan
"Pratham Books' editorial team approached me with the idea [of writing a book on consent and touch]. I was always interested in exploring this because there's so much embarrassment when it comes to talking about our bodies openly," recalls Yamini Vijayan, its writer. The book also delves into subjects like the possibility that someone may not always respect your boundaries, and informs children what they can do in these situations — whether it's saying no, or screaming, or walking away.
"We wanted this information to empower children and help them understand that it's never their fault. We needed to also ensure that we left our young readers feeling supported and hopeful," adds Yamini. What the book also reminds children is to take pride in their bodies, no matter what it looks or feels like. "Our audience is primarily the underserved child, and we sorely felt the need for an affordable, open-source book that talks about personal boundaries, and starts healthy conversations around our bodies and the right to say no. It's a book we are very proud of," echoes Bijal Vachharajani, senior editor, Pratham Books.
For research, Yamini and Aindri C, the illustrator, did a fair bit of reading, and spoke to experts in the sphere of children's safety. Aindri wanted to design a 'safe space' that would convey consent to the young reader, "A personal boundary was designed for each character in the shape of a patronus [guardian shield]. In order to show harassment, we would focus on breach of this personal boundary. Initially, the patronuses were animal-shaped outlines; we then tried abstract jelly-like cocoon shapes until we finally used leaf shapes that complemented the shape of the characters that are outside in nature exploring themselves and their surroundings."
The book has a conversational and friendly tone without talking down to children. "We didn't want to hold back. Children are very perceptive. So if we want them to be able to talk about their bodies openly, without shame, we need to — as parents and educators — shed our own inhibitions and be able to do the same. They need to see that there's no need to be embarrassed about using accurate terms like penis and vulva, which are just body parts," shares Yamini. The truth is that even today, many feel awkward to speak to children about their bodies. "Whether it's about hair sprouting in different body parts, or puberty, or safe and unsafe touch, they are left to figure it out on their own. To change this, more effective and meaningful systems of awareness and support need to be created."
They hope such books will help start a few such conversations, or at least make it easier. "In India, we still raise children to be obedient, to not question adults — especially girls. As a result, they are often hesitant to say no and be assertive. We also wanted to tell children via this book that it's perfectly fine to say no to anyone who doesn't respect their boundaries, no matter who it is because your body belongs to you, and no one else," Yamini sums up.
Log on to: store.prathambooks.org/