With the state's tourism and forest departments toying with the idea of crocodile safaris at the waterbody, here's a closer look at the reptile and other species that thrive there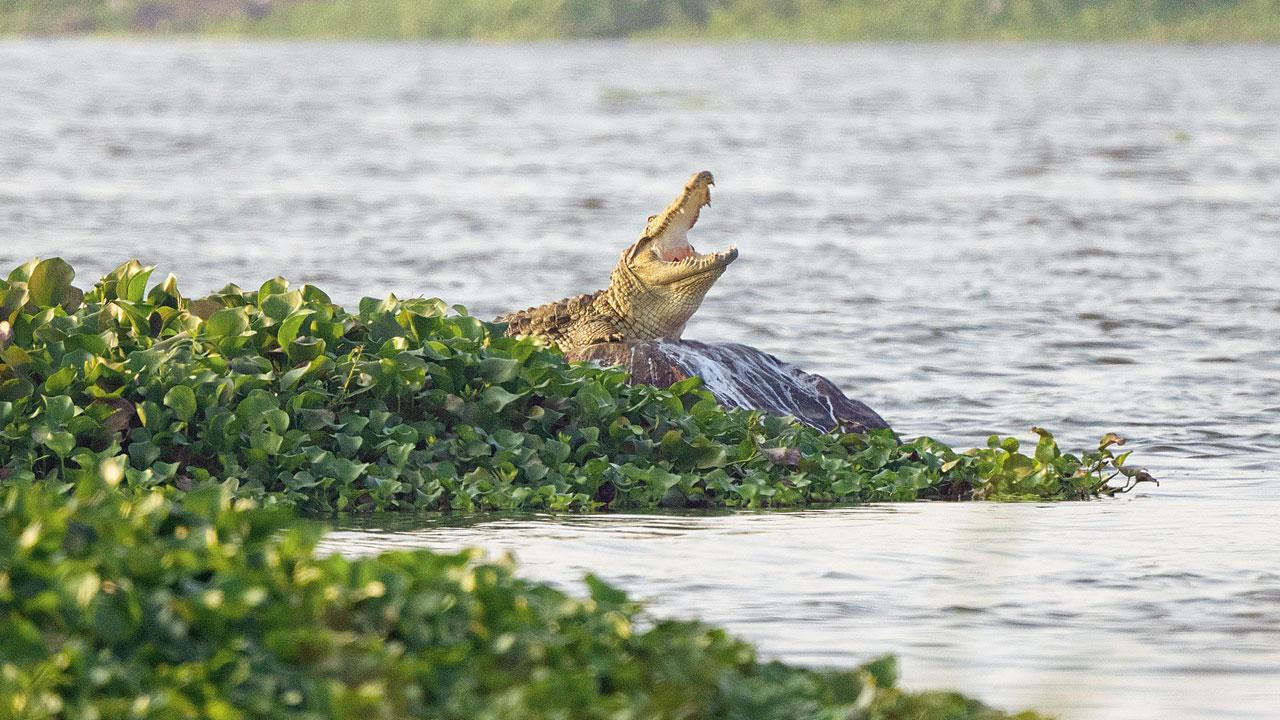 Marsh crocodile at Powai Lake. Pics Courtesy/Rakesh Das
The state's tourism and forest departments are mulling the idea of introducing a crocodile safari boat ride at the Powai Lake. While the forest department has sought suggestions from the Wildlife Institute of India, Kedar Gore, director, The Corbett Foundation, informs us that the Indian Marsh crocodiles were possibly introduced to the artificial lake long ago, and are now naturalised.

Lesser Whistling-Duck: This is the resident duck with breeding records from several marshy areas in Mumbai, says Gore
Mugger crocodiles are carnivores that are generally seen around lakes, rivers, reservoirs, etc, shares Gore who works in the conservation space. "Principally, a safari looks like a good sign from the government, as it means that they'll have to take a few steps back and act towards the benefit of the habitat and the animal," he notes.
However, Gore adds that a few prerequisites need to be taken care of first, primary being a scientific census. Secondly, he explains that for any species to flourish, it needs to breed. "Crocs need banks, where they dig a hole and lay eggs. At Powai Lake, there appears to be no space for this to happen, apart from the IIT-B part," he reveals, adding the crocs also need space to bask in the sun as they're cold-blooded.

Peregrine falcon: It's famous for its speed, reaching 300 km/hour while stooping to catch a prey
With the lake's banks crowded — except the IIT side — the creatures possibly don't have access to undisturbed basking space, he points out. These factors, coupled with pollution, a study on what the crocs are feeding on, and illegal fishing need to be addressed. "The crocs need to come up to the water surface to breathe. If that doesn't happen frequently, they'll suffocate. For this, they need undisturbed water, which safari boats might affect," he says, adding that a long-term plan is needed to ensure it's a safe habitat for crocodiles first.

Kedar Gore
Gore points out that the lake, however, is a great place for birding, and is home to snakes, freshwater turtles, insects, spiders and several species of fish. Rakesh Das, a wildlife enthusiast, who resides at the IIT-B campus and photographs species around the lake, agrees, and adds, "On a regular day, you can spot resident birds like egrets, cormorants, purple herons, grey-headed swamphens and Indian spot-billed ducks, among others." In winter, one can even spot several migratory birds, he informs.

Rakesh Das