With a couple of viral social media posts highlighting the 'right' and 'wrong' ways to eat certain foods, an expert gives us the lowdown on dining etiquette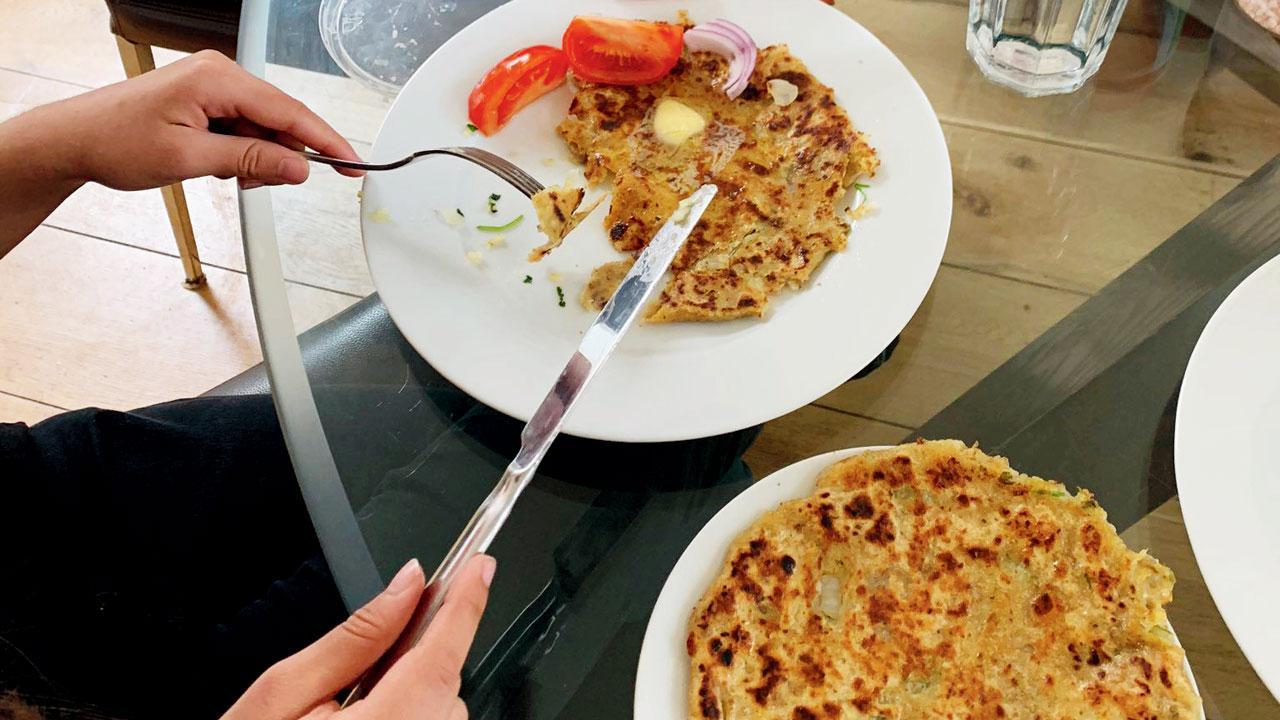 Gurinder Chadha's post about her son eating parathas with a fork and knife sparked a debate. Pics/Twitter
As a former butler to princes Charles, William and Harry, Grant Harrold is considered the last word on British etiquette. However, Harrold's recent post, concerning how rice should be eaten, sparked much controversy and debate on Twitter - he asserted that it must be eaten with a knife and fork, or chopsticks, and never with one's hands. In a similar vein, British-Indian film-maker Gurinder Chadha shared a photo of her son insisting on eating an aloo paratha with a knife and a fork, causing many to wonder if the inclusion of these additional dining instruments was either necessary or considered appropriate.

The Royal Butler stated that a fork and a knife are a must for eating rice
ADVERTISEMENT
Clearing the air, grooming and dining etiquette expert Suneeta Kanga says that much of fine dining etiquette is defined by where you are and the aesthetics of how you're eating. "Every culture has its own dining traditions that one must be respectful and mindful of," she explains. 
Getting it right
In Oriental countries, rice is eaten with chopsticks, except in Thailand, where rice is eaten with a spoon in the right hand and a fork in the left. In most countries, it is acceptable to eat rice with a fork in the right hand, with the tines of the fork pointing upwards (like a spoon). A spoon is not used. This includes rice and pasta dishes (including risotto) in Italy, and paella in Spain. The only exception, Kanga says, is while eating spaghetti, where a spoon is held in the left hand and a fork in the right. The spoon is used as a supporting tool to twirl the spaghetti into a neat ball at the edge of your fork. 

Suneeta Kanga
For rice and gravy dishes, a spoon is held in the right hand and a fork in the left. The fork is used to push the food into the spoon. "If a spoon is unavailable, use a knife in your right hand and fork in your left. The tines of the fork are pointing downwards and touching your plate. Use the knife to mush the rice and place it on the back of the fork, and bring this to your mouth," she adds. In South Asian countries, rice is eaten with your hands. Only the top third of your fingers should touch the food. 
Breads such as rotis and parathas are eaten with the hands. However, Kanga cautions against using your breads to scoop up sauces; use a spoon to eat these. In an action that is akin to swallowing a pill, eat the bread first and then spoon the gravy into your mouth, to wash it down.  While pizza can be eaten with your hands and with a fork and knife, with burgers, eat them with your hands only at fast-food restaurants. For fine dining establishments, place the top bun on your bread plate and eat the rest with a fork and knife. Sandwiches are eaten with your hands, regardless of the location.