Windsurfer Katya Coelho is set to be the only Indian woman who has qualified in the IQFoil class at this year's Asian Games in Hangzhou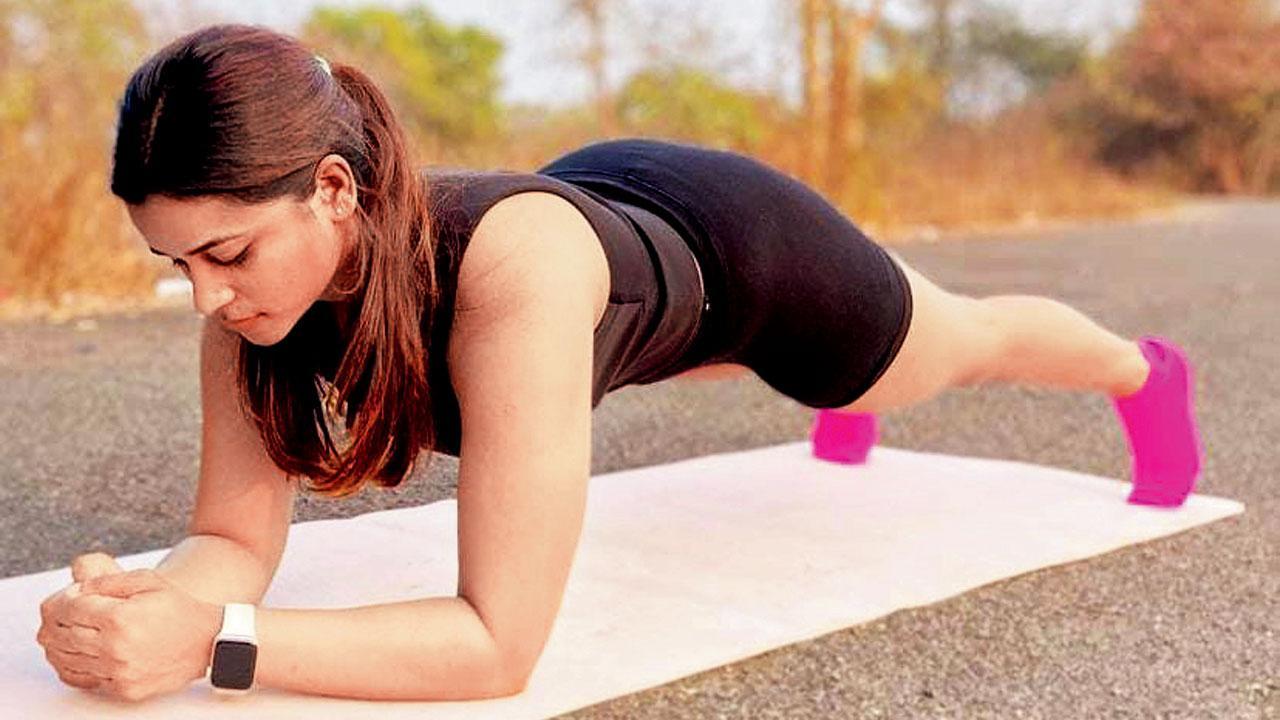 A moment from Coelho's training
What does preparing for the Asian Games look like, particularly in IQFoil, a class of windsurfing? For windsurfer Katya Coelho, the only Indian woman IQFoiler, who has qualified for the sporting spectacle that kicks off later this year, it means four to six hours of training every day. We picture scenes of perspiration and focused determination seen in films about athletes. It is an accurate reflection when Coelho tells us about a usual day in the life of a competitive windsurfer where she begins with weight and strength training at the gym, heads out to sail, and often undergoes MMA training for that extra burn. Next month, she will be flying to Italy to train with two-time American Olympian windsurfer Farrah Hall.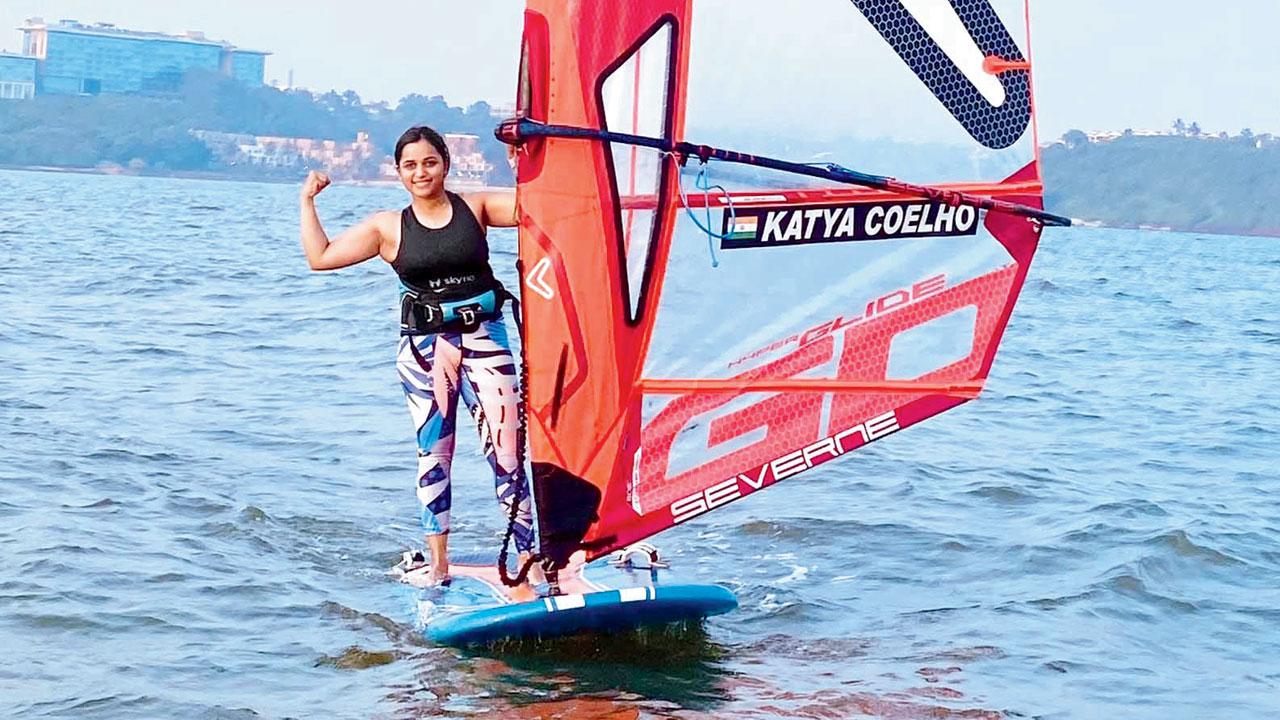 Katya Coelho sails in Hawaii Beach, Goa
ADVERTISEMENT
We catch up with her at a time away from training sessions to ask her about her upcoming participation in the Asian Games to be held in Hangzhou, China from September 23 to October 8. "Being the only Goan at the event, this qualification matters a lot, especially for a sport that is not particularly followed in our country. This is an accomplishment for me. Having said that, I am going to give my best performance for my country and get a good position at the Asian Games," she tells us over a phone call from Calangute, Goa.
An 11-year-old Coelho followed her father Donald Coelho's footsteps, a three-time National-level champion, windsurfer and her trainer, and began windsurfing on the beaches of Panaji. The sport escalated to the beginning of a career in the same year when she competed at a National level tournament. Soon, she qualified for the Youth Olympics in 2014. Recently, the format of windsurfing underwent a revision for the Olympic Games in Paris 2024 — from RS:X to IQFoil, where the daggerboard is replaced by a foil.
So, she too had to transition into the new format, "I sailed RS:One [another format of windsurfing] competitively. The transition from that to IQFoil was quite smooth. I returned from a break due to an injury in 2018, tried foiling and, I really loved it. It takes windsurfing to another level because you can go much faster. And it looks cooler, too," Coelho, 23, explains.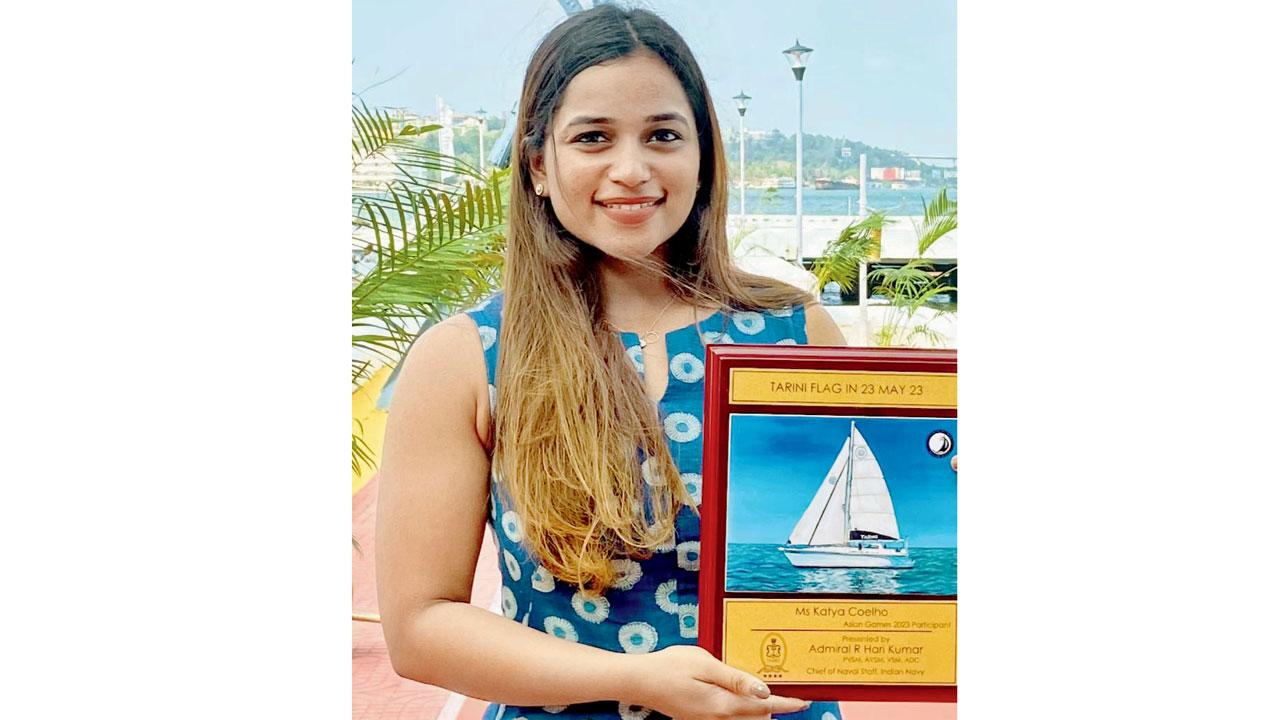 Coelho at the May 2023 INSV Tarini flag-in ceremony in Goa
The change was a cakewalk for the champ, but what were some of the more challenging aspects of the sport, especially in India? Apart from being an expensive sport that might find few sponsors, she adds, "We don't have a lot of female participants. At times, I have had to participate in the males category [to determine] my ranking." Being based in Calangute, there is no dearth of beaches and waters to conquer.
Coelho believes that any enthusiast can pick up the sport. "For those keen to take up windsurfing or any other sport, I'd say, be determined, work hard, and tune your mind to keep going because you must be physically as well as mentally strong, and everything will fall into place. Pick up a sport even if just as a hobby."
She leaves us with a few life lessons she has learnt from the sport, "I have learned to stay humble, grounded and fit. These are the three main factors that will keep you going no matter what life throws at you. Like any sport, life also has its ups and downs. Be consistent, so when you lose, you can pick yourself up."
Surf Away
>> Your inspiration: Dutch windsurfer Lilian De Geus, Indian sprinter Hima Das, Indian boxer Mary Kom, Indian weightlifter Saikhom Mirabai Chanu, and Indian field hockey player Rani Rampal. 
>> Favourite surfing location in India: Panaji's Hawaii Beach; because it has the best wind and it's where I learnt how to surf.
>> Toughest shoreline in India: Chennai's waves are rough, and launching there was difficult.