Anti-narcotics cell is now trying to find out if the same white cocaine drug has been mixed with something to form red cocaine, and whether the new compound is dangerous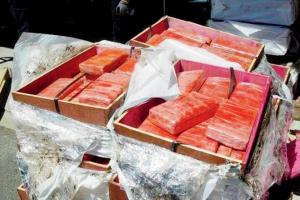 Bricks of red cocaine. Representation pic
The anti-narcotics cell (ANC) of the Mumbai police are 'red-dy' for action upon hearing that the latest party drug in town is red cocaine. Cocaine is traditionally a white powder and has long been a hit in high society circles. The police are now trying to find out if the same drug has been mixed with something to form red cocaine, and whether the new compound is dangerous.
Suspected chemical mixture
Informers have told the police that red cocaine is made of a chemical mixture. The police now want to get their hands on the drug, by way of seizures, so that they can understand its composition. Deputy Commissioner of Police (ANC) Shivdeep Lande said, "We heard about red cocaine from informers, and are in the process of further investigation."
ANC officers said red cocaine had not turned up anywhere in the international market, so they are taking it very seriously. Sources in the ANC said that the first alert came a few weeks ago, when an informant told them a new drug called red cocaine was being sold in pubs. The information was corroborated again last week. They suspect some gang had chemically mixed the drug, gave it a new colour and name to attract customers. ANC has put its units on alert to search for and seize the new drug. Officers said this might also be yet another attempt by drug suppliers to change the chemical composition in order to skirt the Narcotic Drugs and Psychotropic Substances (NDPS) Act.
Previous cases
In the past, ANC officers found out that peddlers were circulating a new drug called China white, which turned out to be a new chemical form of mephedrone (MD). Unlike the original MD, which was contraband under the NDPS Act, China White was not covered under the law. However, the police cracked down on gangs selling it and curbed its circulation.
In the past, cops in the western suburbs have found that drugs named 'Skunk' and 'Super Silver Haze' were sold to college kids in parties, but on further probe, they were nothing but ganja (marijuana). Before MD was brought under the NDPS Act in 2015, it was also sold as White Cocaine. MD now also goes by M-Cat, Meow Meow, Drone, Stuff and Bath Salt. Peddlers keep coming up with new names to attract customers and boost sales, but they don't necessarily change the drug. Cops said most of the drugs are adulterated, but the peddlers claim they are 'ozi' (means pure in drug lingo).
Also Read: Mumbai Crime: Three Nigerians arrested with cocaine worth over Rs 15 lakhs
Catch up on all the latest Crime, National, International and Hatke news here. Also download the new mid-day Android and iOS apps to get latest updates