Under the state's rehabilitation policy, the two will receive R7.5 lakh; both were involved in many encounters and had laid ambushes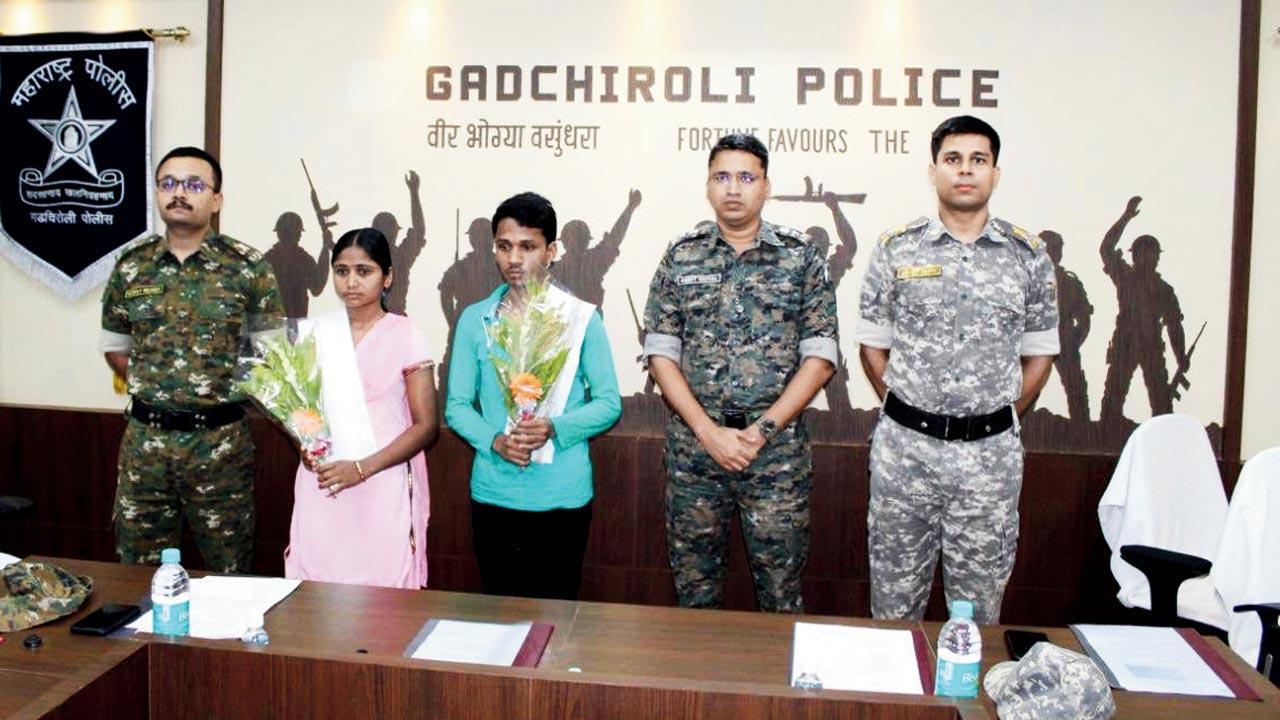 The Maoist couple with Gadchiroli police officers
A Maoist couple that collectively carried rewards of Rs 12 lakh on their heads laid down arms and surrendered to the police in Gadchiroli district, citing disillusion in their rank and file. 
Kolu, alias Vikas, alias Sukant Vinod Pada, 27, and Raje, alias, Debo Jairam Usendi, 30, chose to join the mainstream under the state government's Surrender-cum-Rehabilitation Policy, said the police. More rebels like Kolu and Raje are willing to shun the life of violence, they said.
Kolu became a Maoist in 2010 and rose to work as a protection guard of a central committee member named Sudhakar for four years. As a section commander, he was involved in three murders and 7 encounters and faced 11 cases. An ambush laid by Kolu had left two policemen dead in 2020, said the cops. He carried R8 lakh on his head.
Raje, a member of the same unit as Kolu, was part of an ambush that claimed the lives of two cops two years ago. She was also involved in one murder, four encounters and one arson, and faced six cases.
The police said a large number of Maoists are leaving the banned outfit for a host of reasons, including mistreatment of women and children by senior leaders, lack of support from fellow members, constant threat from security forces and wild animals, forced sterilisation and separation of couples and attractive surrender policy of the Maharashtra government.
Under the surrender policy, Kolu will receive Rs 3.5 lakh, while Raje will be paid Rs 2.5 lakh. The couple will receive another Rs 1.5 lakh towards additional assistance. 
Between 2019 and 2022, a total of 47 hardcore Maoists have surrendered to the Gadchiroli police. Sources said Gadchiroli SP Ankit Goyal has assured all possible help to those Maoists who choose to switch over to the mainstream.
47
No. of Maoists surrendered in 3 yrs in Gadchiroli