Doctors say there has been a rise in patients with high blood sugar levels who are also complaining of fever, dizziness, urinary infection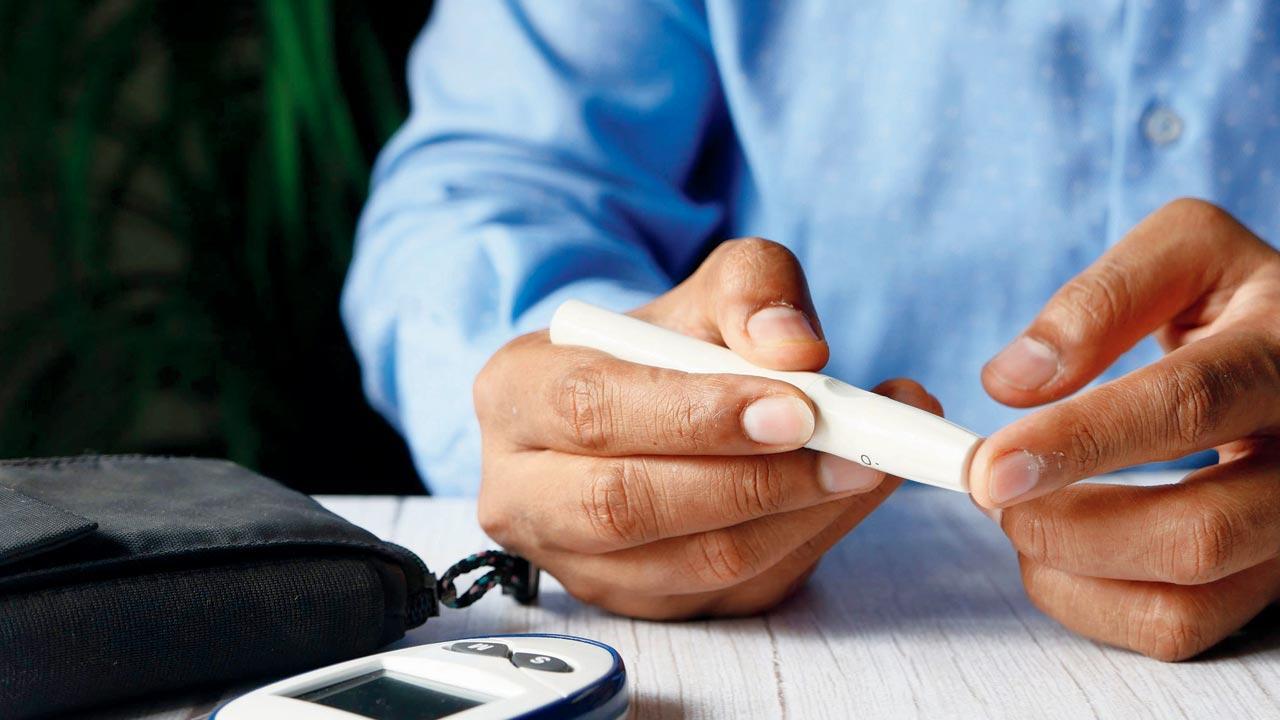 Balanced diet and physical exercise can help control the blood sugar level, say experts. Representational pic
There has been a rise in people coming with high diabetes at out-patient departments post-Diwali. City doctors have pointed at a high-calorie diet during the festive season as a reason. Many patients have reported blood sugar levels of 400-500 mg/dL. Doctors said many of these patients have also reported fever, dizziness, urinary and skin infections.  
This year, people celebrated Diwali without any restrictions after two years, and this seems to have affected their dietary choices too. Dr Girish Parmar, endocrinologist at Nanavati Max Super Speciality Hospital, said, "It is a tradition to distribute sweets, snacks, and dry fruits during the festive season. And this, in turn, leads to high sugar levels due to excessive intake of calories. Post-Diwali I'm seeing around 50 patients a day, of whom 40 per cent come with very high sugar levels, above 300 mg/dl. Some of them also reported infections due to diabetes, while in some cases the infection led to a rise in sugar level. It generally takes three to four weeks to bring the blood sugar level under control if the patient is disciplined. I will advise people to celebrate festivals mindfully. Choose your food, including sweets, well and compensate for it by doing physical activity."
ADVERTISEMENT
Also read: 'Night owls' may be at greater risk of type-2 diabetes, heart disease: Study
Dr Pradeep Gadge, diabetologist and chairman of Gadge Diabetes Care, said, "After Diwali, I found that many patients who had controlled their blood sugar level are reporting high numbers in the range of 400-500 mg/dL. Some of them also complained of fever, urinary infections, boils on skin, etc. People tend to forget health issues during festivals, and then suffer once it ends. So, now we have changed some of their medicine dosage and asked them to follow a proper diet." 
"During festivals, especially Diwali, diabetes patients tend to lose control, and blood sugar level increases due to mindless eating, alcohol consumption, inadequate sleep, and lack of physical activity. I am seeing at least 10 to 15 diabetes patients post-Diwali. Although hospitalisation is seldom necessary, they need counselling about diet and medication. Sometimes, they also have to start taking insulin," said Dr Vimal Pahuja, metabolic physician at Dr L H Hiranandani Hospital, Powai. Dr Pahuja added that there also have been some cases wherein the high sugar level affected patients' organs which landed them in hospital.
Dr David Chandy, consultant and section coordinator, endocrinology at Sir HN Reliance Foundation Hospital, said "As there were COVID-related restrictions for the past two years, people could not venture out and distribute sweets. But this year, there was an increased celebration. I have seen three types of patients after Diwali. First are those who consumed a high-calorie diet and landed in the hospital with urinary or kidney infection. Second are those whose blood sugar levels shot up higher than before the festival. And third are those who were not aware of their diabetes and are now coming to us about frequent urination and weakness."  
Speaking on what steps patients can take, he added, "Apart from medication, I advise having sweets on alternate days, if they want to. We also suggest healthy alternatives of sweets. Apart from this, a balanced diet and physical exercise are advised."