Rashmi Thackeray was always sure that the Shiv Sena should be ally of the BJP only if there was equality in power-sharing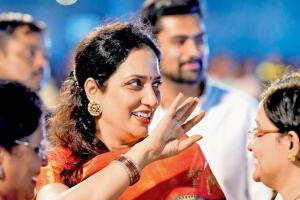 Rashmi Uddhav Thackeray
From being a back-room strategist for the party and a mother, Rashmi Thackeray in recent months became one of the key architects of the Shiv Sena's decision to snap ties with the BJP and put Uddhav on the road to Mantralaya.
Sena insiders said Mrs Thackeray was always firm on what the saffron party should be looking for from its ally BJP, even while discussing the seat-sharing formula before the assembly polls. A Sena leader recalled an incident from before a deal was clinched with the BJP. "Mrs Thackeray discussed the alliance issue with Sena chief. Like every grassroots worker, Rashmi-ji was of the opinion that the party should not settle for anything less than an equal share in seats and power."
This is not the first time the Dombivali girl was taking an interest in political developments. On earlier occasions too – like when Narayan Rane quit the party or Raj decision to split and found his party – it was Rashmi who held several backroom talks and even personally called party leaders urging them to show trust and faith in the party, and specifically, Uddhav's leadership.