That's equivalent of 5 Oval Maidans; activists say officials must do everything to keep the protected forest safe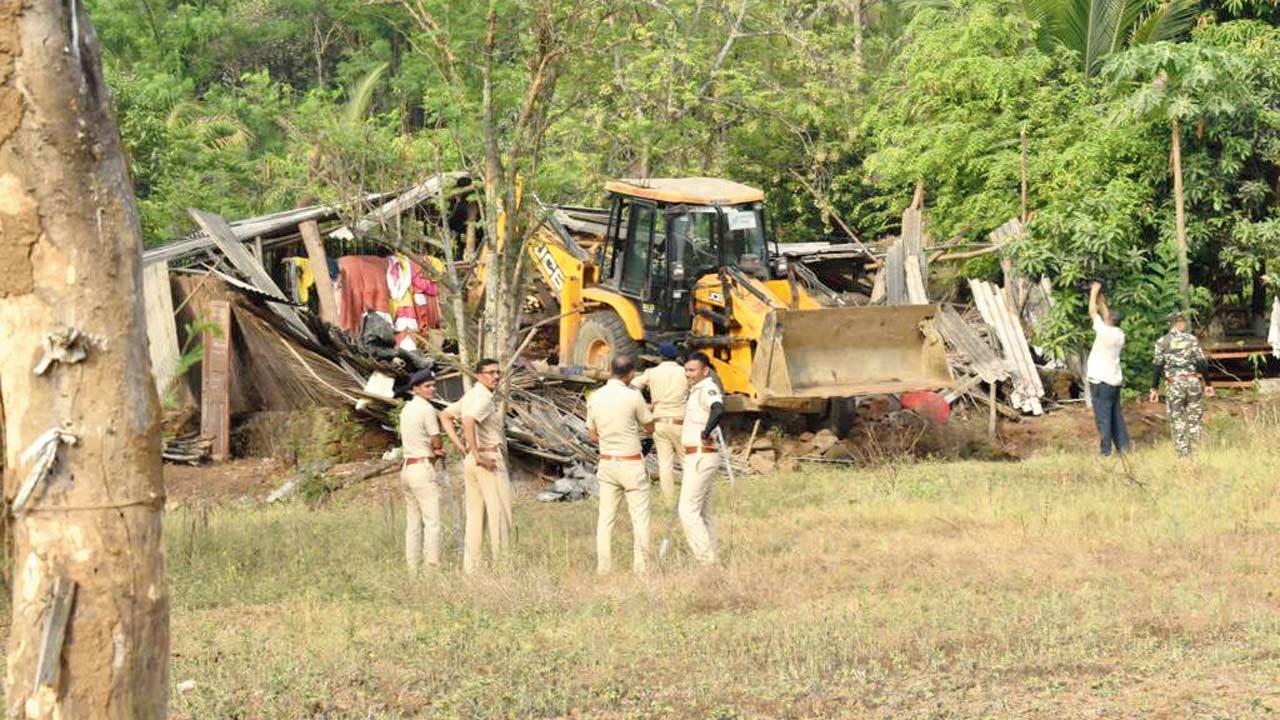 An illegal hut being razed at Sahibangoda, near Vihar Lake inside SGNP
In one of the biggest demolition drives inside Sanjay Gandhi National Park in the past two years, authorities on Friday cleared illegal structures near Vihar Lake, close to Sahibangoda, spread over 100 acres—equivalent to 5 Oval Maidans. Close to 700 personnel, including forest staff, police and a team from the State Reserve Police Force took part in the daylong drive, officials told mid-day.
Activists have been raising concerns over unauthorised hutments mushrooming inside the protected forest. Often, the land mafia clears land by starting fires, they said, adding that such attempts became more frequent during the Covid lockdown.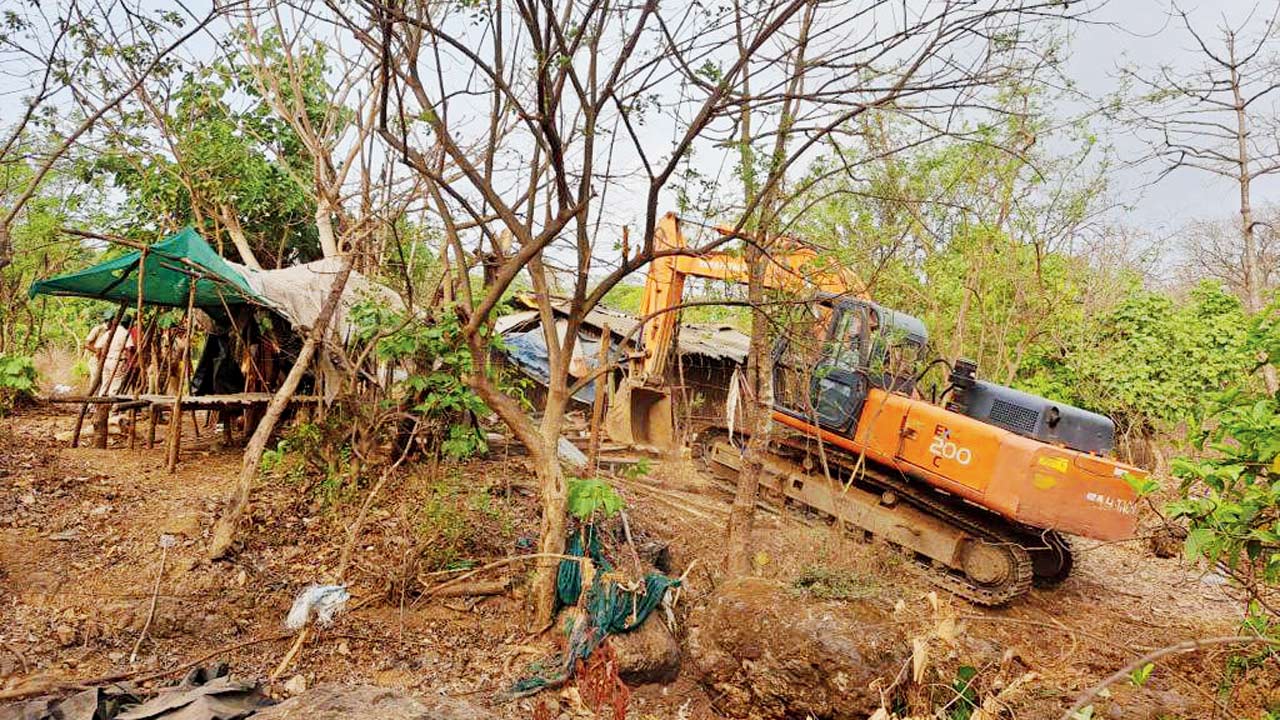 Most of the structures had come up during the lockdown
Clement Ben, additional principal chief conservator of forest, Wildlife (West) said SGNP is a unique landscape as it sits within Mumbai. "Few tribal hamlets abut the national park. Over a period of time, few land parcels within the national park have been encroached upon. Around 100 acres of forest land were cleared in  a joint operation of forest and  police personnel as per the  diktats of the Honourable High Court."
Ben added, "The reclaimed forest area shall be manned by a platoon of SRPF along with forest personnel. We have planned for protection huts in the periphery of the national park to stem further incursions in the ecologically sensitive national park. The timely support rendered by JC [joint commissioner] Vishwas Nangre Patil and his DCP Maheshwar Reddy and MR Gagre is acknowledged for carrying out the operation." Sources said encroachers had erected fences using sticks on the forest land at the spot near the Film City. Some of them had begun farming on SGNP land.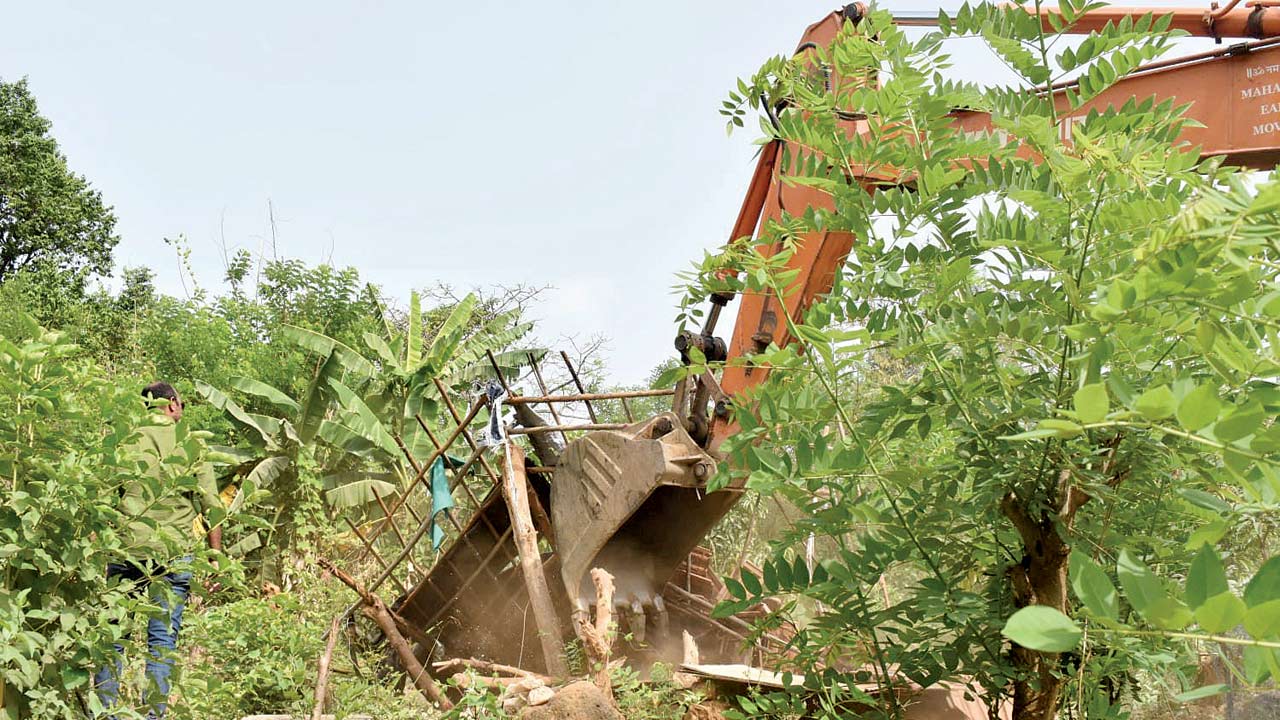 Seven earthmovers and two dumpers were used to clear the hutments
SGNP Field Director and Chief Conservator of Forests G Mallikarjun said, "Some people had encroached on the land belonging to SGNP near Sahibangoda adjacent to Vihar Lake. On Friday, with the help of the forest department staff, police and SRPF team the encroachments have been cleared. In case someone tries to once again encroach on the land then strict action as per the law will be taken." Officials said the forest staff have been asked to increase patrolling in the area to deter encroachers from returning. 
'Welcome move'
Environmentalist Stalin D from NGO Vanashakti welcomed the demolition drive. "The national park has lost its sanctity and the wildlife is impacted due to the illegal activities of the encroachment, illicit liquor brewing units, forest clearing happenings. We hope that the forest department will continue to monitor this area which has been cleared and ensure that severe punishment is given to those engaging in these illegal activities inside the national park."
Environmentalist Zoru Bhathena said, "Encroachment of 100 acres just during lockdown shows the magnitude of the problem our forests face. Demolishing these encroachments is a big positive. But authorities must take stronger steps to prevent such encroachments in the first place. Lockdown can't be an excuse to close  eyes to the destruction of and encroachment in forests."
700
No. of personnel involved in the demolition drive