Thousands of litres of water were wasted when a pipeline connected to Tansa main line water supply burst in Vartak Nagar; 25% cuts for island city and Western suburbs, and 10% for Eastern parts of city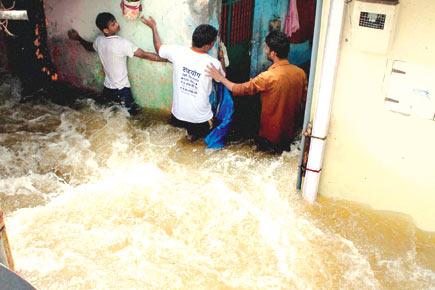 Water pipeline bursting in Thane
Mumbai, brace yourself for a 25 per cent water cut today.
A major pipeline supplying water to the island city and the Western suburbs burst yesterday, purportedly due to the high pressure of water flowing inside it.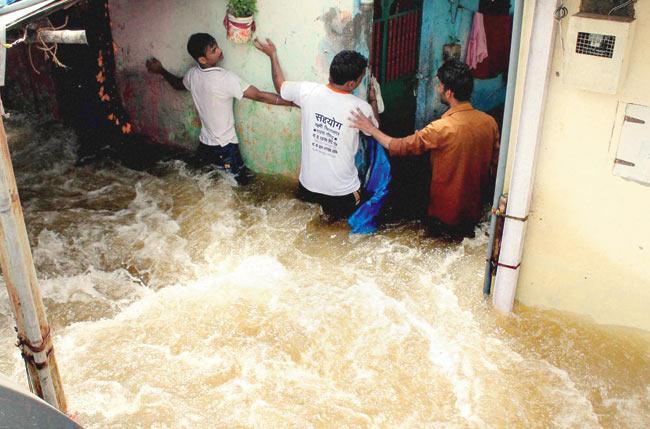 UNDERWATER HOME: The force of the water was so powerful that more than 150 shanties were flooded within minutes of the pipeline bursting. Pic/PTI
The water was flowing with such force that the nearby slums were also flooded and many houses were submerged.
On Monday, around 10 am, the 1,800-mm Tansa Main pipeline, passing through Vartak Nagar in Thane, burst open. The pipeline mainly supplies water to the island city and Western suburbs and goes through the Bhim Nagar slums at Vartak Nagar, ultimately connecting to the water complex at Bhandup.
The pressure of the water was so powerful that nearly 150 shanties along it were submerged within minutes; three houses were completely destroyed.
A seven-year-old boy, Vijay Dhere, was also injured due to water rushing into his hut.
Century-old
This pipe has frequently seen bursts; the pipeline itself is from the British era and more than a hundred years old.
"The cause of the burst is not known, but since the pipeline is 150 years old, the high pressure of water and erosion might be a reason," said an officer from the BMC's water department.
Ramesh Bamble, chief hydraulic engineer at the BMC, told mid-day, "We have enforced a 25 per cent water cut for the city and Western suburbs, and 10 per cent for Eastern suburbs with immediate effect. Repair work has been initiated and is expected to be completed by Tuesday evening. Regular supply will commence thereafter (August 20 onwards)."
There are four pipelines Tansa Main, Tansa West, Upper Vaitarna and Vaitarna, which connect to the Bhandup water complex.
"The Tansa Main pipeline that burst supplies 1,800 million litres of water daily to the Bhandup complex. Due to the burst, around 25 per cent of supply has been disturbed," added Bamble.
According to the BMC, they are replacing these relic-like civic structures with their modern counterparts.