Divyaroop Ananda (22) was molested and assaulted by strangers on October 11 allegedly for the way he dressed and spoke; he welcomes the efficiency of Khar cops who promptly rounded up the accused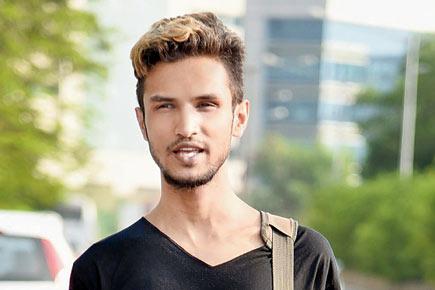 Divyaroop Ananda
What was meant to be a casual smoke break for a 22-year-old man, ended up being one of the most traumatic experiences of his life after he was sexually and physically assaulted by strangers for 'dressing and talking like a gay person'.
Also read: Mumbai crime: 4 nabbed for extorting money from homosexual man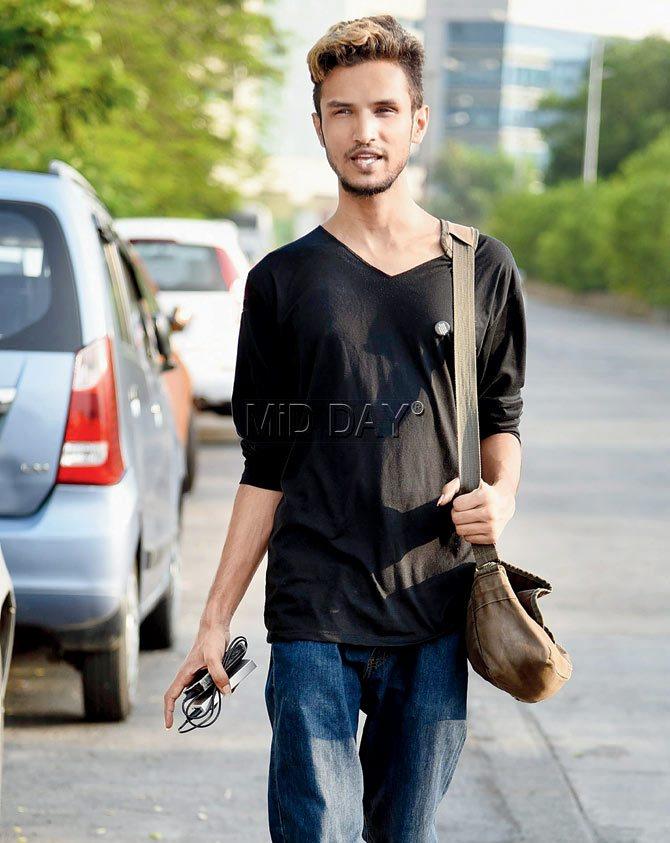 Gay and proud: Divyaroop Ananda. Pic/Nimesh Dave 
However, Andheri resident Divyaroop Ananda turned his trauma into his strength. He is now an icon within the LGBT community for not only standing up for his rights, but also mustering courage to register a police complaint against his molester and assaulters.
The incident
On October 11, Divyaroop was attending a film screening organised by the LGBT community in Khar and had stepped out of the venue for a smoke during break time. After observing his clothes and body language, a group of six men present near the venue passed obscene comments at him. If this wasn't enough, a passer-by groped Divyaroop. Stunned by the man's behaviour, Divyaroop slapped him. Enraged at being slapped, the man punched and kicked him. He was immediately joined by the gang of six, who used sticks and chairs to thrash Divyaroop.
"This happened around 4 pm and there were so many people around, but no one came forward to help me. Finally, a woman jumped into the melee and dragged me to the other side of the road. Those men then started searching for cricket bats so that they could thrash me further," said Divyaroop, a call centre executive, a blogger and an LGBT activist.
Unexpected support
Fearing social stigma attached with the LGBT community and those supporting it, Divyaroop's near and dear ones tried to dissuade him from filing a police complaint against the accused. But he mustered courage to approach the police after seeking help from the Humsafar Trust, where he was counselled for a few days to overcome the trauma of being publicly humiliated.
While the incident took place on October 11, an official complaint was lodged at the Khar Police Station on October 19. Finally, an FIR was registered on October 26.
"Even though a lot of my friends and community members discouraged me from going to the police, I'm glad that I found support and people who helped me take charge of the situation. What's more encouraging, is the fact that the police have already nabbed a few of the culprits," said Divyaroop.
Besides receiving support from the Humsafar Trust, an organisation named Lawyers Collective helped Divyaroop write and submit his complaint to the Khar police.
"There have been several cases wherein homophobia has led to attacks on members of the LGBT community. Besides, the victims of such attacks are scared of the social stigma attached to their sexuality, the unwillingness of the society to accept them and discrimination by police. This deters them from registering complaints," said Sonal Giani, advocacy manager at Humsafar Trust.
She said it took a few days of counselling at the trust office before Divyaroop was convinced to share his ordeal with members of Lawyers Collective. "Divyaroop contacted us and we immediately understood the case and researched enough to find out what sections of the Indian Penal Code (IPC) could be applied in this case to make it strong and a criminal offence," said Suraj Sanap, legal officer at Lawyers Collective. With no sections under the IPC to apply for sexual offence against men, the complaint was primarily lodged using Section 355 (assault or criminal force with intent to dishonour person), among others.
A welcome surprise
Divyaroop welcomed the support and quick response from the officers at Khar police station. "Not only were the officers understanding and sensitive to this issue, they also asked us to encourage more people to come out and seek police help. Such encouragement is rare, as we have mostly heard that victims from the LGBT community are usually mocked by the police," said Giani.
The FIR was registered under Sections 143 (unlawful assembly), 147 (rioting), 149 (every member of unlawful assembly guilty of offence), 323 (voluntarily causing hurt), 324 (voluntarily causing hurt with dangerous weapons), 340 (wrongful confinement), 355 (Assault or criminal force with intent to dishonour person) and 506 (criminal intimidation). Within two days, the Khar police rounded up possible suspects and paraded them before Divyaroop for identification. He identified four of his tormenters.
Also read: Dongri police comes to the aid of gay man, who was duped of Rs 30000 by 'lover'
"It's not just about the society's mindset, but the bigger challenge is to encourage people from the LGBT community to overcome their anxiety and approach police. Divyaroop's courage, as well as the understanding exhibited by API Shashikant Padave and officers from Khar police station is exemplary and is sure to encourage others as well," said Giani.
"All four accused were produced in the court on Thursday, where they managed to secure bail. Further investigation is on and we are sure of nabbing the other accused soon," said API Padave from Khar police station.