Kargil martyr's daughter Gurmehar Kaur, trolled on social media for her campaigns against ABVP and for peace; threatened with rape, says she wants India to be free of violence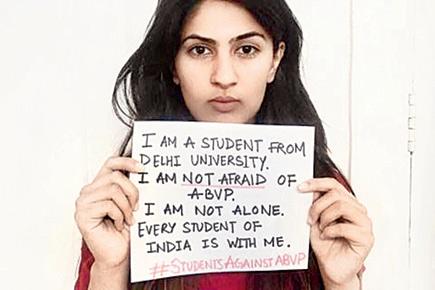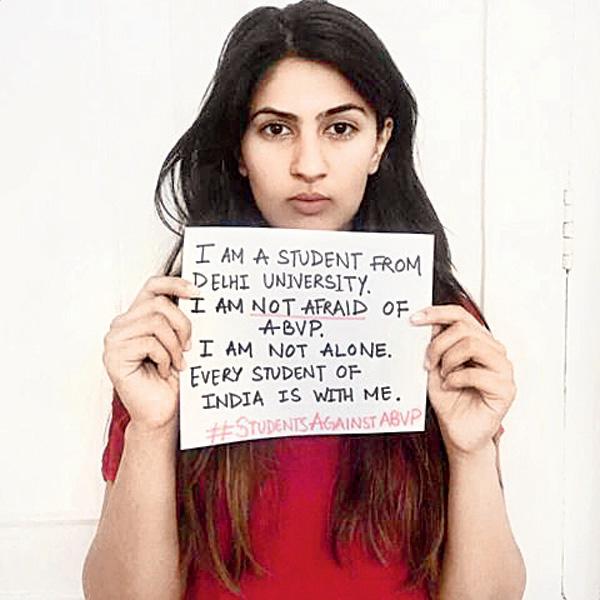 The picture Gurmehar put up on social media

Also read: Kargil martyr's daughter Gurmehar Kaur withdraws from campaign against ABVP
In a Twitter spat on February 26, Sehwag posted a picture of himself holding a placard saying, "I didn't score two triple centuries, my bat did," a response to her campaign, 'Profile for peace,' where she had posted her picture holding a placard saying, "Pakistan didnt kill my father, war did."
Also read: Opposition parties rush to defence of martyr's daughter Gurmehar Kaur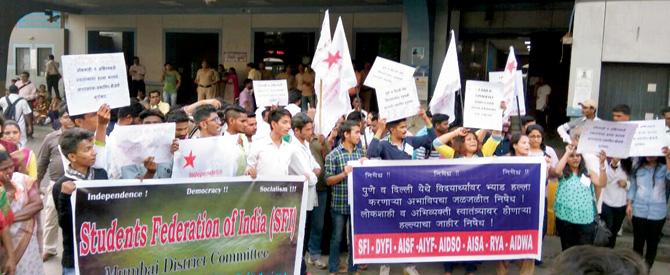 a protest against ABVP yesterday outside Dadar station
I want one India
Speaking to mid-day, Gurmehar said, "I am not anti-national, I only want peace. One India. Free of violence, free of physical assault."
She has also received rape threats from the ABVP. She has approached the Delhi Commission for Women after this.
Also read: After alleged 'rape threats', Kargil martyr's daughter compared with Dawood
With protests by both Akhil Bharatiya Vidyarthi Parishad (ABVP) and All India Students Association (AISA) in Mumbai, and a rising wave of intolerance, she has a message to give all, "As long as your fight is against violence, I am with you. As long as it is for peace, I want to say, you are not alone."
"My family is supportive, they have stood by me since 1995. As long as they are there, I'm not scared of anything," the daughter of Kargil martyr Captain Mandeep Singh added.
People react
Preeti Sharma Menon of AAP said, "The girl is getting rape threats from the ABVP. Is that nationalism? The entire issue is RSS agenda. The ABVP gets so much power because it is backed by powerful people."
Also read: Virender Sehwag's reply to Kargil martyr's daughter causes online uproar
Noted filmmaker Anand Patwardhan said, "People who are calling Gurmehar Kaur anti-national never fought for India's independence. None of their ideologues barring VD Savarkar went to jail. They opposed the Indian tricolour, and wanted their saffron flag instead. They wanted the Manusmriti instead of the Constitution. If anybody is anti-national, it is them."
On Monday, members of AISA, students from TISS, and ex-students of JNU protested jointly at Dadar Station. Aditi Pandey from AISA said, "These are a chain of events that have been happening since Rohith Vemula's death. Attacks on anyone speaking against the right wing have become a regular thing. We have been fighting to save democracy and will continue to do so."
RSS member says
Pramod Bapat, Prachar Pramukh from RSS, said, "Before pointing figures at ABVP one should see why it was protesting. This is typical Leftist strategy. I am also worried about peace, but when spaces are given to such anti-national elements who want destruction of the country, will you not say anything?"Asked about the rape threats, Bapat said, "Though ABVP is a separate body, I think strong action must be taken if the allegation is true."