Neighbours allege Kalamboli school is withholding complete CCTV footage from boy's parents, say someone seems to be following him in video they received; said an FIR will be filed against school management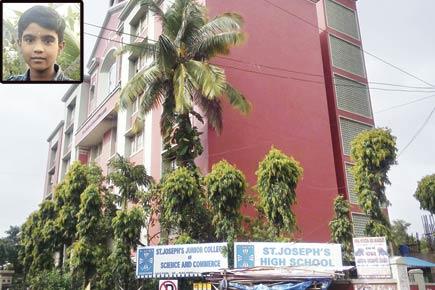 A 13-year-old jumped to his death from the fourth floor of his school building in Kalamboli around 7 am yesterday, leaving behind a host of unanswered questions. The boy's school, where two cases of students being molested have been reported in as many years, has allegedly given his parents incomplete CCTV footage.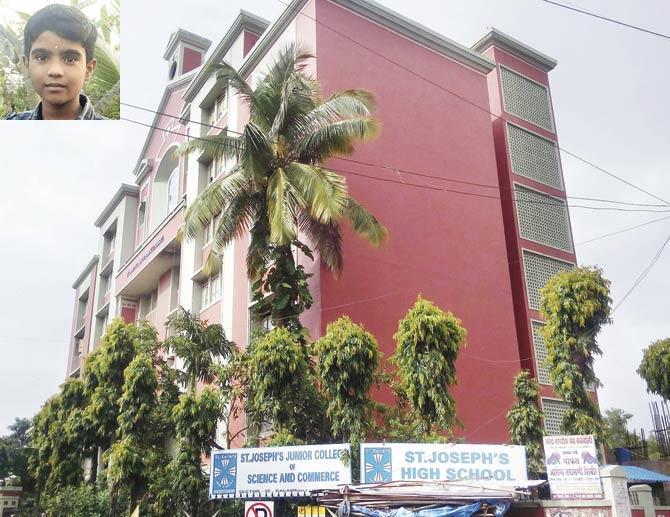 A file photo of Vignesh (inset). The school building from where he jumped
According to the boy's relatives, the portion of the video they have received indicates that someone may have been following the boy. This, coupled with the fact that the school is allegedly withholding the complete footage has made them suspicious as, according to them, the Std VII student was happy and would not take such a drastic step.
Horrible start
Vignesh Satish Salunke (13) allegedly jumped off the fourth floor Kalamboli-based Saint Joseph's High School and Junior College around 7 am, just before classes were slated to begin. He was immediately rushed to a local hospital, where he was declared dead on arrival.
In the CCTV footage obtained from the school, Vignesh is seen climbing the stairs to the fourth floor, walking along the corridor, scaling what looks like a small wall, and then walking some more. "In the footage provided by the school Vignesh is clearly seen walking on a surface and not jumping off the building.
The authorities are not ready to give his parents the complete footage from other CCTV cameras," said Sanjay Lonkar, a neighbour of the deceased.
Mystery
In the footage, Vignesh can be seen looking behind. "It looks as though someone was following him. This has raised our suspicion and we strongly feel that he did not take the decision to end his life," Lonkar said.
He added that Vignesh was happy and showed no signs of being sad or depressed. "Two days ago, the family had returned from their native place as one of their relatives had passed away. We spent a fair amount of time together. Vignesh was very joyful and did not show any sign of depression," he added.
Vignesh's neighbours said that the school has a bad record and this was the third unfortunate incident in two years. Two cases of molestation in the school were reported earlier, they said. When mid-day visited the school, police personnel had been deployed and no one was allowed to go inside. School authorities present on the campus refused to speak on the issue.
Cop speak
Officials from Kalamboli police station said that preliminary investigation is being conducted. "The family conducted Vignesh's last rites in the evening and are not in a condition to talk. Once they complete the rituals, we will speak to them and investigate the matter further.
As of now, we cannot come to a conclusion on whether the boy jumped or something different happened on that fateful morning," said B D Mohite, senior police inspector, Kalamboli police station. Officials said that the boy suffered serious injuries on his chest, legs and nose and died on the spot after the fall.