At Dharavi, Congress Vice President Rahul Gandhi brings up inflation, price of dal, high power tariff and plight of hawkers at the end of a long protest march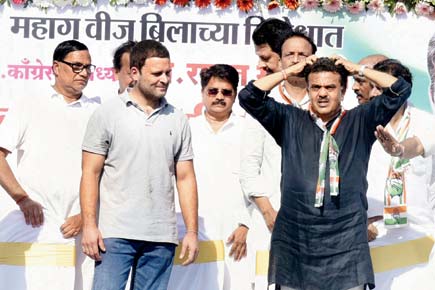 Rahul
A padyatra undertaken on Saturday became Congress vice-president Rahul Gandhi's vehicle to discuss other issues as well.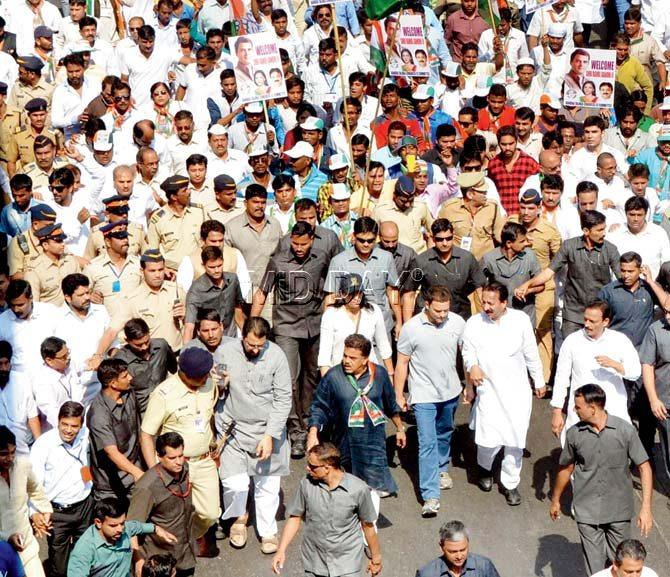 Congress Vice-President Rahul Gandhi and Baba Sidiqqui on a march from Bandra to Dharavi surrounded by Congress workers on Saturday. PIC/Sayed Sameer Abedi
Gandhi started his six-kilometre walk from Bandra West at around noon and reached Dharavi's 90-ft-road at 2.30 pm. The padyatra was undertaken to raise the issue of hike in electricity tariff and aimed at making the current government more accountable for it. At 90-ft road, a truck was converted into a podium took stage.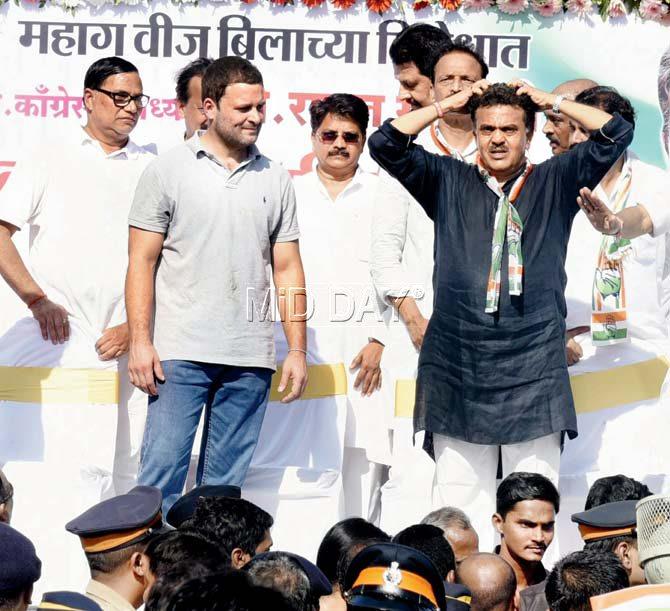 Rahul Gandhi and Sanjay Nirupam on stage in Dharavi. Pic/Shadab Khan
Though it was a show of strength and unity, in-fighting did mar the event, even if so ever slightly. With the walk starting from Bandra, the constituency of Mumbai BJP president Ashish Shelar, gathering large crowds, which was sustained through Dharavi, it was a feather in the cap for Mumbai Congress president Sanjay Nirupam, who has been having a tough time lately. The first morale boost came when Gandhi gave Nirupam a clean chit in the magazine controversy over unsavoury articles on Pt Jawaharlal Nehru and Sonia Gandhi.
Initially, party leader Naseem Khan, who belongs to the Gurudas Kamat camp, was missing from the list of the people allowed near the stage. Khan had had a fight with Aslam Shaikh, a Nirupam supporter, a few days ago over Gandhi's itinerary. However, after Kripashankar Singh's interference, Khan was allowed.
Meanwhile, Gandhi's speech turned out to be quite dull. He said, "Dharavi is a mini India, the ideology of Dharavi and Congress party is same."
However, he didn't elaborate much beyond adding, that all "people from India reside at Dharavi". He also had a suggestion for PM Narendra Modi: "Do a Make in Dharavi, before Make in India, we will scare China and they will run away."
Gandhi is also said to have spoken to some auto rickshaw drivers and spotted hawkers enroute. He claimed that his government was coming up with a policy regarding hawkers, but the BJP government wasn't bothered about it.
"Hawkers told me that they are being oppressed. We had come up with a bill [to help them]. We will raise the issue in Mumbai and Delhi." On the subject of inflation, Gandhi suggested that the government use the money saved from buying crude oil at cheaper rate be diverted to bring down the price of dal. "The money saved by spending less on buying crude oil should be used for development, of the people and work for the smaller people. But the money is going to only a few corporates."