Even though it had filed an FIR against both contractors, BMC gave them contracts worth Rs 223 crore to build four bridges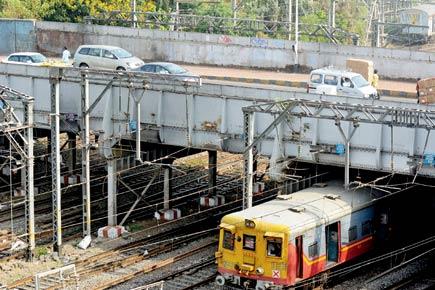 The Bombay High Court came down heavily on the BMC after it gave contracts to build four bridges for Rs 223 crore to two contractors against whom the police had registered an FIR.

Hancock bridge, seen here before it was brought down, was one of the bridges to be built. File pic
The Standing Committee of the BMC had on May 4 given contracts to two contractors, J Kumar Infra and RPS Infrastructure Projects Ltd, to build the Hancock Bridge in Byculla, a bridge on the Lokhandwala creek in Andheri, a bridge on the Mithi river in BKC and a railway crossing bridge at Vikhroli.
The BMC has registered an FIR against J Kumar Infra and RPS Infrastructure, said advocate Vijay Hiremath who appeared for the petitioner, Jayashree Khadilkar Pandey.
The counsel for the companies told the bench of Justices Bhushan Gavai and Dr Shalini Phansalkar Joshi, that they had not been blacklisted by the civic body.
"Weren't there any other bidders? Why do you want to assign contracts to contractors with criminal background?" asked Justice Gavai.
Senior counsel Anil Singh, who appeared for BMC, told the bench that preliminary work had already been started by the contractors.
"What have they started working on?" asked Gavai. "Soil testing and survey work has begun," Singh replied.
"See if there are low bidders, so that work can be assigned to some other contractors," said Gavai and kept the matter for Friday, asking Singh to take instructions from the BMC commissioner on the issue.
"We have been opposing the assigning of contracts since day one. How come somebody who has already cheated the BMC be given contracts again?" asked Pravin Chheda, opposition leader, BMC.
— Inputs by Ranjeet Jadhav and Tanvi Deshpande