The civic body had stopped the use of the Lok Shahir Anna Bhau Sathe open-air theatre 30 years back as animals and birds in the zoo would be disturbed by the performances; it will now pull it down to build an auditorium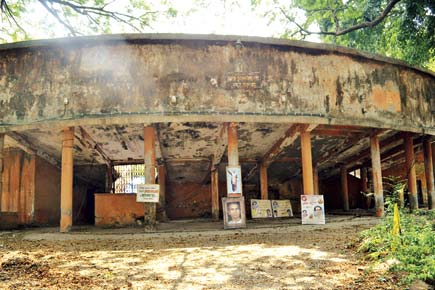 Nearly 30 years after preventing it from being used the Brihanmumbai Municipal Corporation (BMC) has decided to pull down the Lok Shahir Anna Bhau Sathe open air theatre in Jijamata Udyan and build an auditorium in its place.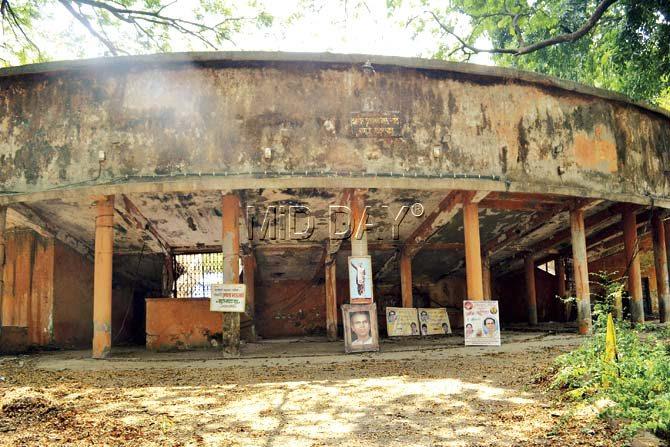 Like in the open-air theatre, only folk art shows will be held in the new auditorium. Pic/Datta Kumbhar
ADVERTISEMENT
The open-air theatre was started at the Udyan (the Byculla zoo) in 1963. With a capacity of 450 people, it was used to present Marathi folk art like lavani, bharud etc. However, animals in the zoo would get disturbed and scared by the sounds. So, in 1984, the BMC stopped its use.
The BMC is renovating the zoo and will build a closed theatre only for folk art, with 768 seats. The open-air theatre was one of the only spaces reserved for folk art in Mumbai. Epicons Consultants Pvt. Ltd. has submitted a plan for the new theatre.
The existing open theatre has RCC steps in the seating area. The proposed Anna Bhau Sathe auditorium will also be an RCC framed structure with a two level basement, a ground floor, and a first floor. "Since the new theatre will be closed, animals in the zoo will not get disturbed by the sounds.
BMC has a budget of around R20 crore for this. The new auditorium will be ready within next 2 years", said an official of BMC's Heritage Conservation Department. Additional Commissioner of BMC, S V R Srinivas said, "We will start work on the new Anna Bhau Sathe auditorium in next 5-6 months."