Lifeguards, fire brigade officials pull out the men, who had got in trouble while playing catch in the water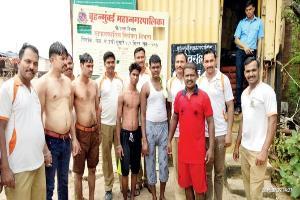 The four with their rescue team at Aksa beach on Sunday
It could have been a tragic Sunday afternoon at Aksa beach, but lifeguards saved the day, rescuing four people from drowning. The rescued have been identified as Amit Tiwari, 19, Yogesh Jadhav, 39, Sanjay Morya, 27, and Devidas Pandey, 24, all residents of Malvani Church area.
Picnic goes awry
According to the police, the four, all hailing from different states, are painters and have been working on a painting of Lord Ganesh in a workshop in the Malvani Church area.
Yesterday, eight people from the workshop went to Aksa beach on a picnic. At first, they played cricket, and later, entered the water to swim. However, after a while, they started playing catch in the water.
During their game, when Tiwari went in deep to fetch the ball, he started drowning. Jadhav, who knew how to swim, rushed to his help, but a scared Tiwari started dragging him down. Their companions rushed to the two's aid, but such was the panic that they all kept pushing each other underwater while trying to stay afloat. Other members of their group sitting on the beach then alerted the lifeguards.
Successful rescue
Lifeguards Pravin Chavan, Samir Koli, Ganpat Kolekar, Svatej Kolambkar and Rajnikant Mashalkar, fire officials Nilesh Gujar, Arvind Gajinkar and Avinash Jinke, and an official from BMC's security team rushed in to help the four and brought them all to safety. The incident was reported to the Malvani police, and after a thorough medical check-up, all four were allowed to go, said a lifeguard.
Also Read: Mumbai: BKC offices may work in shifts from December 
Catch up on all the latest Mumbai news, crime news, current affairs, and also a complete guide on Mumbai from food to things to do and events across the city here. Also download the new mid-day Android and iOS apps to get latest updates