The third accused in the Shivaji Nagar road rage case, wherein a father of two and family's breadwinnermaking ends meet by driving an Ola cab was beaten to death a few days ago, was arrested yesterday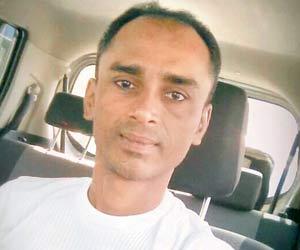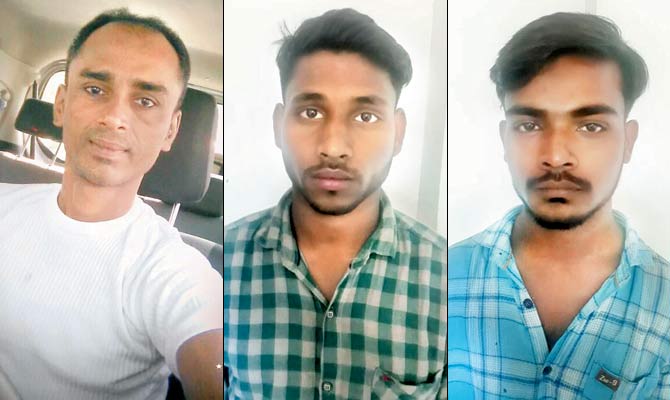 Deceased Saleem Shaikh; accused Imran Shaikh and Abdul Wahab Idrish
The third accused in the Shivaji Nagar road rage case, wherein a father of two and family's breadwinnermaking ends meet by driving an Ola cab was beaten to death a few days ago, was arrested yesterday. The accused has been identified as Wajid Ali. The other two, Abdul Wahab Idrish and Imran Shaikh, were arrested on Wednesday. All three are Shivaji Nagar residents.
The fatal fight
The police said the incident took place around 6 pm on Monday on Ahilyabai Holkar Marg near Bombay City Hospital, Shivaji Nagar. The accused were on a Honda Activa and got irked when the victim, Saleem Shaikh, 38, tried to overtake them. They parked their two-wheeler in front of his cab, blocking his way, and started arguing with him.
During the argument, the accused pushed him and soon started punching and kicking him. After Saleem fell down, the trio slammed his head on the road. When he became motionless, they fled from the spot. Locals from the area then called the Shivaji Nagar police and took Saleem to hospital, where he was declared dead. An officer said, "We checked footage of the CCTV near the incident spot, which helped us to track the two-wheeler and two of the accused. The duo revealed the name of the third, after which we tracked him down as well."
In mourning
Saleem is survived by his wife, an 11-year old son, who is a special child, and a 10-month-old baby. He had bought a WagonR with the help of a five-year bank loan and started working for Ola around three years back. The money he earned went into paying rent of the place the family stayed in as well as running the household.
His nephew Azaj Shaikh told mid-day, "My uncle was calm by nature. He never fought with anyone. Our family is in shock after this incident." Another relative said, "The family had already been going through hardship. Now, who will take care of them, especially with the woman being a housewife?"
Catch up on all the latest Mumbai news, current affairs from Mumbai, local news, crime news and breaking headlines here
Download the new mid-day Android and iOS apps to get updates on all the latest and trending stories on the go