The 50-year-old Kadam fell from the stairs of the Foot Over Bridge (FOB) at Panvel station on November 2, and was taken to JJ hospital, where cops traced his family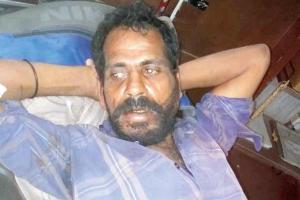 Sanjay Kadam had left his village Durgewadi in Ratnagiri 35 years ago and used to live on the footpath in Panvel
If only happiness was more enduring for the Kadam family of Ratnagiri. An accident at the Panvel railway station united Sanjay Kadam with his brother after 35 years, but the joy was short-lived as the former passed away within a week of this reunion.
The 50-year-old Kadam fell from the stairs of the Foot Over Bridge (FOB) at Panvel station on November 2, and was taken to JJ hospital, where cops traced his family. His brother soon came to the hospital but Kadam succumbed to his injuries on November 15.
Assistant Police Inspector Arun Kamble of Panvel GRP said, "We asked Kadam for his address, which is when he told us about his family in Ratnagiri. We got in touch with Savarde police station under whose jurisdiction his native village Durgewadi fell."
"The police officers there sent his pictures through WhatsApp to the police official (locally called Police Patil) of every village in the region. Very soon, a police official, also named Sanjay Kadam, from the victim's village, recognised him as someone who had left the village 35 years ago," Kamble said. He also shared contact details of Dilip Kadam, Sanjay's elder brother residing in Thane. When Sanjay visited JJ Hospital, he told the police that he had been trying to find his brother for several years. "I don't remember why he left home. I was just happy when I received this call," he said.
Police officer Sanjay Kadam told mid-day that the deceased was his playmate back in the village. "We played together as children but Sanjay couldn't run owing to polio. When the police shared his picture, I recognised him because he looks like his mother. His parents died long ago," Kadam said.
Catch up on all the latest Mumbai news, crime news, current affairs, and also a complete guide on Mumbai from food to things to do and events across the city here. Also download the new mid-day Android and iOS apps to get latest updates