Several fliers en route to the domestic airport missed their flights after a car caught fire on Sahara Star flyover at Santacruz on the Western Express Highway (WEH) on Thursday afternoon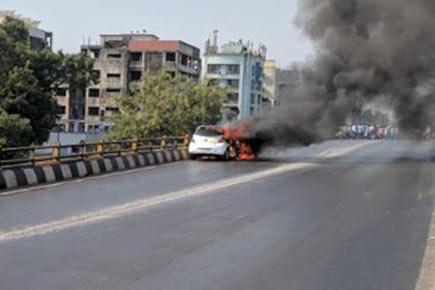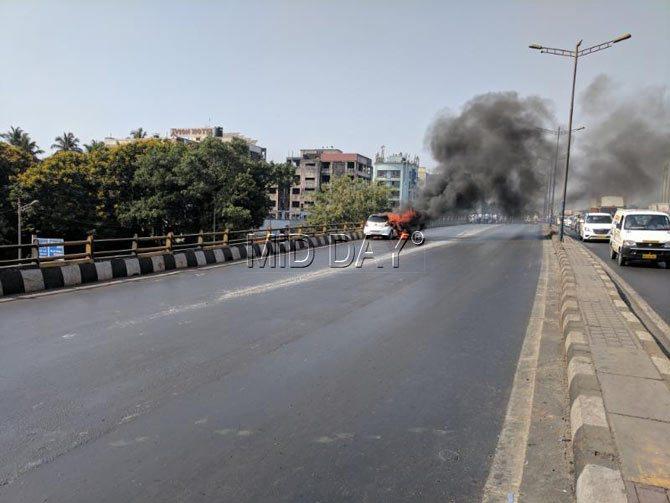 Pic/Aditya Gonsalves
Several fliers en route to the domestic airport missed their flights after a car caught fire on Sahara Star flyover at Santacruz on the Western Express Highway (WEH) on Thursday afternoon.
According to a report by The Times of India, the blaze reportedly caused a huge traffic snarl, which lasted for several hours. It usually takes about 40 minutes to cover the stretch.
Stranded and frustrated motorists took to social media to complain about their unfortunate predicament.
If you're taking the WE highway going towards the airport, good luck to you, the traffic pile up starts from after the sea link. @RidlrMUM

— Shilpa Shah (@ShilpaSShah) April 13, 2017
@ShilpaSShah @mumbaitraffic @RidlrMUM I missed my flight back home

— Anjali Sharma (@AnjaliS57527131) April 13, 2017
Furthermore, movement of vehicle was halted by the traffic police as the fire brigade was delayed by 30 minutes to reach the spot.
The vehicle belonged to a journalist named Raj Purohit, a Dahisar resident, who was on his way home, stopped his car on the flyover around 3:45 am after seeing smoke emanating from it. The vehicles went up in flames as soon as he exited.
Other motorists were severely inconvienienced by the sudden car fire, which worsened after the jam reached the opposite direction up to Bandra. One commuter took three hours to cover a 40-minute distance, while another travelled from ISKCON Juhu to Andheri pump house in two hours.