A small fire, possibly by a short circuit, leapt out of control within a matter of minutes; owner says loss pegged around Rs 5-7 crore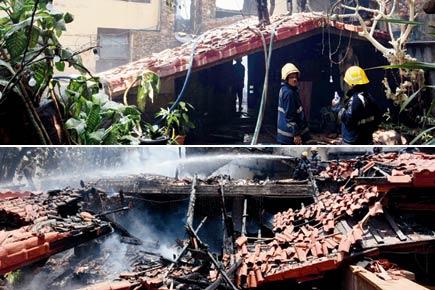 Six fire tenders rushed to the spot after the fire was first reported. Pics/Rane Ashish
In a matter of minutes, the landmark Kino Cottage at Seven Bunglows, Versova, which has been home to numerous parties and shoots, was gutted in a fire that started at around 10.30 am on Thursday and was first spotted by next door neighbours.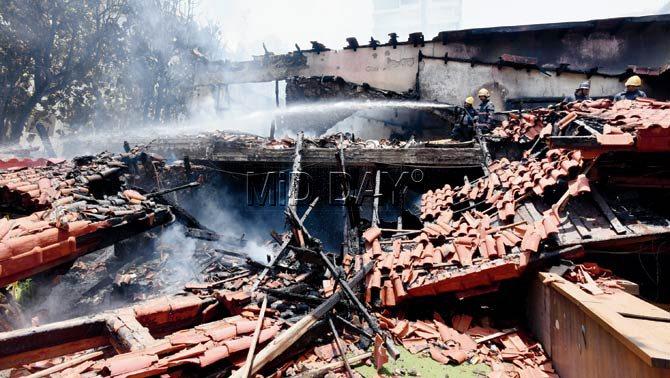 Where did it start?
Next-door neighbours Sushil and Nina Saini saw traces of white smoke from the bungalow and raised an alarm. Within 20 minutes, over six fire tenders had reached the spot, but couldn't enter the bungalow because the entrance gate was too small. Kabir Luthria, whose family owns the Kino Cottage said that a very small fire was spotted near a sofa-cum-bed that was kept on the terrace and used by his staff members.
"To our utter surprise, within a matter of few minutes, it got completely out of hand and flared out of control. In a couple hours, the entire magnificent cottage was reduced to charred rubble," he said.
However, the staff reportedly had the presence of mind that once the smoke was detected, they evacuated all the gas cylinders off the premises and also rescued the pet Rottweiler.
Mumbai fire brigade chief Prabhat Rahangdale said that though his team had initial issues in getting proper access to the fire site, they were able to control it within half an hour. "The exact cause of the fire can only be ascertained once the full investigation is over," he added.
Short circuit speculated
Meanwhile, sources suggested that one of the air-conditioners had been running too long and malfunctioned. "From the sequence of events, one gets the impression that there could have been a short circuit, but the actual cause can only be determined once a detailed investigation is carried out," said Saini.
Speculating on the possibility of a short circuit, Luthria stated that though it cannot be ruled out, the entire cottage was fitted with high-end earth-leakage circuit breaker (ELCB) - a safety device used in electrical installations - that interrupts the circuit if a dangerous voltage is detected. To make matters worse, Luthria is unsure that the loss, pegged between Rs 5 to R7 crore, was covered by insurance since he father handled the estate. "Luckily, there were no causalities, but our house is gone. It's all lost," he said.
The fire was finally doused at around 2.15 pm with the help of five fire engines and four water tankers.