The accused had already been charged with molestation and abetment of suicide after cops found suicide videos alleging he had sexually assaulted one of the family members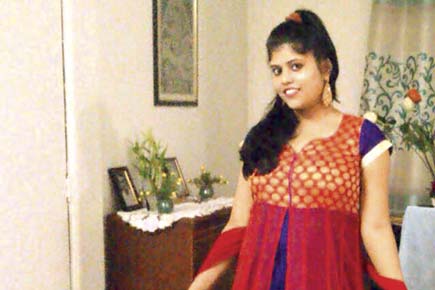 Nearly a week after a family of four was found hanging in Andheri (West), the police have added rape to the list of charges they are investigating against the accused, who had been arrested earlier on the basis of suicide notes that alleged he had sexually assaulted one of the family members and driven them to suicide.
Also read: Family rehearsed suicide for 5 days
ADVERTISEMENT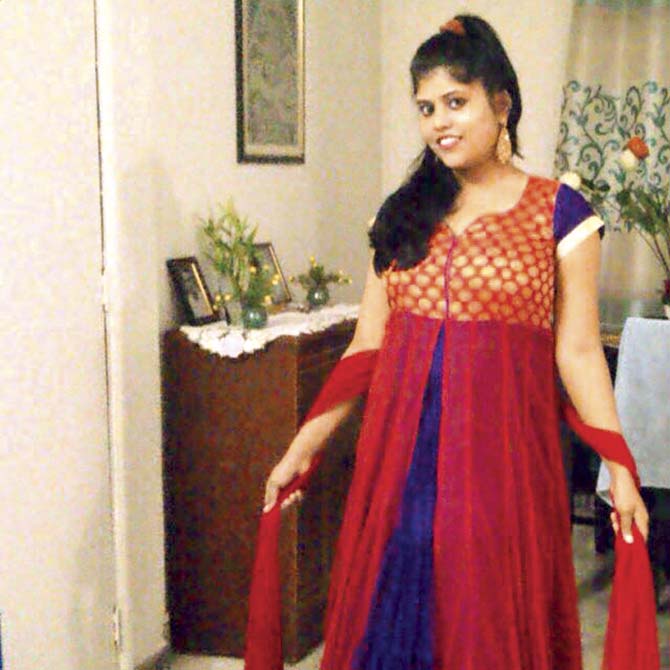 Siblings Bharti Pal and Somnath Kartik Pal were found hanging at their employer's flat in Oshiwara on Friday night. Their mother and stepfather were found dead in their Lokhandwala flat the next day
Brother-sister duo, Bharti Pal (25) and Somnath Kartik Pal (20) were found hanging in an Oshiwara flat on February 20, and their mother (Sikha Pal) and stepfather (Manoj Ajitkumar Patel) were also found dead in their flat in Lokhandwala the next morning.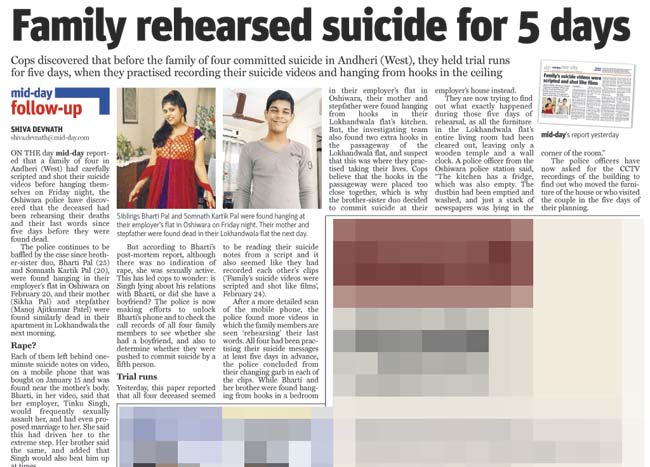 mid-day's report on February 25
The entire family had practiced taking their lives, and even rehearsed their suicide videos for five days before they took the extreme step ('Family rehearsed suicide for five days', mid-day, February 25). Bharti and her brother both alleged in their videos that the accused, Tinku Singh who had been their employer for over ten years had repeatedly sexually assaulted her and even asked her to marry him.
At first, Singh said Bharti was like his sister, and that he had never touched her. Later, however, he admitted to kissing her but maintained that he had never had sex with her. Bharti's post mortem revealed that although she had not been raped prior to her death, she seemed to have been sexually active.
But as the police are yet to find another person with whom Bharti may have had a relationship, their suspicions are focused on Singh. Aside from the earlier charges of molestation and abetment of suicide, Singh has now also been charged with rape (Section 376 of the Indian Penal Code).
Also read: Family leaves suicide note and Rs 50,000 for cops!
"We have recorded statements of people who claimed that they saw the accused and the girl kissing; even the accused admitted that they kissed. We are now probing whether Tinku Singh ever raped her, as till now we have found no other person who may have had intercourse with the girl," said a police officer from Oshiwara police station.
Cops will question Singh again, and have asked for an extension of police custody to investigate this angle. The investigating team also acquired call data records of the four deceased to check who they were in touch with in the five days when they were planning and rehearsing their suicide.