Months after saving the plants along the Dahisar-Andheri-DN Nagar metro line, environmental activist Dr Subhajit Mukherjee has come up with a unique idea of increasing green cover along the west coast of the city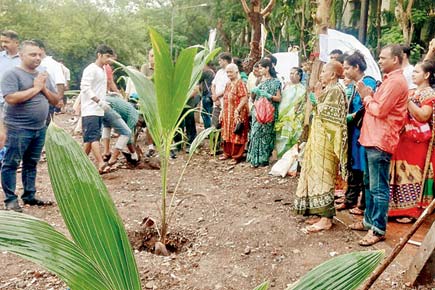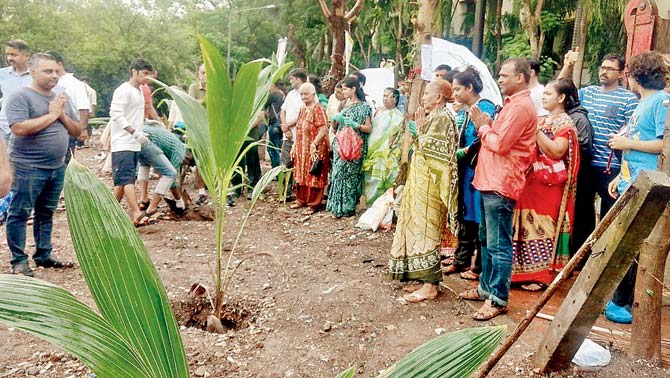 Residents and members of NGO Green Yatra planted 60 saplings on a plot in Charkop village on Sunday
Months after saving the plants along the Dahisar-Andheri-DN Nagar metro line, environmental activist Dr Subhajit Mukherjee has once again come up with an unique idea of increasing the green cover along the west coast of the city. He has started a citizens' initiative - Mission Green Mumbai - along with NGO Green Yatra, to plant 12,000 coconut trees along the coast in Juhu, Versova, Aksa, Gorai, Danapani and Manori, in the next three to six months.
Green coast
Mukherjee, who is a founding member of the Lets Green Foundation, said, "The government and other agencies have undertaken several plantation drives this year, but not much has been done to increase the green cover along the coastline. Hence, we decided to plant coconut trees along the west coast."
Citizens and members of the NGO have started work on identifying the areas along the coast in the western suburbs where the plantation can be carried out. Nearly 60 saplings have already been planted on a plot in Charkop village. Sources said that people were responding well to the initiative and have planned to plant 400 coconut trees on the same plot.
Adoption must
"We have requested citizens to adopt the saplings after planting them, as their safety is of utmost importance. Coconut trees have a long life and take almost eight to 10 years to bear fruits. Each tree will produce more than 100 coconuts and we expect to get 1,20,00,00 coconuts every year," added Mukherjee. He also said that the price of each sapling ranges between R60-R200 depending on its size and another Rs 60 would be spent for transportation and labour. He added that a number of corporate companies have come forward to support the initiative as well.