Though the ordinance postponing NEET by a year got Prez nod, parents are disappointed as it lets only government colleges admit students through CET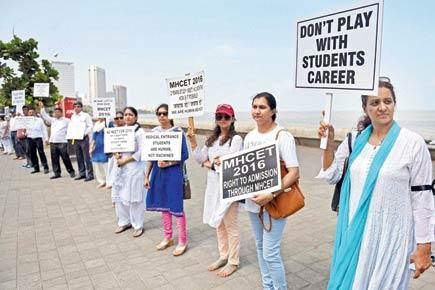 After incessantly fighting for weeks, the parents of medical aspirants were going to succeed in their endeavour with President Pranab Mukherjee signing on the dotted line yesterday. He did, but there was no sign of success as the rules of the ordinance say that although the National Eligibility and Entrance Test (NEET) has been postponed for a year and admissions can take place based on states' common entrance tests (CETs), only seats of government medical colleges, and not private ones, will be filled this year.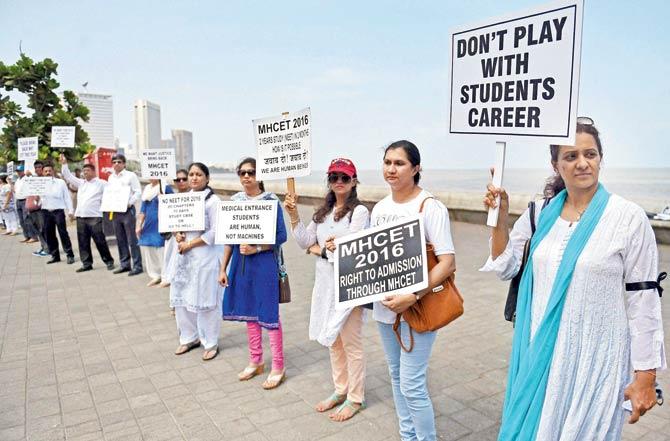 Parents formed a human chain to protest against the SC verdict but their fight didn't prove quite fruitful. File pic/PTI
These parents, who had been fighting to get the CET reinstated, instead of celebrating their victory, were frustrated to know that while admissions to 2,000 seats will take place, 3,000 seats of private and deemed universities in the state are not open to their children.
Prepare for phase II
Ruhi Kapoor, mother of a medical aspirant, said, "This is unfair, but now, it is important that children start preparing for NEET phase II. Meanwhile, we will continue to fight for letting even private colleges admit students through the CET this year. But it is important that children focus on preparations."
Voicing his disappointment, another parent, Rajiv Shastri, said, "Our fight has been against the injustice of asking children to cover two years' curriculum in just two months. But this confusion is again putting more stress on children."
Also, children who haven't performed well in CET have another chance via NEET-II. Nayan Verma, physics teacher at a medical entrance coaching institute, said, "After checking answer keys, students know how much they are going to score in the CET and those expecting a score below 180 have no option but prepare for NEET to ensure that they get admission in some private college next year."
Tawde says
State Education Minister Vinod Tawde yesterday said, "In Maharashtra, private and deemed universities do not come under the state government, unlike in Karnataka and Andhra Pradesh, where a certain percentage of seats from private colleges are filled by the state government with help of the CET. From next year, all medical admissions will be through NEET. Hence, the state will take steps to ensure that there is not much difference in the curriculum."