The red and yellow tiles were laid just three months ago, as a part of the project to raise the height of the platforms at the station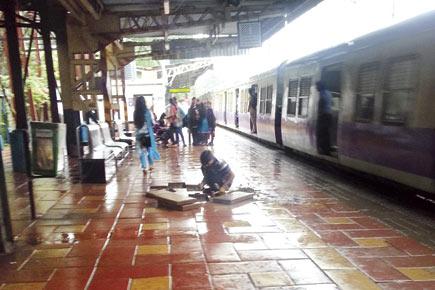 It has been just three months since the railway officials raised the height of the platforms at Charni Road station and installed multi-coloured tiles as a part of the project. But the red and yellow tiles have already come loose and are acting as hurdles for commuters walking on the platforms.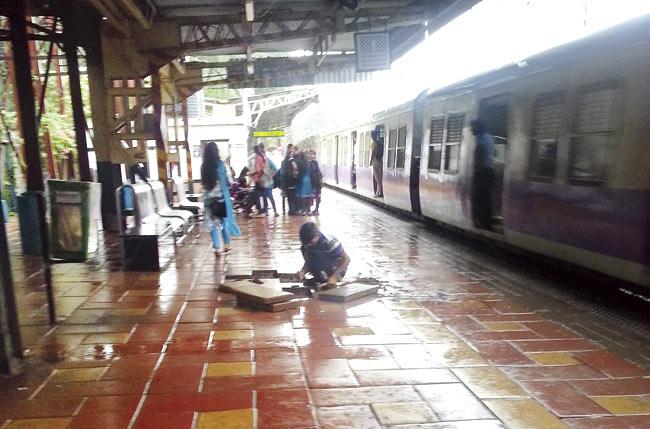 A labourer fixes tiles that have come off recently. It has been less than three months since the tiles were fitted on all the platforms
What has compounded the situation further is the heavy inflow of devotees wanting to seek darshan of the famous Ganpatis in Girgaum and Khetwadi. These visitors alight at Charni Road and their numbers might continue to increase until visarjan.
'Poor quality work'
"These tiles have come off in less than three months since their fitting. The contractors have done a shoddy job," said a Western Railway (WR) official. Sources said there has been a volley of discussions on the quality of work done by the contractors to whom tenders were allotted to raise the height of the platforms.
Charni Road was one of the first railway stations in the city where the height of platforms was raised after teen Monika More lost her arms when she fell into the gap between platform and train. Installation of the tiles at the platforms of the station was a part of the project.
Commuters complained that the problem persists mostly on platform numbers 1 and 2, where the loosening of tiles have left big gaps on the platform. Pradip Velankar, a Girgaum resident, said, "It gets problematic during peak hours. These gaps makes it difficult to walk."
Western Railway spokesperson, G Mahatpurkar, said, "Work of fitting these tiles will be completed by Saturday." He added that the WR had cancelled the mega block on Sunday, because it is the last weekend before visarjan.