Account holders, criminal lawyers and CAs slam CBI over its action of sealing PNB's branch in Brady House, Fort; agency unseals premises 24 hours later, calls it a temporary shutdown to carry out search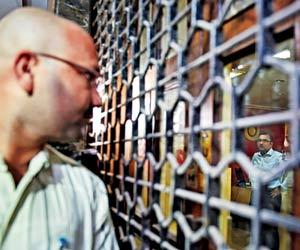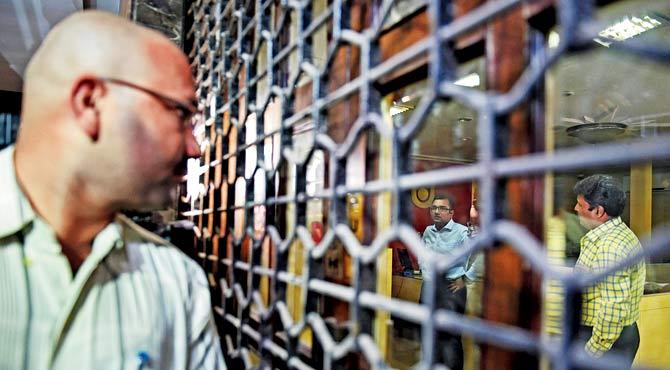 A man looks through the grille as a CBI team seals PNB's South Mumbai branch at Brady House on Monday. Pic/PTI 
The Central Bureau of Investigation (CBI) had to unseal Punjab National Bank's (PNB's) branch in Brady House, Fort, 24 hours after it had shut it, following public outcry. The agency was quick to clarify that it had only shut the branch temporarily as a search operation was underway. CBI's action was criticised not just by account holders, but also by criminal lawyers and chartered accountants.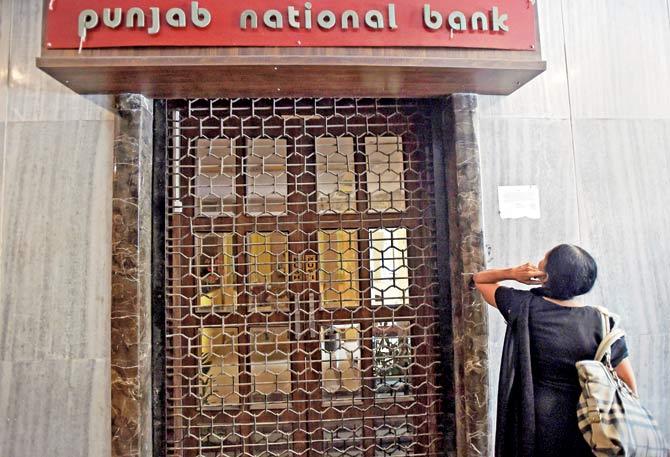 A woman stands outside PNB's South Mumbai branch at Brady House, as CBI officials had sealed the establishment. Pic/PTI
The CBI on Sunday had sealed the branch premises, stating no one was allowed to enter without the permission of court or competent authority concerned, getting its notice stamped by an inspector rank officer of BS&FC, CBI, Mumbai, and counter-signed by a PNB official. Yesterday, it issued a statement that read: "CBI search that began yesterday (Sunday) is still continuing today in the Punjab National Bank's Mid Corporate Branch, Brady House, Fort, Mumbai in an on-going investigation of a case.
The PNB Branch was secured with a seal briefly during wee hours so as to prevent any inadvertent or unauthorised opening by concerned PNB staff. Today the seal and notice at the branch premises were removed. Temporary sealing of the premises was a time bound security measure to prevent possible tampering. It will not affect regular business of the branch since today is a local Holiday in Maharashtra ( Shivaji Jayanti). (sic)"
Panned all over
A woman who holds an account in the branch since years was aghast to find the seal yesterday. "I had to do some transactions at the branch. When I reached, I found it shut. Initially, I thought it was because of Shivaji Jayanti; I had forgotten about that. But on finding out that the premises had been sealed by the CBI, I was shocked. Why should innocent people suffer for someone else's crime?" she asked.
Noted criminal lawyer Majeed Memon said, "The CBI must not lose sight of the fact that more than 95 per cent of the bank's customers are innocent. Complete stoppage of all transactions, even for a few hours, by sealing the premises will cause incalculable harm to that majority."
Another lawyer, Dinesh Tiwari, echoed him and said, "The agency could have frozen the dubious accounts [instead of sealing the branch]. Whatever the gravity of the case, sealing a branch for probe is never heard of. The agencies should be more empathetic towards the public's suffering." "This is unheard of! They should have just sealed workstations of the bank staff and not caused such harassment to the public," said chartered accountant M H Nahar of M H Nahar and Company.
Modus operandi
Arrested accused Gokulnath Shetty, deputy manager (retired), and Manoj Kharat, single-window operator, in connivance with accused companies, defrauded the PNB to the tune of $754.92 million (Rs 4,886.72 crore). They issued fraudulent Letters of Undertaking (LoUs) in favour of foreign branches of Indian banks and Foreign Letters of Credits (FLCs) in favour of foreign suppliers of accused companies, including SBI Mauritius for Gitanjali Gems, Bank of India Antwerpen, Belgium, Canara Bank Bahrain, SBI Frankfurt, Allahabad Bank Hong Kong, and Axis Bank Hong Kong.
According to the CBI, the modus operandi adopted by the accused bank officials was simple: they deliberately omitted making entries of the LoUs in the Core Banking System (CBS) of the bank to avoid detection. The funds raised through the LoUs were meant for payment of import bills of the accused companies. With regard to FLCs, they were initially opened for smaller amounts by creating entries in CBS and sending the relevant FLCs through SWIFT messages. The accused bank officials dishonestly enhanced the value of the FLCs manifold without recording the same in the CBS.
Advocate Vijay Aggarwal, the same lawyer who had represented a number of 'high-profile' accused persons in the 2G spectrum case, will be representing accused jeweller Nirav Modi in connection with Punjab National Bank fraud case.
The CBI on Sunday questioned 11 Punjab National Bank (PNB) officials as well as Vipul Ambani, the Chief Financing Officer of diamond merchant Nirav Modi's Firestar Internationl company, in connection with the multi-crore bank fraud.
Catch up on all the latest Mumbai news, crime news, current affairs, and also a complete guide on Mumbai from food to things to do and events across the city here. Also download the new mid-day Android and iOS apps to get latest updates