The MBA student was on her way to Churchgate but did not realise when the youth entered the ladies coach; there was no one to help when he attacked her from behind and then jumped off the train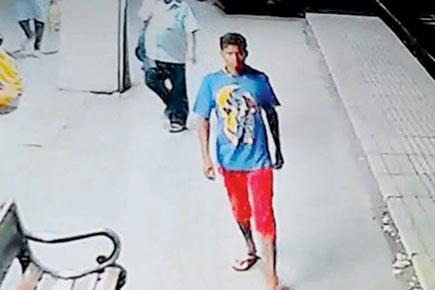 Molester
In yet another instance that shows how unsafe local trains are for women, a 22-year-old MBA student sitting in the ladies compartment in a Churchgate-bound train was stripped and molested by a youth who then jumped off before he could get caught.
Also read: Woman journalist molested, robbed of mobile phone in Mumbai local train
ADVERTISEMENT
On Thursday night, Samya (name changed) boarded the Churchgate local at Malad station, sitting in the ladies compartment after the motorman's cabin. There was no cop keeping watch in the coach, but Samya didn't worry because she saw quite a few other women inside.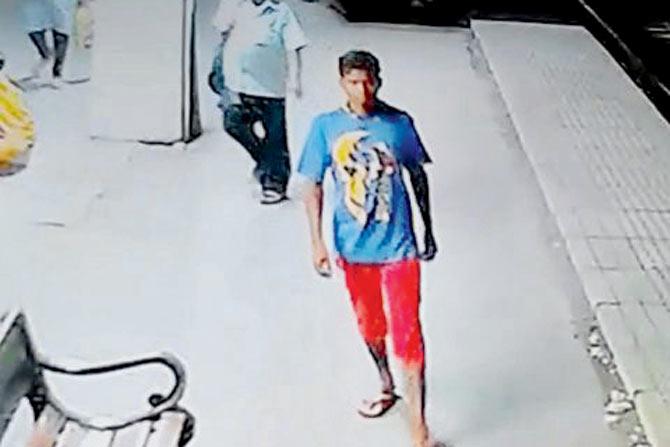 Police are looking for this youth, seen wearing a blue T-shirt and red pants on the CCTV footage, which also captured him entering the ladies compartment around 11 pm on Thursday
However, she sat with her back to the other women, and so she didn't realise it when they had all stepped off before the train rolled in at Grant Road station at about 11 pm. There, unbeknownst to Samya, a man in his 20s entered the compartment. No one else had boarded the coach, and when the train started moving, the youth attempted to molest her.
According to railway officials and railway police staff, the youth grabbed her from behind. Samya screamed but there was no one to hear her.
"The boy tore her clothes off also. When the train halted at a signal before the Marine Lines station, he jumped off," said a railway official, adding that at the station, two other men helped Samya off the train and took her to the station master, who covered her with a white cloth.
Also read: Molestation cases in Mumbai locals, stations already higher than last year
Usually, there are railway police deployed in ladies compartments at night, but on Thursday, the staffer could not report for duty as there was some technical problem at Borivli station, which delayed his arrival, said the railway police commissioner, Madhukar Pandey.
When mid-day spoke to the survivor, she was on her way to her brother's house in Pune, and was hesitant to talk about the incident.
"I have not registered any complaint with the police because my parents refuse to do so. I was very scared at that time and my friends took me home. I don't want to speak about this incident again. I am fine now," she said.
Officialspeak
The railway cops are investigating the matter and have registered a case under Section 162 (Entering carriage or other place reserved for females) and 145(b) (commits any nuisance or act of indecency) of The Railways Act.
Anand Vijay Jha, senior divisional security commissioner (Westrn Railway), said, "We have registered a case against an unknown person and are investigating the matter. We are looking for a boy who boarded the ladies coach in a blue T-shirt and red pants, as per the CCTV footage."
Commissioner Pandey said, "We encourage people to come forward to register complaints. In this particular case, we are investigating the matter and searching for the boy seen in the CCTV footage and action will be taken against him."