Social activist and his wife, who rescued the boy who had been thrown into a nullah after his birth, and cop on the case celebrate it with him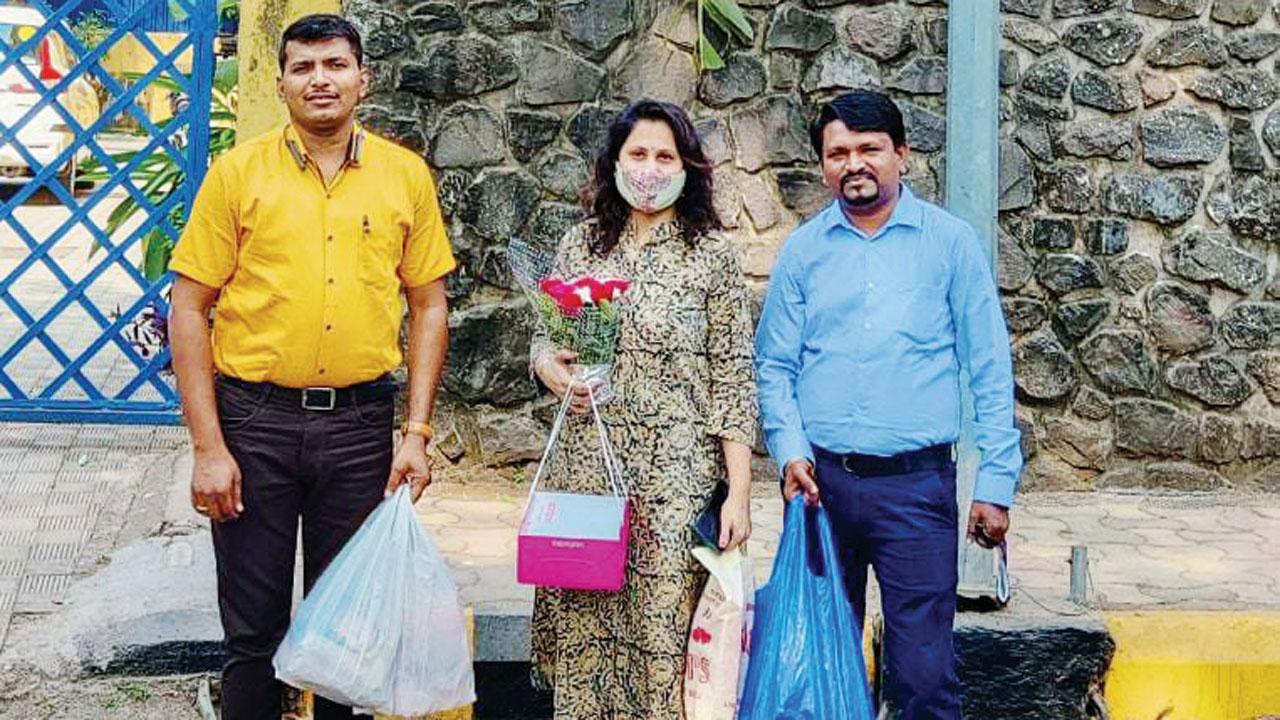 The Ragades and (left) Police Sub-Inspector TK Sawant celebrated Tiger's birthday
A social activist and his wife, and a police sub-inspector got together to celebrate a special birthday yesterday. The trio was involved in the rescue and probe into the abandonment of a baby in an Ulhasnagar nullah on December 30, 2018. As he turned three, Shivaji and Jayashri Ragade, the couple who had saved the baby and Police Sub-Inspector TK Sawant, the case's investigation officer, met Tiger and celebrated.
Tiger's story
Tiger had been dumped in a nullah in Ambernath barely hours after his birth. Around 5 pm, Shalini Gaikwad, a local resident, heard a baby wailing, and followed the cries until she spotted a black garbage bag inside a nullah. Worried, she called social activist Shivaji Ragade for help. Shivaji was nearby, attending a wedding with his wife, and jumped into the nullah. "I grabbed the baby. He had blood all over him, and the umbilical cord was still attached to his navel. Without a second thought, my wife and I took the baby to Central Hospital in Ulhasnagar," remembers Shivaji.
After being left in the water for hours, the baby was battling for his life and was feared to have contracted an infection. After four days of treatment, when there wasn't much improvement, Shivaji and Jayashri got the baby shifted to Sai Ashish Hospital. After 22 days of treatment, it was there that Tiger finally opened his eyes. For better treatment, baby Tiger was later shifted to Bai Jerbai Wadia Hospital, Parel where he underwent brain surgery. With the help of crowd funding group Ketto, Rs 10 lakh were raised within 24 hours in January, 2019. After undergoing treatment for nearly 4 months, baby Tiger was discharged and taken to Child Welfare Committee, Ambernath. He was admitted in Vishwa Balak Kendra, Nerul for further care and adoption.
Awaiting adoption
"Tiger is in our centre for three years. His recovery is miraculous. One cannot tell he underwent such hardship few hours after his birth," said Satish Mungekar, administrator of Vishwa Balak Kendra. "Today Shivaji and Jayashri Ragade, PSI TK Sawant had come, we celebrated his birthday. He was happy," he added.  Tiger is awaiting adoption, his information has been uploaded on the Central Adoption Resource Authority website.