The unit to manufacture military transport aircraft will come up in Vadodara now; CM Shinde had assured the project would come up in Nagpur, says NCP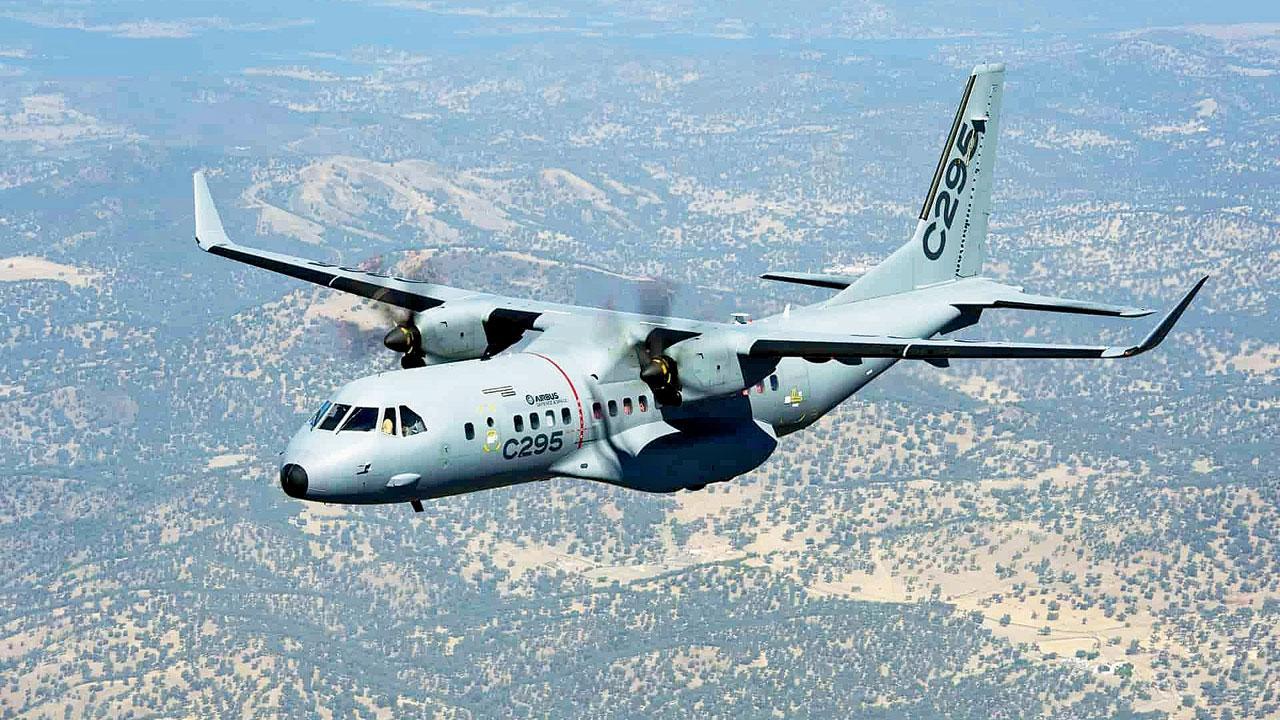 Tata-Airbus consortium will manufacture C295 transport aircraft for the IAF. Pic/Twitter
Poll-Bound Gujarat has landed yet another mega project that Maharashtra was pitching for. A Rs 22,000-crore military transport aircraft manufacturing unit, which according to the NCP was supposed to come up in Nagpur, will be built in Vadodara. Madhya Pradesh, Uttar Pradesh and Karnataka were also in the competition to secure the project.
The defence project involves a deal wherein European defence major Airbus and Tata will manufacture C295 transport aircraft to replace the ageing Avro-748 planes of the Indian Air Force. The loss to Gujarat has given the Opposition in Maharashtra the ammo to attack the Shinde Sena-BJP coalition government.
ADVERTISEMENT
Earlier this year, Maharashtra lost Rs 1.70-lakh crore Vedanta-Foxconn semiconductor chip project. Soon after, Maharashtra Industries Minister Uday Samant had said that Chief Minister Eknath Shinde and Deputy CM Devendra Fadnavis would convince the Centre to allot the Tata-Airbus project to the state. His statement had come in the wake of the Opposition's strong criticism over the loss of economic growth and job opportunities by way of the shifting of the Foxconn project to Gujarat.
The defence department announced the allotment of Tata-Airbus project to Vadodara on Thursday. "In a major boost to #AtmanibharDefence, 56 C-295MW transport aircraft will soon join @IAF_MCC. 40 aircraft will be #MadeInIndia at a new manufacturing facility of #Tata Consortium in collaboration with #Airbus in #Vadodara #Gujarat," it tweeted.
Also Read: Went 'overboard' to make better offer for Vedanta-Foxconn project: Devendra Fadnavis
Mahesh Tapase, the chief spokesperson of the NCP, blamed the Shinde-Fadnavis government for the loss. "The BJP appointed Shinde as the CM only to facilitate the transfer of mega projects from Maharashtra to Gujarat," said Tapase, adding that he had bowed to his political masters.
"After the exit of Vedanta-Foxconn, Shinde had clearly said that the Tata-Airbus project to manufacture C295 military transport aircraft will come up in Nagpur. Today, his lie stands exposed," Tapase said and wondered whether the CM would resign immediately. When contacted, the CM's media representative directed us towards Samant for comment on the Opposition's allegations. Samant didn't respond till the time of going to the press.
State BJP spokesperson
Keshav Upadhye said the project was allotted to Gujarat a year ago. "PM Modiji's cabinet had approved the project on September 8, 2021 and a memorandum of understanding was also signed. However, no letter was written by the then Maharashtra government to bring the project to the state. The criticism is misleading," he said, challenging the MVA leaders to produce any document pertaining to such a demand.
Jaitapur nuclear project
Sources in the government said that the state has been promised the Jaitapur Nuclear Power Project, which has been stalled for various reasons. Another mega project, a chemical refinery planned in the coastal Konkan, has also been in limbo.
Tweet talk
Mahesh Tapase, NCP@maheshtapase:
'The BJP appointed Shinde as the CM only to facilitate the transfer of mega projects from Maha-rashtra to Gujarat... Shinde should immediately resign'
Rs 22,000cr
Cost of the defence project