Censors have asked for the word 'Bombay' to be removed from lyrics of singer Mihir Joshi's track 'Sorry', written in the aftermath of the Delhi gang rape, before clearing its music video's TV release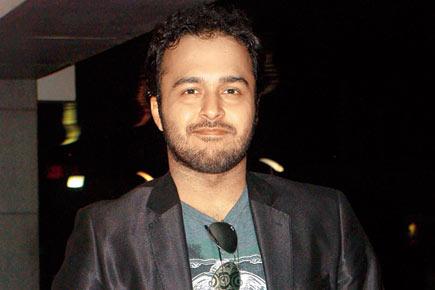 Mihir Joshi, singer, Sorry, Mumbai Blues, Bombay, Censor Board, censorship, 2012 Delhi gangrape case, Leela Samson, Mumbai, Mumbai news
The Bombay High Court may have the word in its name, but the Censor Board has asked for 'Bombay' to be removed from the lyrics of a singer's song before clearing its music video's release on television. The certificate was issued on December 5, 2014, under the chairmanship of Leela Samson, who later resigned in January over the Messenger of God controversy. 

The song in question, 'Sorry', from vocalist Mihir Joshi's album Mumbai Blues, was released a few months ago and the label recently decided to release a music video for it after noticing its popularity among netizens.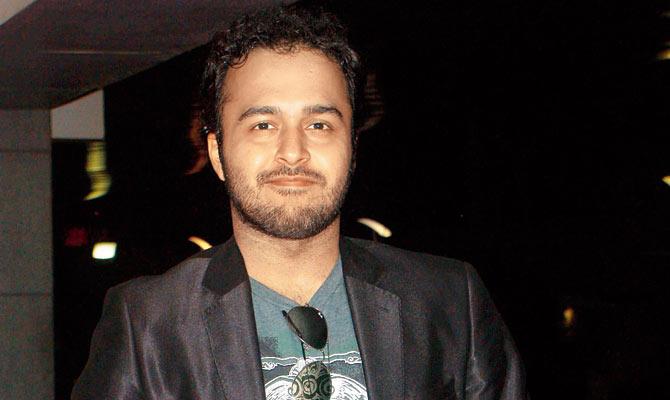 Mihir Joshi

"The words of the song go like this: 'I am sorry sweetheart …this is the world I am giving you today. It is the same thing no matter what you read… from Delhi to Bombay. I wish it was different darling...wish you could feel nice and safe. But the world's gone crazy, I don't know what to say'. It is basically a conversation between a father and his daughter and I wrote it after the Delhi rape case in December 2012," said Mihir.
ADVERTISEMENT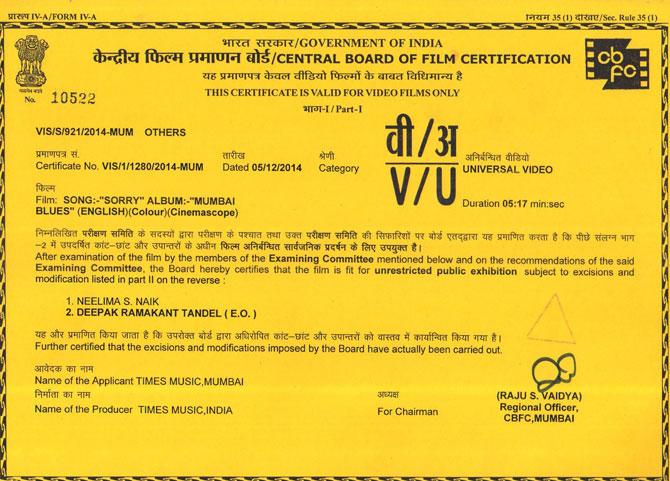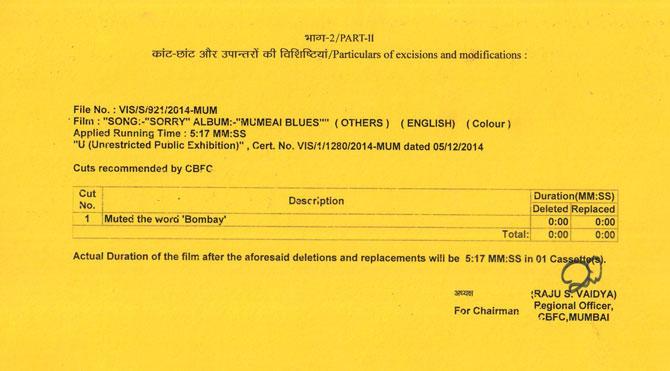 Censor certificate for Sorry

"The song is available online and when the music company approached the censor board to release it on television, they objected to the word Bombay and asked them to beep it out. The label agreed since they want this song to reach out to as many people as possible," he added.
 
"I have not abused anyone or made any political statement. I am a Maharashtrian and know the meaning of Bombay and Mumbai. I don't think it is an offensive word at all. The song sounds funny after the word is beeped out and, in some YouTube videos, the word appears in the lyrics on screen but not in the vocals. I am not going to ask the music company to approach the board again for certification as, for me, the message which I want to give out — about how girls are not safe in the country and how their fathers must be feeling — is more important than creating an issue over minor things," the singer added.

The Central Board of Film Certification has a separate committee to review songs. Premratan Sharma, who is on the board's advisory panel, said, "Ideally, there should not be any problem with the use of word Bombay in the song because there are other properties, like the hospital and the port trust, which still don't use Mumbai in their names. I think they must have been asked to remove it to avoid unwanted consequences. Earlier, such an incident has never happened — where the committee has asked any producer to change the name of the city — as it isn't that important."
"Exciting news! Mid-day is now on WhatsApp Channels

Subscribe today by clicking the link and stay updated with the latest news!"
Click here!