Shankar Mane, who consumed poison and attacked his colleagues with a sickle, is screaming their name while in pain; he assaulted them after not being allotted his usual bus route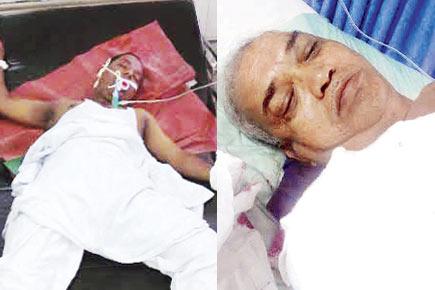 Violent screams greets anyone entering the Intensive Care Unit (ICU) at Nair Hospital in Mumbai Central. The shrieks belong to BEST bus driver Shankar Mane (34), who poisoned himself and attacked his three colleagues with a sickle after not being allotted his usual driving route for the day.
Also read: Angry BEST driver drinks poison, slashes colleagues with sickle

Police are waiting for Shankar Mane to recover, so that they can proceed with investigation in the case and record his statement
This paper had reported about the incident on Friday, in which Mane had had a heated argument with book starters Ratan Shedge (52) and Dilip Dongre (55), whose job it is to assign the day's routes to drivers and conductors. Angry that he had not been given the usual route number 154, Mane stormed out and returned two hours later with a sickle and slashed the duo and another colleague, Masurkar, before falling unconscious.
According to the first information report, Mane had first started arguing with Shedge after reporting to work at 6.15 am at Mumbai Central depot. Dongre intervened and tried to pacify him, but the driver left in a fury at 7 am. Around 9.30 am, he returned, consumed poison in the depot canteen and attacked the trio.
Suffering
Ever since he was admitted, Mane has remained in a critical, semi- conscious state and is screaming the names of his victims Shedge and Dongre. Sources said that, at times, he even blurts out names that are unclear. " The doors of the ICU are shut so his screams aren't heard outside. However, whenever we enter the room, we can hear his shrieks," said a hospital staffer.
There are 15- odd beds in the ICU around Mane. Doctors said that they are trying to flush out the poisonous substances he had consumed and that is being given a regular dosage of Atropine via injection.
Mane was kept on ventilator, when he was brought to hospital, but now they are in process of stabilising his condition.
Dr Harshal Dhake, the doctor treating Mane, told mid- day, " His condition is still serious, as the effect of the poison remains. We are giving him anti- poison injections regularly, to help him gain stability." Doctors also said that Mane has been getting hallucinations as a result of the injection.
Meanwhile, his senior colleagues who were attacked are recovering steadily, and have been shifted to the general ward. Dilip Dongre will have to undergo minor orthopaedic surgery on his right shoulder and has a few cuts on his back. Shedge has a few cuts on his right palm, back and thigh. They will be kept under observation for a few days.
"We are glad that their condition is improving. We're shocked such an incident even occurred," said a colleague who came to visit them. All through the day, many co- workers came to visit the victims and the attacker as well.