Over-delivers on promise, levels serious allegations against five BJP leaders, including Kirit Somaiya, son and Mohit Kamboj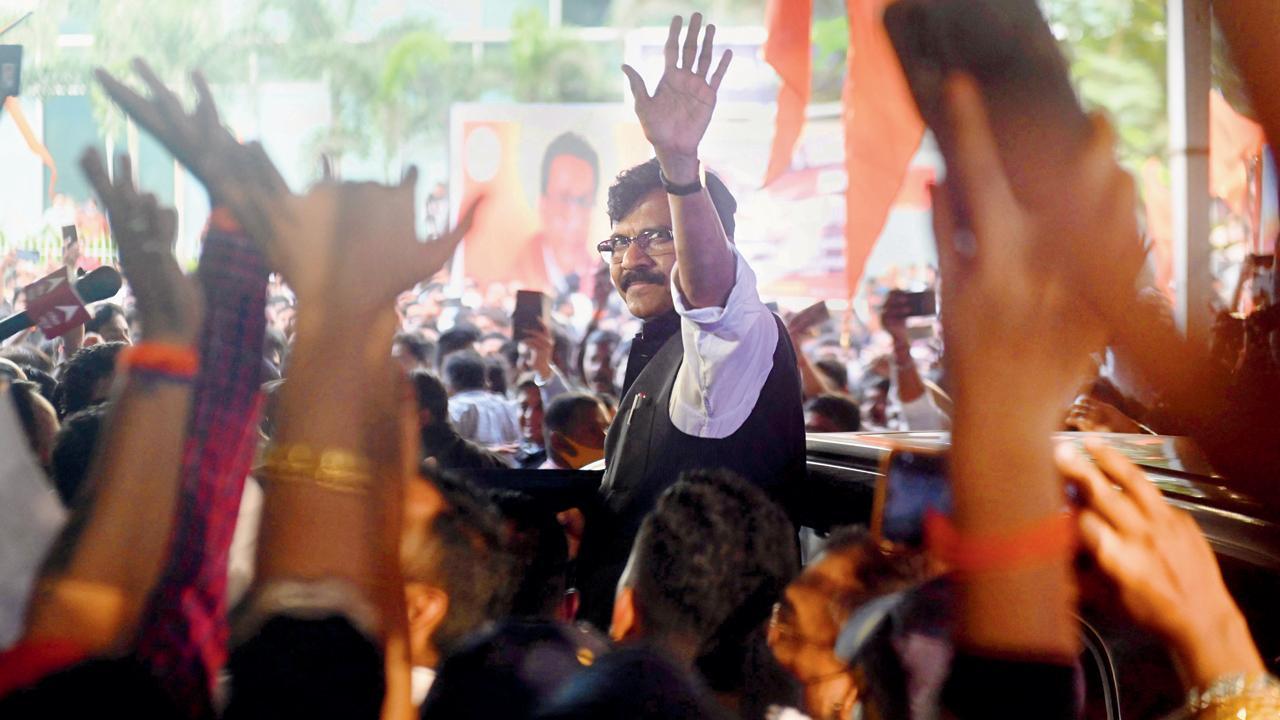 Sanjay Raut waves to supporters at the Shiv Sena Bhavan where he held a press conference, on Tuesday. Pic/Bipin Kokate
Shiv Sena leader Sanjay Raut on Tuesday levelled serious corruption charges against Bharatiya Janata Party (BJP) leaders saying he has evidence and demanded that the Enforcement Directorate (ED) probe them. Raut also alleged a Rs 25,000-crore scam in the previous BJP government and accused the party leaders of laundering corruption money through a milk vendor in Haryana, who has phenomenal growth in his assets. He also demanded that BJP's Kirit Somaiya and his son Neil be arrested in the Punjab and Maharashtra Cooperative (PMC) Bank scam.
Raut addressed a media conference at Shiv Sena Bhavan on Tuesday. He had promised to expose 'three and a half' leaders from the BJP, but directly or indirectly named at least five and promised to reveal more from Wednesday. He said he will hand over documents related to the allegations to the ED and the Economic Offences Wing (EOW). He added that Chief Minister Uddhav Thackeray has assured a probe in the matters. In a show of strength, hundreds of Sena workers gathered at the party headquarters. Senior leaders, MPs and MLAs shared the dais with Raut.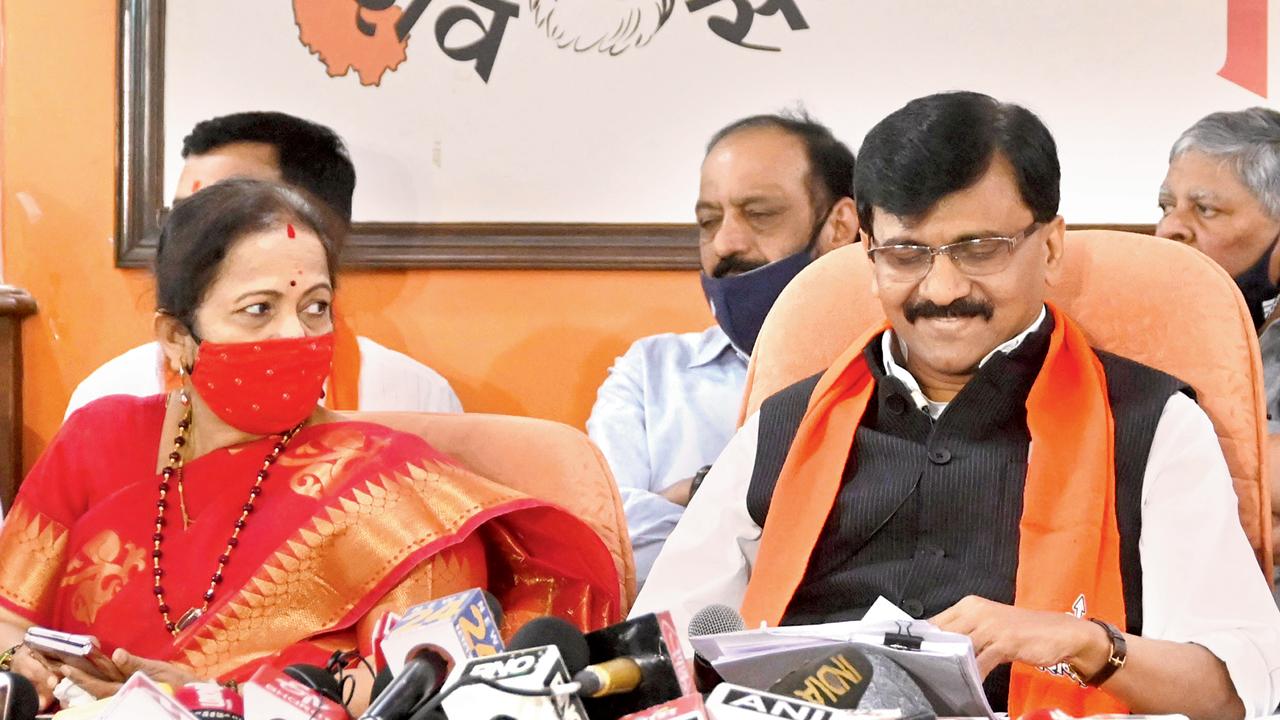 Mayor Kishori Pednekar with Sanjay Raut at the press conference
The Rajya Sabha MP reiterated that the central agencies were being used to topple the MVA government. "I will soon name the BJP leaders, who approached me thrice to tell me that the Sena should quit the MVA government or else the agencies will 'tighten' and 'frame' them. They said either President's Rule will be imposed or some MLAs will be brought to the BJP's side. I refused saying we will oppose any such attempt, and the agency raids started after my refusal," he said. "I called up Union Home Minister Amit Shah and told him it wasn't good to trouble our children, family and relatives." He said the ED was questioning the service providers of his daughter's wedding but no party questioned the former (BJP) forest minister's (Sudhir Mungantiwar) wedding in which a carpet worth R9.5 crore was laid out. 
Raut dismissed Somaiya's allegations against the CM's family and relatives. "They (the Thackerays) haven't said anything about it, but today I'm clarifying on their behalf," he said, challenging Somaiya to prove that the Thackerays have built 19 bungalows in a village near Alibaug. "Let's go there to find the bungalows. I will quit politics if you find them and if they are not there I will beat this man (Kirit) with shoes."
'Contracts given without tenders'
He alleged a Rs 25,000-crore scam in an Information Technology project during the BJP regime in Maharashtra. "Biggest scam in the Fadnavis government was MahaIT. Who are Amol Kale and Vijay Dhawangale and where are they? Contracts were given without the tenders," he alleged, adding that R3,500 crore was sent to the milk vendor from Haryana S Narvar, who has amassed assets worth several thousand crores of rupees in five years.
"He used to be here in Maharashtra quite often and had free access to the then CM's residence," he alleged, adding that Rs 3,500 crore have been sent to Narvar. "I have got the details of transactions of Rs 5,000 so far. I will give the documents pertaining to this to the EOW (Mumbai) which will send it to the ED."
Somaiya had linked Raut's family to the PMC Bank scam, but the Sena leader said that documents in his possession proved Somaiya's involvement in it. He said Kirit's son Neil is a partner with the PMC Bank scam main accused Rakesh Wadhvan and his Nikon Infra Construction Company was funded by the scam money. He further accused Kirit Somaiya of wrongfully making at least R100 crore through the PMC scam. He said he has sent the documents related to Somiaya's case to the ED.
He claimed another BJP leader, Mohit Kamboj, invested the PMC scam money in a real estate project in Patra Chawl and bought land worth R12,000 crore at dirt cheap price.
BJP leaders respond
Mungantiwar said the MVA government has initiated many inquiries against him and other BJP leaders. "The government must probe allegations. Let them investigate. We don't get upset when inquiries start against us."
Somaiya challenged Raut to prove the charges. "I welcome the investigation because we have not done anything wrong or indulged in any corrupt practices. Why are Mr Thackeray and Raut not responding (to) the Jumbo COVID-19 Care Centre scam? Why is Raut not talking about his links to Pravin Raut and Sujeet Patkar? Our fight against corruption will go on," he said in a statement.
Mohit Kamboj said Raut was misleading people. "He says he doesn't know me, but he visits us every Ganesh festival. I have helped him financially when he was in need," he told reporters. He dismissed the allegations in Patra chawl real estate and the land deal. He also accused Raut's acquaintance Pravin Raut of fraudulently selling 175 acres land in Vasai and alleged that the dispute was settled 
by Raut.
State BJP chief spokesperson Keshav Upadhye said neither was the evidence produced nor questions from the media were taken by Raut. "Is it because there was nothing substantial to talk about, the party workers from outside were brought to Mumbai? No paper of evidence was produced. It was chaos as usual," he said.  Fadnavis's wife Amruta, tweeted suggestively, "Aaj phir ek billi ne dahadne ki koshish ki hai (today, yet another cat has tried to roar).