Earlier, the plan was to get the road, shut since August 2020, ready for traffic by next monsoon; BMC also mulling to concretise the road if its conditions allow, awaits a test report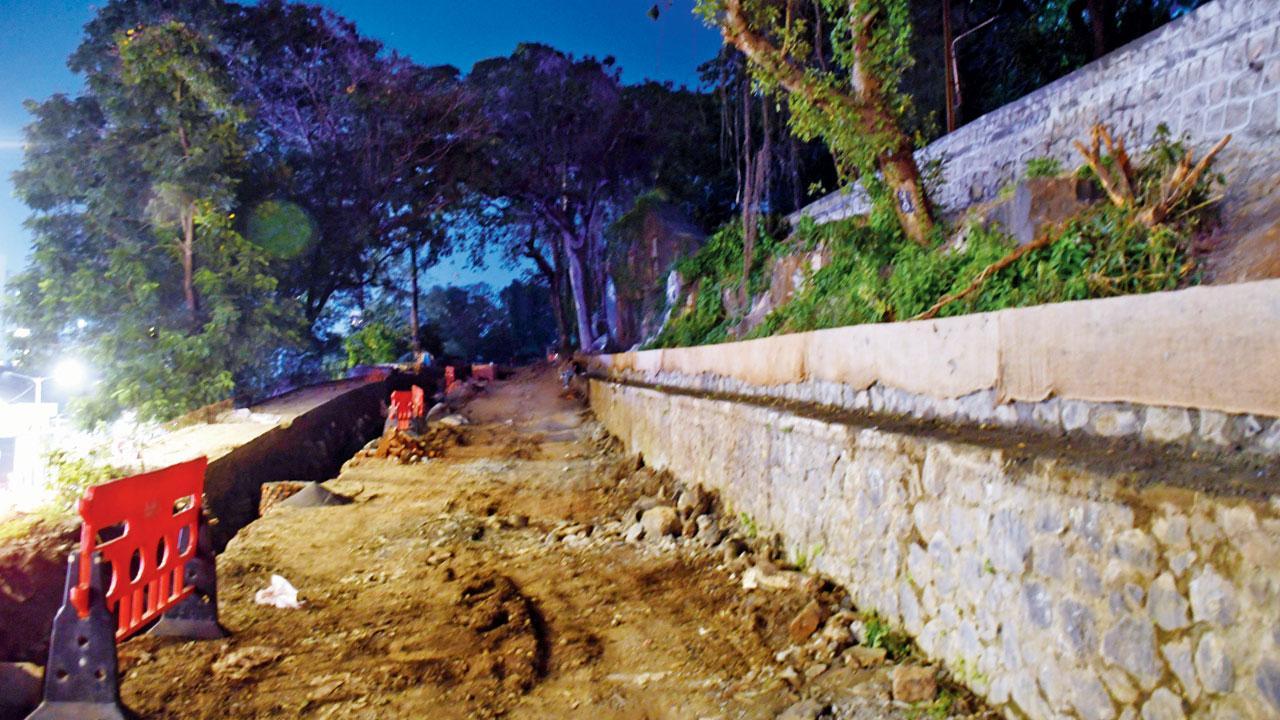 B G Kher road in Malabar Hill on Monday. It was closed over two years ago after a landslide. Pic/Ashish Raje
Pending for nearly two years and three months, the work to rebuild B G Kher Road in Malabar Hill is expected to be expedited, and the BMC officials are confident of getting it ready by December. The civic body is also planning to concretise the road, instead of using asphalt. The BMC is awaiting a test result, which will determine whether the slope is suitable for cement concrete (CC), considering there was a landslide in the area in 2020.
Civic officials told mid-day that the work is in full swing and efforts are on to move the deadline closer. Although the work of laying water pipelines has been delayed, "most of the work under the road line is complete. We will start the primary work of construction of the road. We have set a deadline for us, which is the mid of December," said a senior official from the Roads department of the BMC.
ADVERTISEMENT
Earlier, this deadline was meant for the hydraulic department's work after which the road work was supposed to start. Now, the official said, both the work would go on simultaneously for early completion of the project. Earlier, the civic body had planned to open the road for traffic before next monsoon.
Also Read: Mumbai: Work on crowd-busting corridor kicks off
The water pipeline ruptured in the landslide on August 5, 2020, and huge cracks developed on the road and the retaining wall collapsed. Currently, the area receives water from a temporary water main [the main supply pipe]. "The work on the water main and the road will be going on simultaneously. We cannot delay the project any further, as more than two years have already passed," said the official.
A concrete road
On concretising the B G Kher Road, an official said, "The CC roads are more durable, but our only concern is that there was a landslide in the area in August 2020. At the time, the technical advisory committee had recommended waiting for another monsoon. Now, nearly three monsoons later, no other incident has been reported there. So, we are considering the CC option. We are waiting for technical experts' advice based on various soil/rock testing."
On apprehensions about further delay due to a change in the material, a civic official said, "We have already started the primary work. The change will be only about the surface layer. After the report is in, we won't need more than a month or a month-and-a-half to complete the work." The report is expected in the first week of November. The stretch, formerly known as Ridge Road, is important for vehicular movement, as it links Malabar Hill and Walkeshwar to the rest of Mumbai.
5 Aug
Day in 2020 the road was closed after a landslide