These areas will reduce conflicts between animal lovers and citizens, say civic officials; activists feel the idea is impractical in a city like Mumbai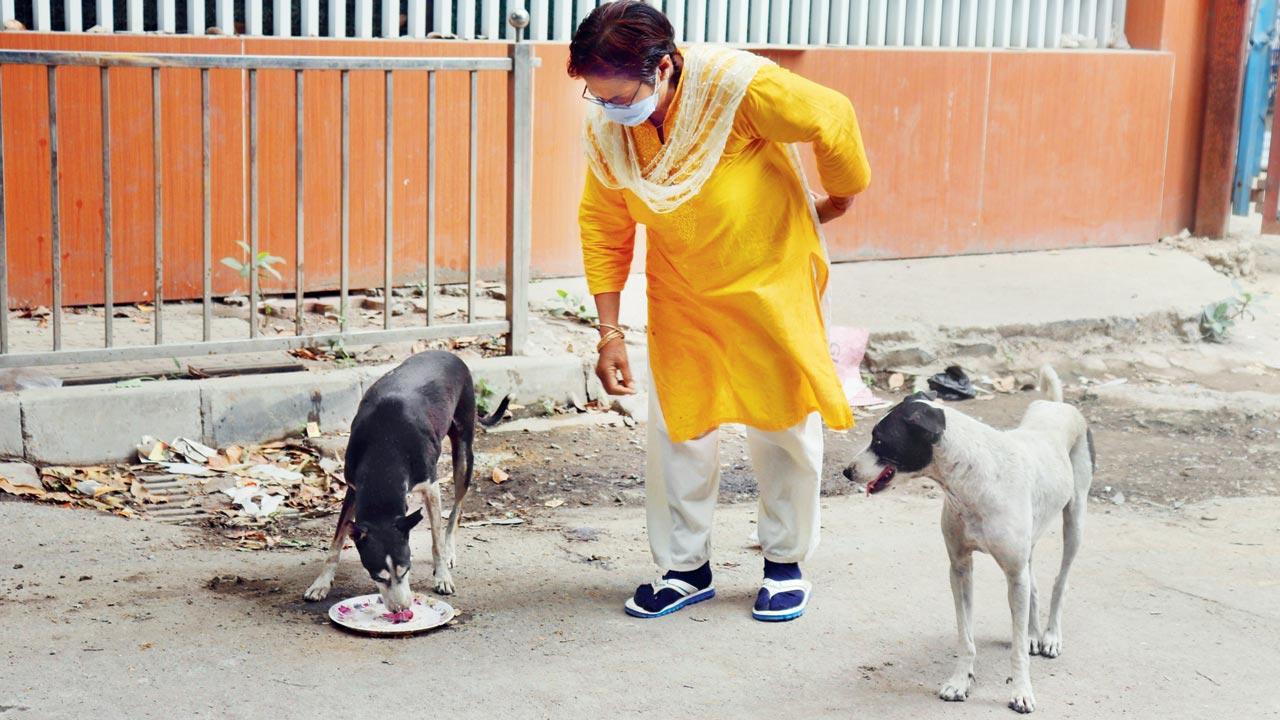 A woman feeds street dogs at Sion on Thursday. Pic/Pradeep Dhivar
Over two months after the Supreme Court stayed a Delhi HC order allowing stray dogs to be fed in every residential society, the BMC is planning to mark spots where anyone can give food to these animals. Civic officials said these dedicated areas will reduce conflicts between animal lovers and the common public, but activists feel this is easier said than done in a city like Mumbai.
"The BMC has decided to mark places for dog feeding. This will ensure that there is no disturbance to citizens and traffic movement, too," said a corporation official.
Sources said ward officers have been asked to identify places that can be marked as dog-feeding spots. Head of the BMC's Animal Husbandry Department Dr K L Pathan said, "The spots should be such that they don't disturb others." The official said it is a long process and the civic administration will need to take animal activists and local dog feeders into confidence before taking it ahead.
As per a census done in 2014, Mumbai had 95,172 stray dogs.
Civic officials are aware of the uphill task ahead. "It's really difficult to stop the dog feeders. In Mumbai, it's difficult to find such places," a BMC official said, adding, "There are always conflicts between feeders and citizens. Therefore, a solution has to be found that will be acceptable to all and we are trying that."
Activists are sceptical of the idea. Vidhya Vaidya, an activist from Bandra West, told mid-day, "Is it to guide dogs to reach the feeding place or feeders will take them to the place and again drop them at their regular place? This is very difficult. Just fixing the [feeding] place won't work. The BMC needs to address this question also."
 
Meghna Uniyal, co-founder of the Humane Foundation for People and Animals that had moved the apex court against the Delhi High Court's ruling on feeding street dogs, called the BMC's solution impractical. "Is it possible to find such places in Mumbai? It's better if the BMC works for dog shelters," she said. 
Stray animals are a problem around the world, said Uniyal, adding, "London has a similar problem but now they overcome the problem. We need to study that. In London, if a stray animal is found it is immediately sent to a shelter home. After a certain period, the animal is put to sleep in such a way that it will not be harmed."
"Designated areas for feeding dogs in consultation with feeders depending on the territory of the strays must be allocated. Such an initiative will help reduce man-animal conflicts, cases of dog bites, etc. No person can violate a person's right to responsibly feed strays and their right to engage in their Constitutional duty to have compassion for living creatures," said Meet Ashar, associate manager, emergency response team, and member of BMC's animal birth control monitoring committee.
95,172
No. of dogs in Mumbai as a per census in 2014