EXCLUSIVE u00c3u0082u00c2u00bb One of the venues for election may be changed; some members suspect ulterior motives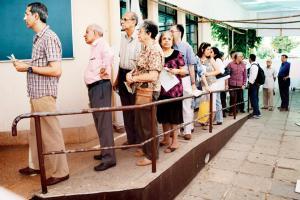 BPP elections in 2016. File Pic
With just a little over a fortnight before the Bombay Parsi Punchayet (BPP) election takes place, mid-day has exclusively learnt from sources that the Bombay High Court will, in a chambers session this Wednesday, decide whether one of the five proposed election voting venues can be changed.
The BPP election is set for July 1. According to sources, the case was taken to the High Court last week after four out of the five contesting candidates, as well as two out of seven BPP trustees, moved the court stating that they did not want the Khareghat Colony venue to be changed to The Byramjee Jeejeebhoy Parsee Charitable School & Junior College (BJPC) at Charni Road. "We are going to propose that the location be changed to BJPC School; Khareghat Colony is on a slope and water comes pouring down on it when it is raining," said a BPP Trustee, who is in favour of getting the location changed.
"Khareghat Colony also has no toilet facilities and everything is done outside on the road where the computers and machines are placed. Now it will be left to the court to decide."
However, according to another BPP trustee, who is not in favour of moving locations, the proposal to move was being done to favour the fifth candidate contesting the BPP election, Anahita Desai, who is current BPP President Yezdi Desai's wife. "We want the venues to remain the same for a matter of convenience but they want it to be moved because they feel that Khareghat Colony is a weak hold for Yezdi's wife," said the trustee. When asked whether their faction would present a counter proposal to the court to not let the location change, the trustee said, "Both venues, Khareghat Colony and BJPC, should be kept. In the past too, there have been BPP elections with six venues."
Catch up on all the latest Mumbai news, crime news, current affairs, and also a complete guide on Mumbai from food to things to do and events across the city here. Also download the new mid-day Android and iOS apps to get latest updates