Based on the criminal complaint filed in Sewri court, Desai has alleged that Mehta has been spreading false and derogatory information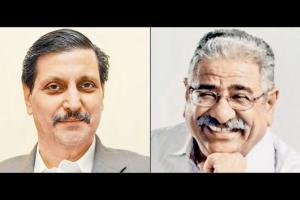 Yazdi Desai and Dinshaw Mehta
The tussle between the current chairman of the Bombay Parsi Punchayet, Yazdi Desai, and former board member Dinshaw Mehta, which has been in the public forum for the last couple of years, has now taken a legal turn.
On October 19, the Metropolitan Magistrate gave an order to issue summons to Mehta and the management of a publication after Desai filed a criminal defamation suit against them in August for publishing a series of 'defamatory' articles.
Based on the criminal complaint filed in Sewri court, Desai has alleged that Mehta has been spreading false and derogatory information about him after he accused Mehta of misappropriating trust funds. Desai had filed a complaint against him, and an FIR for cheating was registered by the MRA Marg police on February 14, 2014.
Chairman sees red
Since January 2017, Desai said Mehta had made unsubstantiated allegations in the columns he wrote for the paper. "Due to such defamatory statements made, my reputation in the eyes of family, colleagues, well-wishers and the Parsi community has been lowered and suffered tremendously," said Desai.
He added that even though the columns were published as advertorials, they had been designed to look like independent news stories. "Mehta has spread fake news and false information to the community at large, and published false allegations against me and defamed me," said Desai. One of the articles mentions Desai's wife, Anahita Desai, who had contested in the BPP election this July.
The article states, 'If you are seen endorsing a candidate who isn't the chairman's wife, you get calls to show cause why you should not be evicted from your BPP home.'
Desai's wife said legal action was the only option left for them. "Initially, we tried to ignore it. But it became a continuous problem with defamatory accusations being made week after week," she said.
The other side
When contacted, Mehta denied any knowledge of the case or the summons served by the Byculla police. "I have not heard about this defamation case, and I cannot comment until I have been served," he said.
Catch up on all the latest Mumbai news, crime news, current affairs, and also a complete guide on Mumbai from food to things to do and events across the city here. Also download the new mid-day Android and iOS apps to get latest updates