Mahindra Logistics will be providing immediate relief by transferring Rs 3,000 to each driver's bank account in order to help them to buy essential commodities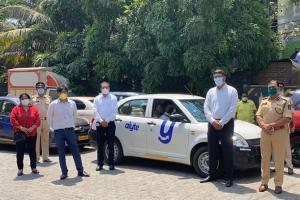 Alyte, the emergency cab services which Mahindra launched last week
Mahindra Logistics Limited (MLL) has launched HOPE (Helping Our People during Emergencies), an initiative to support drivers financially to aid the battle against the COVID-19 lockdown.
The company has partnered with Samhita Social Ventures - a social enterprise and SuperMoney - a financial lending tech platform to reach out to the beneficiaries within their ecosystem. This move will create an ecosystem to channelise CSR funds of other companies to provide economic support and recovery to workers.
With the state borders shut, the nationwide lockdown has impacted a large number of drivers. Whether they are drivers ferrying goods between the states as well across the country, or those who drive taxis and for ride-sharing companies. The drivers, who mostly stranded are struggling to make ends meet for themselves and their families.