From crossing tracks to roof travel, accidents on the tracks are rising, as latest figures released by the Railway authorities show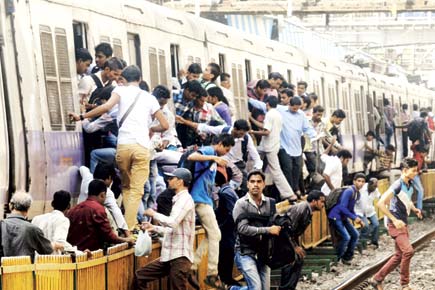 The number of deaths and injuries on the railways is rising, the current figure stands at 2013 for the past three months. The overcrowded trains, lack of connectivity by foot overbridges, late trains and cancellations have added to commuter woes. But commuters choosing to put their lives at peril making a dash across the tracks or travelling on rooftops is far from wise.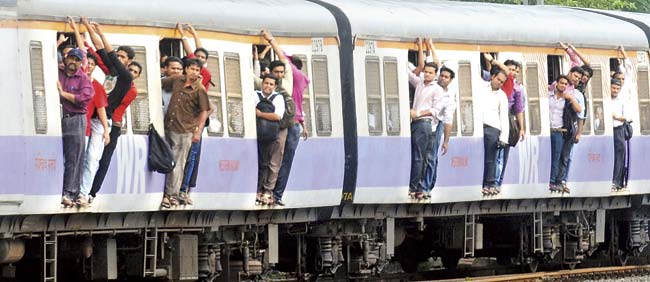 Hanging out of trains is a common happening, automatic doors will add to troubles feel commuters
Push and pull
For Vasai resident Nutan Lusbo, a horrid incident a few weeks ago has made her scared of her daily commute. She says, "I take the 5.51 am Churchgate local from Vasai, every day. The crowd is always too much and entering in is difficult.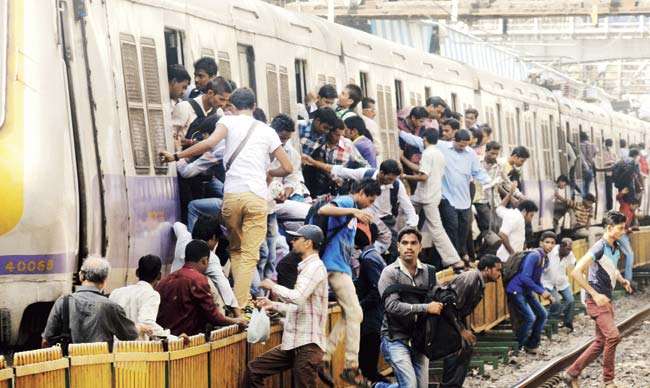 Getting in and out of the local trains is like a rat race
The crowd pushed a lady who was trying to get in and her hand got dislocated in the rushing and pushing. This left me shocked and shaken." The teacher who travels to Andheri every day says, "The Churchgate trains from Virar are always crowded and getting in at Vasai is tough.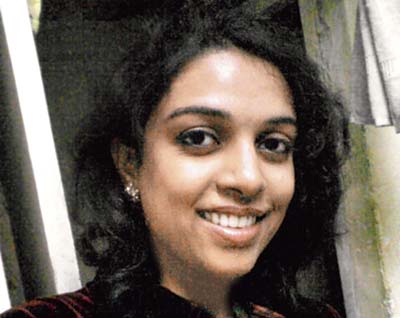 Nutan Lusbo, teacher who commutes from Vasai
The locals that have been started from here are less crowded, but people who come return crowd the trains." Her colleague at Divine Child High School, Andheri Swinnie Rebello agrees about the crowd woes. She says, "I earlier took the 6.17 am Churchgate train, but that is always crowded and I had to hang out often.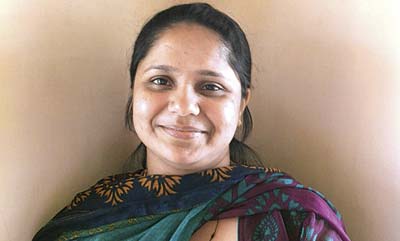 Swinnie Rebello, teacher commutes to Andheri
I then started taking the 5.51 am train. The ladies compartments are always overcrowded, so I board the general compartment as getting place there is easier." Pranay Mishra, an estate agent who commutes from Asangaon to Dadar every day says, "The crowd in the fast trains at peak hours is too much.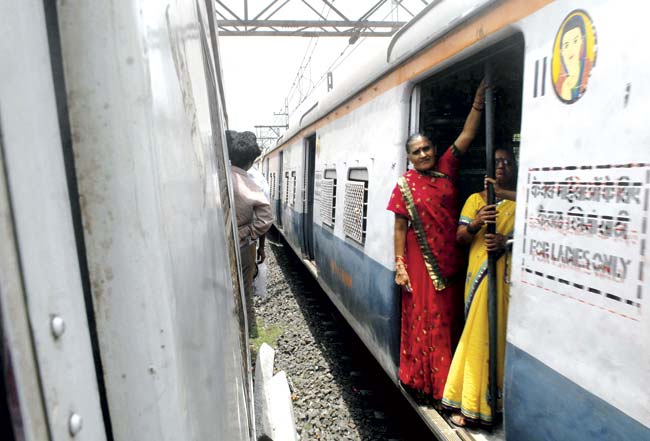 Even the ladies compartments are crowded at peak hours, sometimes more than the general
Getting in and out becomes very difficult. It is literally like a wrestling match as one has to physically fight to get in and out. I have had my hand get twisted and pressed on many occasions while trying to get off at Dadar."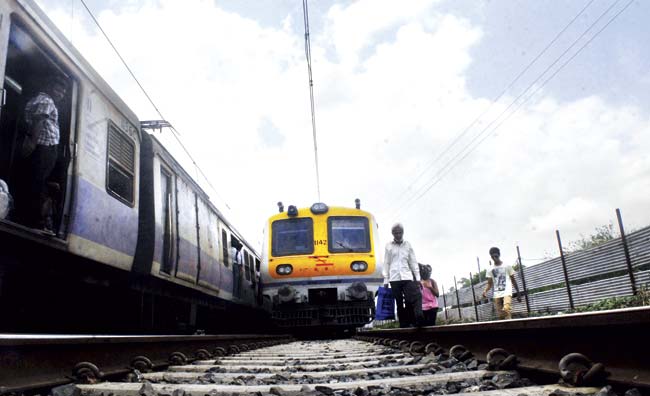 Accidents are on the rise as commuters aren't using foot overbridges
Not connected
While the crowds cause issues, the foot overbridges and subways not connecting all platforms is another issue for commuters. Rebello says, "There was only one foot overbridge which connected all the platforms at Vasai.
This forced many people who were in a hurry to cross the tracks which is very dangerous. Many accidents occurred during that time period. Now that part has been closed and work is on to build a foot overbridge there."
Businessman Rohit Rajput who commutes to Charni Road from Titwala every day says, "Charni Road has three bridges but the internal connection is horrible. If I have to catch a train on the fast train track, I have to take the first bridge towards Virar, the other bridges just go all around and waste time.
Very often I've missed trains in the rush over the bridges. Crossing the tracks at such times seems like the best option." Agreeing with Rajput, Lalit Khanna, an architect who commutes from Kandivali to Sewri says, "I have to take a number of connecting trains, and so I cannot afford to miss one as that will make me late.
At such times, crossing the tracks is the only way for me to ensure that I get all my trains. I am very careful while crossing the tracks and have been doing so for the last five years now. I agree it is dangerous, but there is very little option when the bridges are so narrow like the one at Dadar."
Top of the train
With so many ladies special trains and cancelled locals, Pratik Kudalskar, a college student says that he has on a number of occasions travelled on the train roof. The 19-year-old says, "There are times when I have been running late and getting into the train from the door at Malad is a problem as there is no space.
My friends and I find it easier to climb the roof and sit there and travel in peace to Bandra. We just had to duck a few overhead wires. It is dangerous but there is little choice. I am very careful, so I don't think I will get electrocuted."
Agreeing with him Tausif Khan, 17 who travels from Sandhurst Road to Vidyavihar says, "The train are too crowded and I am claustrophobic. I like the roofs better especially during peak hours. There is more air and also with friends it is more fun. There is no rush to get in or out and I feel I am in a world of my own."
Nitin Mohan, who used to travel on the train roof, says he stopped after his friend died. "My friend Ramesh and I were regular roof travellers from Kalyan to Byculla. One day last year, when Ramesh was travelling on the roof as usual, a loose overhead wire electrocuted him near Thane and burnt him to death. I was shocked for months after hearing about the incident. I have vowed after that to never travel on the roof."
Door woes
Overcrowded trains on the Harbour Line, because of the nine-coach trains still running on the line, means that at peak hours, people have to hang out of the compartments. Ravi Parmeshwaran says, "I have never quite been able to comprehend that when the Western Railway is running 15 coach trains and the Central Railway is running 12 coach trains, why is Harbour Line still stuck on nine.
Entering the train is troublesome as the crowd has increased. Often, I have to hang out at the door as there is no place to get in till King's Circle." The banker who travels from Andheri to Panvel every day says, "At Andheri, platform 6 where the Harbour Line train comes is always crowded and walking is a problem.
If I can't take the direct train, I have to change at Wadala where I have to face crowded platforms. Again, I have to hang at the door. On a number of occasions I have managed to survive by the skin of my teeth.
Travelling to work has become very dangerous." Monal Phadke who travels from Kandivali to Mumbai Central says, "I have a first class pass, but at peak hours the train is so crowded that I have to hang at the door till Andheri.
The first class compartment is much smaller and there is only one as compared to the second class. I usually run late and do not have time to take a slow train which is generally less crowded. Fast trains, even Borivali locals are very crowded and entering in is a problem."
Not so automatic
With the railways planning to have automatic doors for the Mumbai local in 2015, commuters doubt its success. Rebello says, "With automatic doors, train accidents will increase.
In the overcrowded Mumbai local train, it is difficult to close doors; the automatic doors will do more damage than good. During the monsoon, when doors have to be closed because of water seepage, the task is tough with the crowd."
Agreeing with her, Lusbo adds, "With the Mumbai Metro, where there are automatic doors, what works is the fact that for one thing, it is only from Versova to Ghatkopar and back. And two, that they have marshals who ensure that people enter and exit properly. But with the crowd at railway stations, it is a tough ask."
"Travelling by train everyday and managing to get in is a tough; the automatic doors will make matters worse. Someone will end up getting smashed. Already with crowded trains, railway accidents are on the rise. The automatic doors will only end up escalating the problem," ends Mohan.