Activists call Fadnavis a hypocrite for making music video on river preservation after his govt scrapped protective policy in 2015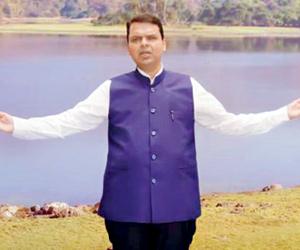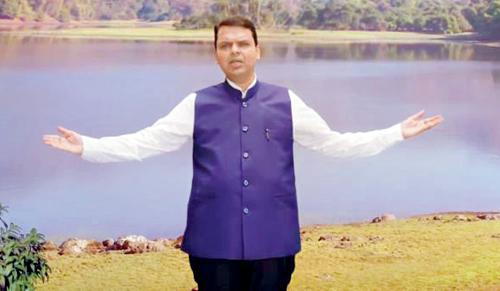 CM Devendra Fadnavis in a still from the video
The Chief Minister may have made a song and dance about the importance of rivers in his embarrassing new music video, but the reality is, he's done much more to ruin the rivers in the city and across the state. Activists have highlighted that it was CM Devendra Fadnavis's government that scrapped the River Regulation Zone (RRZ) policy, which was framed in 2000 to protect rivers from pollution.
The state policy had restricted industrial development along riverbanks for almost 15 years, and was further amended in 2009 with some stringent norms. But, in 2015, the Fadnavis government had scrapped the policy, claiming it was flawed legally. At the time, activists had pointed out that the policy was within the frame of law, and was according to powers under the Environment (Protection) Act, 1986.
Also read: Devendra Fadnavis and wife Amruta slammed by opposition for 'tacky' video
Activists have called the CM a hypocrite for now claiming to support the cause in the Mumbai River Anthem video. Stalin Dayanand, from the NGO Vanashakti, said, "He has never walked the talk in matters of the environment. He was instrumental in removing the RRZ policy and keeping Maharashtra in the dubious list of states with the most polluted river stretches in India. Instead of acting against polluters and giving the Maharashtra Pollution Control Board (MPCB) a free hand to curb pollution, he has chosen to engage in a song and dance."
mid-day had yesterday highlighted how the Opposition slammed the CM for the music video, and also questioned why the shoot took place in the CM's official bungalow when it was aprivate initiative. The CM's office has responded to these queries stating that it was done for a social cause and only after the members of the River March Movement requested his presence in the video.
The CMO has further explained that the music video was meant to generate awareness on the cause among citizens. The CM ensured that there was no commercialization of the video and T-Series was only involved in publishing the video on their social media, as they have a larger reach. However, there was no word on why the CM's bungalow, Varsha, was used for the shoot, as questioned by the Congress on Tuesday. There was no response from the CMO about the RRZ policy and whether they had plans to re-introduce the same.
Catch up on all the latest Mumbai news, crime news, current affairs, and also a complete guide on Mumbai from food to things to do and events across the city here. Also download the new mid-day Android and iOS apps to get latest updates