Shinde came down heavily on Uddhav at his faction's rally on Wednesday. Before branding him and his cult betrayers, he said, Uddhav should tender an apology to his father Bal Thackeray and then criticise the rebels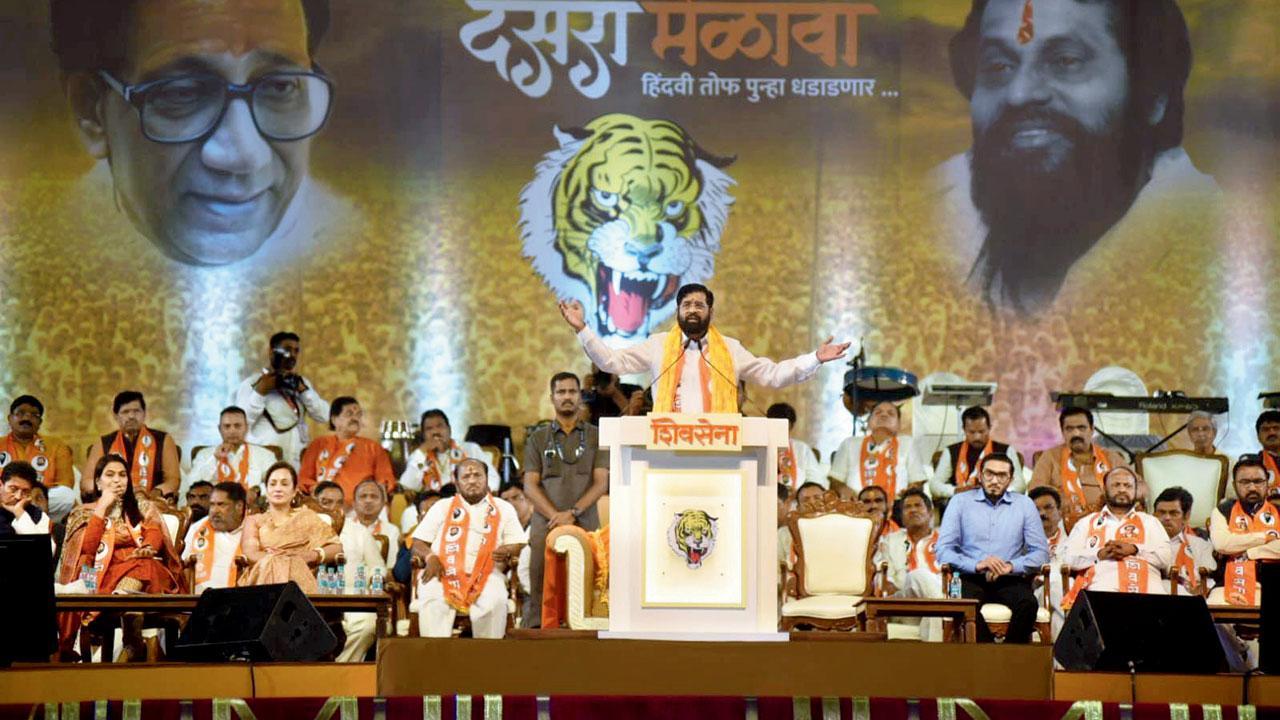 CM Eknath Shinde at the rally at BKC. Pic/Sameer Markande
Reiterating the reasons behind splitting the Sena, Chief Minister Eknath Shinde asked the rival Shiv Sena faction leader Uddhav Thackeray to introspect why so many leaders have quit the party over the years. Addressing his faction's Dussehra rally at BKC, he said the former CM has betrayed his father's ideology for the sake of power and that the Sena was not a family-controlled company, but an organisation that Sainiks like him have built by spilling their sweat and blood.
Shinde came down heavily on Uddhav at his faction's rally on Wednesday. Before branding him and his cult betrayers, he said, Uddhav should tender an apology to his father Bal Thackeray and then criticise the rebels.
"Understand that the people have come to know who the real culprit was. You say we are a gang that hijacked your father, but you have tried to sell your father's ideology," he said, adding, "We are not gaddars, but gadar. Gadar means revolutionary. The massive crowd that has gathered here shows that the Sainiks have decided to support Balasaheb's footsoldiers like us. The people will not forgive you."
Also Read: Mumbai: With no bow and arrow, both Shiv Senas wage war of words
The CM said he could have got the Shivaji Park for the rally but since law and order was his responsibility, he did not press for it. "We may not have the Shivaji Park, we have the people and Balasaheb's Hindutva ideology."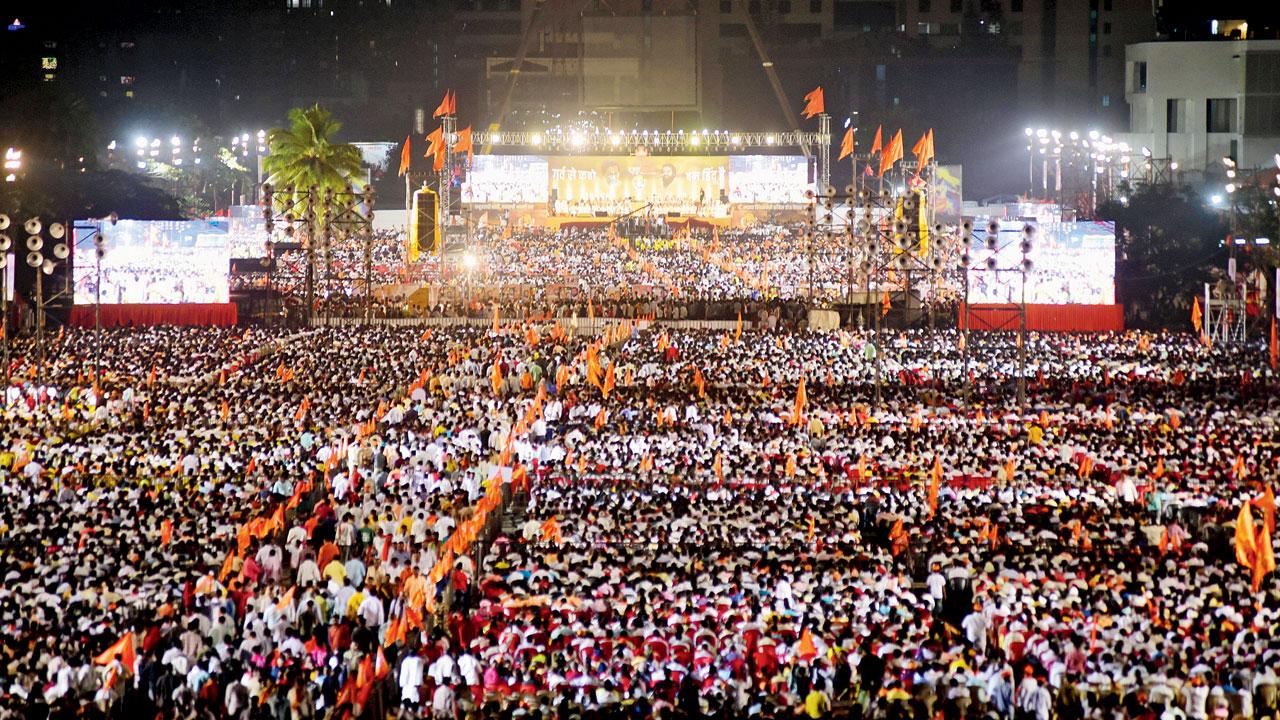 An aerial view of the jam-packed BKC ground at CM Eknath Shinde's Dussehra rally on Wednesday. Pic/Shadab Khan
Shinde thanked the audience for endorsing his revolt and said that it was for the development of Maharashtra and to safeguard Hindutva. "You ask why we didn't resign when we were with the NCP and Congress, but will you tell you why you did not quit when you broke up a pre-poll alliance with the BJP?"
He said Thackeray has cheated the voters and betrayed Hindutva by forging an alliance with the NCP and Congress that actually worked on their agenda while the Sena went downward even being in the government. "You diluted Balasaheb's slogan 'Garva Se Kaho Hum Hindu Hain'. You didn't have the guts to address your father as Hinduhridaysamrat because you wanted to be in the government for five years."
The CM said Thackeray's working style and governance weren't liked by people. "You didn't go to Mantralaya. You harped on Coronavirus, shut shops and temples, but kept your shop open," he said, adding that he knew everything about what went on during the pandemic.
Shinde slammed Thackeray for equating the RSS with the banned organisation PFI. "You didn't say anything when people raised the slogan 'Pakistan Zindabad'. But my government will not spare anyone who acts against the country. We will demolish them," he said while appreciating the BJP for fulfilling Balasaheb's dreams of protecting Hindutva. He said did not care much when Thackeray called him a stooge of Modi and Shah. "I'm proud of being their stooge because they have acted in accordance with Balasaheb's ideology."
Shinde said Thackeray has nothing much to say. "We didn't enjoy the split. We were also pained a lot. It was a deep-rooted resentment that came out in June this year. Our effort was noticed by the entire world. Remember that crazy people create history."
Shinde's rally goes live inside locals, Oppn fume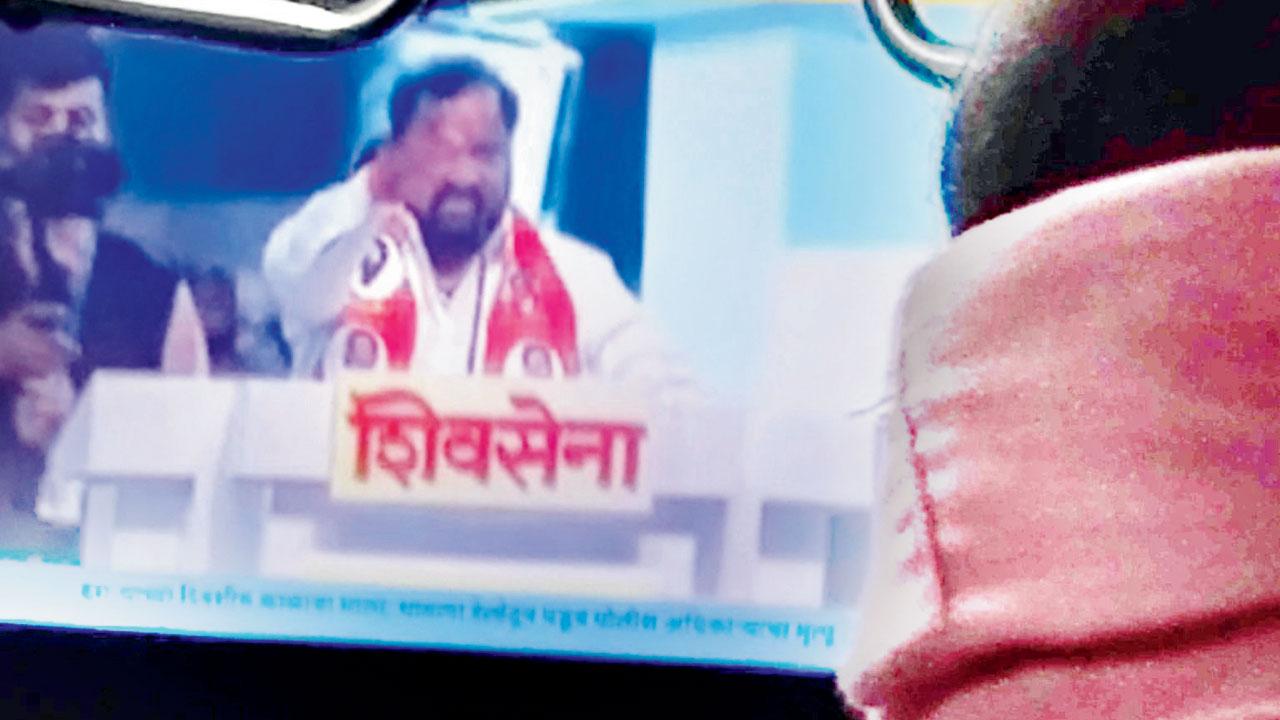 Commuters watch the telecast on a local
Chief Minister Eknath Shinde's Dussehra rally was telecast live in the local trains on Western Railway on Wednesday, triggering a controversy, with the Opposition leaders calling it a takeover of a national asset for publicity. Railway officials confirmed the telecast of the rally and said that they stopped it immediately, as it was a violation of the contract. "It came to light through social media that a rally of a certain political party was televised live in local trains. It is clarified that Western Railway has not given any such permission. In fact, the contract agreement explicitly restricts display of any advertisement/content of political nature," a WR spokesperson said. "An explanation on this matter has been sought from the licensed contractor. Prima facie, it is informed that live political rally was displayed on LED panels inside local trains for 10-15 minutes. Once WR was informed, the live display was stopped," he added.
- Rajendra B. Aklekar