Police finds 22 kg of scales and nails of the endangered animal, which researchers say could possibly help with finding a cure for COVID-19 in humans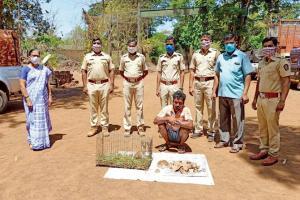 It seems that there is rampant poaching of pangolins taking place during the lockdown in the Konkan belt, and their scales are being illegally sold in the local black market. During the raids, the forest department recovered two kilograms of pangolin scales and six nails. The pangolin is one of the most trafficked wild animals across the world as there is a huge international demand for its scales.
Range Forest Officer (RFO), Vaibhav Borate, said, "Based on the tip-off received from our sources, our forest department team raided the house of Kalpesh Tukaram Balgude at Karanjali [Balgudewadi] village near Dapoli. During the search operation of the house, our team recovered one tortoise shell, one jungle hare, and 22 kg of pangolin scales and nails. We have taken the accused into custody and investigation is on."
As evidence related to wildlife trade have been found from the house of the accused, the forest department is exploring the possibility of him doing this regularly. The forest department team has registered an offence under various sections of the Wildlife Protection Act, 1972.