With -fake news- on WhatsApp fuelling lynch mobs across the country, Mumbai-s admins deliberate accountability, say they are not solely responsible
Residents of Kandivlis Thakur Complex, (from left) Ravi Punjabi, Sandeep Ohri and Sanjay Jaiswal, are part of a local WhatsApp group with around hundred members from the area. Ohri, the groups admin, cross-checks the posts on the group and calls out the o
Anand Manjunath Naik is a 34-year-old bakery owner in the Moodigere taluka of Chikmagalur district in Karnataka and also a member of the local WhatsApp group called 'The Balse Boys'. In May 2017, he was offended when two members of the group uploaded a morphed photograph of Prime Minister Narendra Modi and BJP leader from the region, BS Yeddyurappa. A complaint to the police ensured that cases were filed against not just the two, who posted what Naik felt was an offensive image — "how can you make fun of the PM?" — but also, Krishna Sannathaman, the admin of the group with nearly 250 members. While till a few months ago, the admin's own role in this offence may have been considered negligible, the atmosphere today is starkly different.
On July 1, five persons were lynched by villagers of Rainpada, in the Dhule district of Maharashtra, on suspicion of being child-lifters. The latest in a series of such cases see box: Spreading Like Wildfire, the five — who had just arrived in the area on a state transport bus — were beaten to death after being seen speaking to a young girl. The villagers, fuelled by rumours floating on WhatsApp about child-lifters in the area, suddenly attacked them.

Nikhil Desai Group Admin, Matunga ALM -Have removed three people from group for fake news-, Sandeep Ohri Group Admin, Kandivli -We censure people who post overly political or religious comments- and Rehan Khan Group Admin, One Source -We add people only through referrals and after checking their background data-
Taking note of this spate of attacks, the Union government last week asked WhatsApp — at over 200 million users, India is the Facebook-owned platform's largest market — and other social media platforms, "to implement measures to curb the menace of rumour-mongering across various social media platforms". Later, the Centre asked the state and union territories "to keep a watch for early detection of rumours and initiate effective measures to counter them". This has already begun in Jammu and Kashmir where the district magistrate of Kishtwar, Angrez Singh Rana, on July 1, asked admins of local WhatsApp groups to register with the local police or risk being booked.
Crossing the Ts
Over 2,000 kilometres from Kishtwar, in Mumbai, is Sandeep Ohri, founder of a live video streaming service company, and a resident of Kandivli's Thakur Complex. Much like The Balse Boys, Ohri runs a local WhatsApp group with over a 100 members from the area. The objective is to discuss and debate on civic issues, but members, he admits, often deviate. "It isn't uncommon for somebody to make an overtly political or religious comment or send a video of propagandist nature, which has no bearing on what the group is about. In such cases, we make it a point to censure that person," he says.

Sangeeta Bhosale mourns the death of her family members, who were killed in the horrifying mob attack on Sunday on suspicion of being part of a child-kidnapping gang at Rainpada village in Dhule on July 1. The incident took place when five men, along with a few others, were seen getting down from a state transport bus in the tribal-dominated Rainpada hamlet. When one of them apparently tried to speak to a girl, the villagers, who had gathered for the weekly Sunday market, pounced on them. Pic/Getty Images
More recently, Ohri has started cross-checking news that sounds fishy. He recalls a disturbing video of a lady, who ran tuition classes for kids, beating them up. "The message said it's a woman from Uttar Pradesh, but it wasn't. We later found out that the incident had occurred in Egypt," he says. For international news, his go-to site is Snopes.com, a California-based fact-checking site that was founded by David Mikkelson in 1994 to research urban legends. "They analyse everything from whether an image is a real photograph or a digital manipulation to verifying news reports," he says. For local news, he banks on newspapers and credible news sites.
In Matunga, Nikhil Desai, who runs an Advanced Locality Management ALM WhatsApp group, verifies news from the Mumbai Police's Twitter account. Desai, who has been running the account for two years, says he started outing people when "good morning" forwards started being replaced by fake news videos of prominent celebrity deaths. "Dilip Kumar has died a hundred times already on WhatsApp," he says. "We realised that these websites, which are designed to look like mainstream news channels are fake. You have to spot the difference in the details, like the missing logo," he says. Till now, he has removed three members from the group for fake videos. "We give three warnings and the last resort is ousting them," he says.

Matunga AML WhatsApp group admin Nikhil Desai has removed three members from his account for posting fake news
Mindless forwards sometimes lead to headaches, especially when running animal rescue groups. Publicist Amit Pathak, who also runs Awaaz Voice of Stray Animals, a Mumbai-abased NGO, says, "There was a video of a dog being hit and people around laughing at its helplessness. But when we heard the voices in the video, which people usually don't do, we realised the people were speaking in Kannada. We then connected with authorities in Karnataka," says Pathak.
But, even before diving into the specifics of the video, Pathak first runs a call to the person, who has sent him the video. Hardly ever, have they managed to trace the source of the video. While he hasn't come across a video that's untrue, it's the time frame that proves problematic. "Sometimes, by the time we receive a message and reach the spot, the animal has already been rescued. The large number of groups make it difficult to get real time updates because there's a time lapse when it's being passed on," he says.

Two years ago, Santacruz resident Chetan Rathod left started a WhatsApp group for his local ALM. While there aren-t too many forwards on that group, he says that he comes across many of these on a local traders- group. For instance, there was one, which showed that Metro work had reached Girgaum. "On checking, I realised it was from New York, not Mumbai." If he sees such a post right after it is sent, he calls it out as fake news. But, if his reaction is an hour late, he knows the damage has been done and doesn-t react. Rehan Khan, the admin of a professional group called One Source, has 7,000 members over 27 groups. Both Rathod and Khan feel that while the admin holds moral responsibility, he/she can't be held liable for what someone else posts on the group. Pic/Pradeep Dhivar
Dotting the Is
In some groups, getting in can be quite the task. Take the case of One Source, a group of largely public relations professionals across the country. With 7,000 members across 27 groups, the five admins send out forms to fill, which ask for email IDs, contact numbers and referrals for those who wish to be added to the group. And, while Rehan Khan, the 29-year-old admin of one of the Mumbai groups, says he does often verify the source of the said forward, holding the admin responsible for what's shared on the group might be an extreme step. Plus, everyone agrees, it's easy to remove members from professional groups, but how do you remove a friend or a relative for content that may be seen
as misleading?
Sannathaman agrees. He knew all the members of The Balse Boys personally as all of them were from his village. The main activity on the group was uploading news or local events. His own arrest, he says, was wrong. "A police officer came to me and said we want to talk to you and took me to Bhatkal Police Station and kept me in the computer room for a day. The person who posts should be held responsible. Admins are making groups among friends to keep in touch with near and dear ones. If someone posts something, it does not mean that the admin subscribes to that idea." Rana, from Kishtwar, while speaking to mid-day says, because the region he manages is a communally sensitive area, prone to riots, such a step was necessary. The target of the measure is not those who run close, family-run WhatsApp groups, but those "notorious persons who will be careful with this legislation". "This ruling will be implemented against those who are creating trouble," Rana says.

Shivam Shankar Singh
The WhatsApp problem
Is there something about the medium itself that lends itself to being misused? "If you read WhatsApp's policies, they delete the message as soon as it hits your device. No copy of the message or log is maintained in the server. So, the police will come to know or have the power to act only if somebody registers a cognisable offence in a case where you have the device," says Brijesh Singh, Maharashtra Police's cyber security head. Singh says even if a police official receives a forwarded message, in the absence of time stamps or author information, there's no way to find out the origin of the video or message. Since 2016, metadata was deliberately stripped off by the platform, which makes it most challenging for investigators to track the source of rumours. Metadata includes information such as username, device information, IP address and log-in time, which is embedded when the file is created. WhatsApp removes this when it compresses content.
Political consultant Shivam Shankar Singh launched a petition three months ago on Change.org to fix the problem of fake news over social media. Fake news is also one of the reasons he chose to quit as a BJP party worker. "There is some anti-BJP fake news, too, but the pro-BJP and anti-opposition fake news outstrips that by miles in number and in reach. Some come from supporters, but a lot of it comes from the party. It is often hateful and polarising, which makes it even worse. The online news portals backed by this government are damaging society more than we know," he wrote on the blog.
According to Shivam, what makes WhatsApp more dangerous than other platforms like Facebook and Twitter is the scope it offers for micro-targeting. "On FB, you can target people who like a certain page or between a certain location, but WhatsApp allows you to target people of a certain socio-economic strata and people of a very particular caste or religion. The targeting on this platform allows you to send different kinds of messages to different people. It's so segmented that it's an echo chamber," he explains. For instance, Singh says in Uttar Pradesh you can create a WhatsApp group that contains non-Yadav OBCs and then you can start pushing content, which is pro or anti-party. "Even if the content could be verified, most people wouldn't because the ideology that is being fed is something that they wouldn't question," he says.
Countering the rumours
In Dhule, the local SP said police personnel are contacting local leaders, like sarpanchs and panchayat members, to sensitise villagers regarding fake news and rumours spread over social media. But, they are not alone. While in Mumbai, there's news of police personnel being asked to join all possible WhatsApp groups, in Mangaluru, a police official has been designated in each district to monitor social networking sites like Facebook, Twitter and WhatsApp.

Brijesh Singh
While there have been no rumours of child-lifting in the region, Dr Ravikanthe Gowda, superintendent of police of Dakshina Kannada, narrates an incident of fake news. "It began as a brawl between a passenger and conductor in one of the rural districts." The episode was soon given a communal colour on WhatsApp groups. "We happened to find out that a video of the incident was being circulated as a 'Muslim thrashes a Hindu,' post to incite violence, when in fact, it had nothing to do with religion," he adds.
The cops sprang into action and arrested individuals for spreading fake news. While there isn't any single comprehensive law in India that tackles fake news, IPC Section 295 was invoked to guard against the menace of misinformation. An FIR was lodged for "injuring or defiling place of worship with intent to insult the religion of any class".
200M
No. of WhatsApp users in the country - the app-s largest market
When in doubt, approach him
Pankaj Jain, 40, is a businessman who, for the last few years, has been spending almost three hours daily on searching the Internet, and debunking fake news floating around. Jain, who runs the Twitter handle @SMhoaxslayer he also has a Facebook page and a website, says that the first such story he called out was in 2016, when a video was floating around of a "Hindu girl being burnt alive by Muslims". The same video resurfaced in 2017 with the "Muslim girl being burnt alive by Hindus" narrative.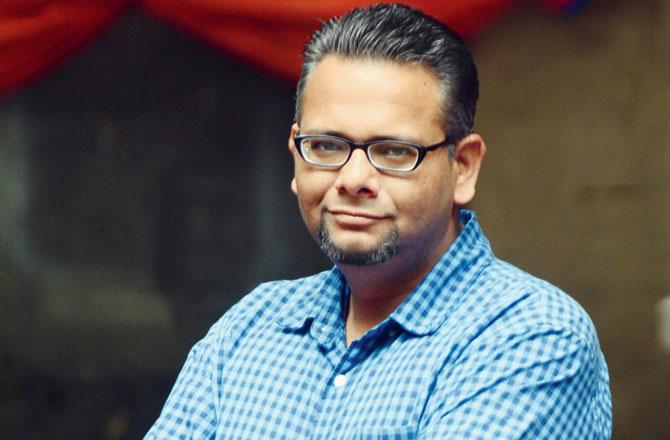 Pankaj Jain
"When I searched Google for the video, I found that it had originated in Guatemala and was of a drug dealer being burnt alive by the parents of the people, she was trying to peddle to." He finds it odd that people don-t rely on common sense before believing and forwarding videos. Last year-s Cyclone Ockhi, he says, saw a video of a hailstorm on the Mumbai-Pune Expressway. "When I looked closely, I realised that not just were the cars being driven on the right side of the road, but also that the numbers on the car plates were not in the format we used," he says, adding that he later realised that the images were from Turkey.
Promises to keep
In its response to the government, WhatsApp has listed out the various measures being undertaken by the platform to curb the spread of false news and misinformation. These include product controls, digital literacy, fact checking advocacy and proactive actions to tackle abuse. "We also respond to valid law enforcement requests to help them investigate crimes. And soon, we will start an engagement programme with law enforcement officials around India, so that they are familiar with our approach and how we can be helpful," it said in a statement.
Spreading like wildfire
May 18, 2017
Death toll: 7
Jharkhand: Seven people were beaten to death by a violent mob in two incidents in Singhbhum district over suspicion of being child-lifters.
May 23, 2018
Death toll: 1
Bengaluru: Mistaken for a child-lifter, Kalu Ram, 26, a migrant labourer from Rajasthan, was tied up, beaten with rods and dragged for nearly a kilometre.
May 28
Death toll: 1
Hyderabad: A 500-strong mob lynched a 52-year-old transgender and injured three others over suspicions of child trafficking. According to the police, the four were seeking alms in the area, when local residents attacked them.
May 31
Death toll: 1
Hosur: A migrant labourer from Uttar Pradesh was lynched by young men on the suspicion of being a potential child kidnapper.
June 8
Death toll: 2
Guwahati: Two tourists from Guwahati were battered to death in Assam-s Karbi Anglong district on suspicion of being child-lifters.
June 22
Death toll: 1
Chhattisgarh: An unidentified man was allegedly beaten to death by a mob on suspicion of being a child-lifter in Sarguja district.
June 28
Death toll: 3
Tripura: Zahir Khan, a 30-year-old hawker, was killed by a mob as he was travelling in a van with three assistants selling their wares in Sidhai Mohanpur, West Tripura.
Catch up on all the latest Crime, National, International and Hatke news here. Also download the new mid-day Android and iOS apps to get latest updates
With inputs by Suresh Karkera
Also Read: Rumour-mongers beware: Cops are joining WhatsApp groups to curb dangerous lies