Mulund cops register case and launch probe against dubious agent who fixed the job for 22-year-old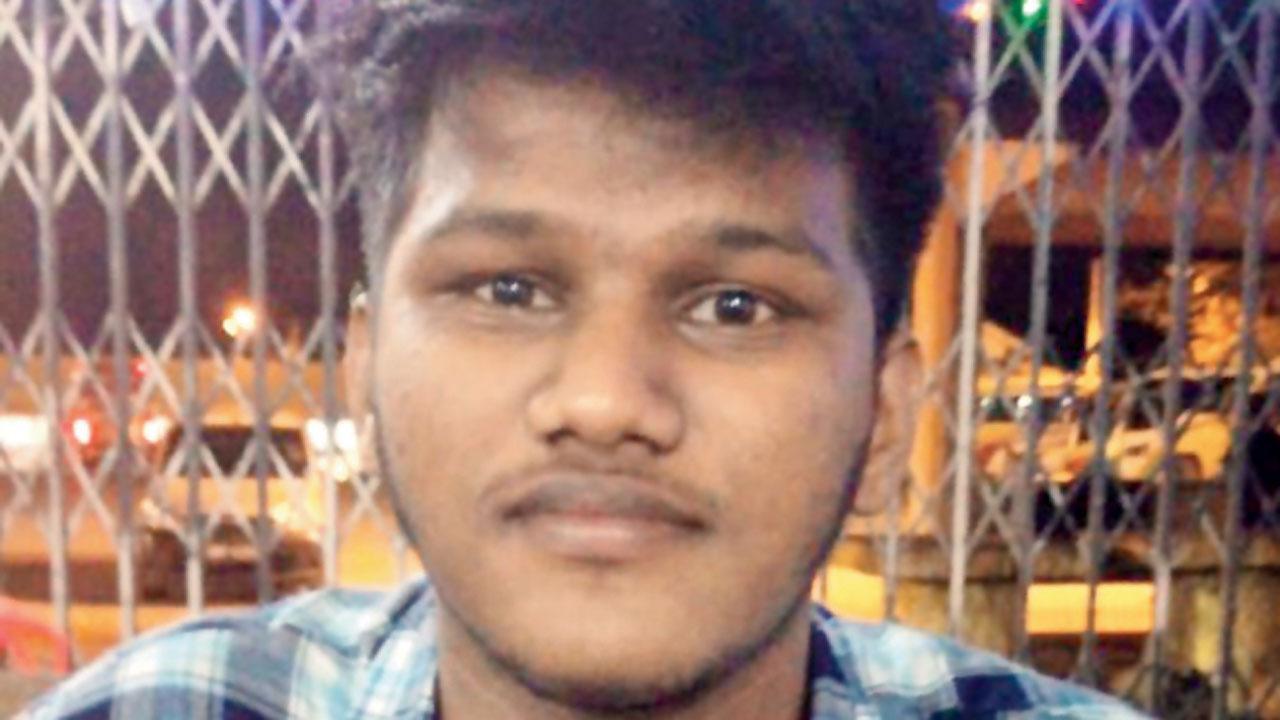 His family has had no contact with Manikandan Udiyar since October 15, 2022. Pic/Rajesh Gupta
A 22-year-old merchant navy oiler from Mulund mysteriously disappeared from a vessel in Malaysia five months ago. The agent, who promised him a job, claimed that he had died in an accident on the vessel. But soon after, the oiler's sister received WhatsApp messages seeking ransom for his release. After his family's efforts, the Royal Malaysian police are looking for him. The Mulund police recently registered a case of cheating against the agent, whom the family found to be dubious.
Manikandan Udiyar had gone to Kapit, Malaysia, to be employed as an oiler on a vessel. But he was apparently asked to work on a temporary basis till he paid a pending amount  promised to his agent. His family has had no communication with him since October 15, 2022. The agent claimed that he had died in an accident on the ship. An FIR has been registered against the agent for cheating Udiyar and his family by accepting Rs 1.95 lakh. The police said the agent is in Malaysia.
ADVERTISEMENT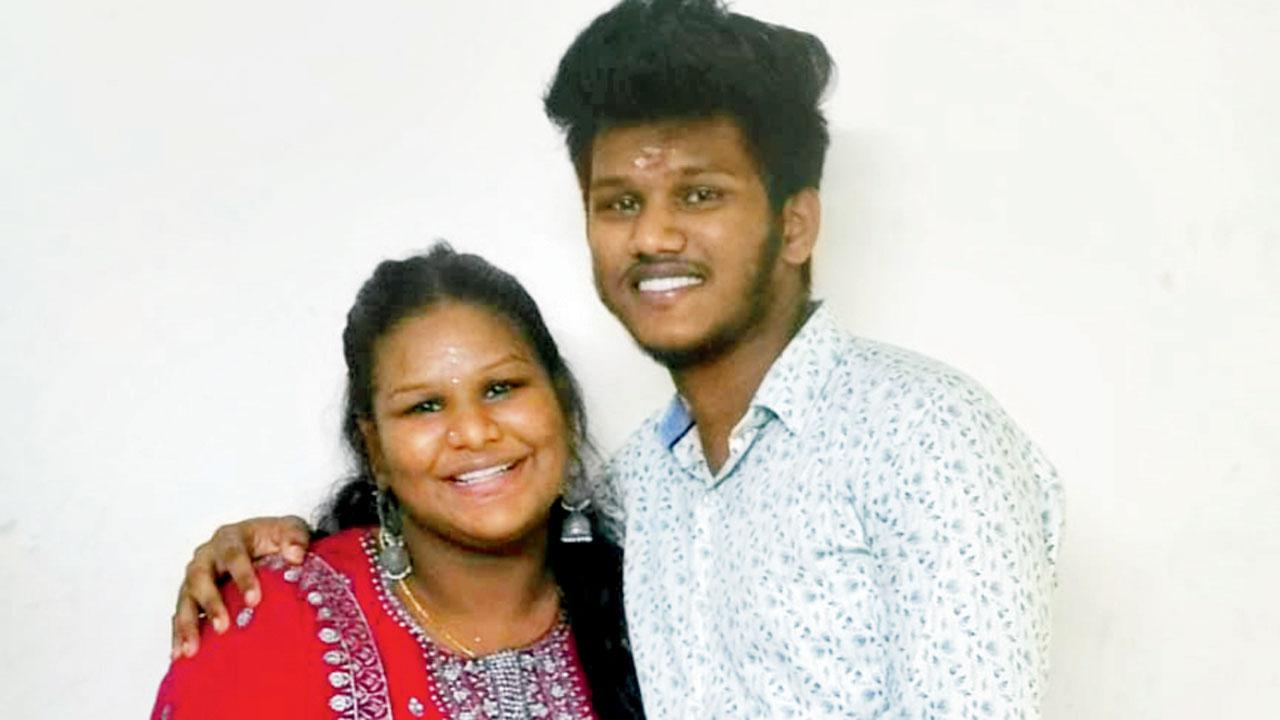 Manikandan Udiyar with his sister Divya
Udiyar, a resident of Mulund West, completed the Merchant Navy course from Pune in 2020 and was employed at Dubai. But he lost his job during the Covid-19 lockdown and came back to Mulund in July 2021. He then got the contact of a Kolhapur-based agent named Rehan Ramjan Pathan through his colleague Pratap Jadhav, who said he could help them get employed on a ship at Malaysia. Udiyar contacted Pathan who told him to pay R2.50 lakh for the job. The final amount was settled at Rs 2.20 lakh. Jadhav had told Udiyar that he was also going to Malaysia through this agent.
Also Read: Mumbai: Western Railway likely to get more AC local trains soon
Promise of a job
On September 1, 2022, Udiyar paid Rs 95,000 to Pathan through a digital wallet. On September 10 he received flight tickets dated for September 24 from Kochi to Kuala Lumpur and then on an intercity flight to Miri. "On September 21, my mother, Mani and I took a train to Kochi and stayed at a hotel. We saw him off at midnight on September 24. He took an Air Asia flight, we were all happy that he had got a good job and returned to Mumbai" said Divya, Udiyar's sister.
From September 26 to October 5 Udiyar stayed at a hotel at Miri. On September 27,  he paid the second installment of Rs 1 lakh to Pathan. He told his family that he met Pathan and his friend Jadhav. On  October 5, Mani told his sister that Pathan called him to Kapit, another town in Malaysia, and told him that he should pay the pending Rs 25,000 at the earliest. He said he was told he would work on a ship till then and earn some money. Udiyar agreed to work and from October 7 to 15 he worked on the vessel TB GHKO NO. 1.
No communication
After October 15, Mani went incommunicado. His family was worried when even after 7 days there was no call or replies to messages sent by them. On October 25, Divya sent a message to Pathan asking about Udiyar's whereabouts. "On October 26, he replied that the vessel where Mani was working had met with an accident and 10 workers fell into the water. Of these, two were untraceable and Mani was one of them. I was shattered. My parents didn't have food for a couple of days after hearing this," Divya said.
But between October 25 and November 3, Divya received WhatsApp messages from a Malaysian number, in which a person claimed Udiyar was with them and they sought Rs 25,000 to release him. But the person did not give any proof that they had him in their custody. On October 31, the Udiyar family made a complaint to the Indian embassy and Directorate General of Shipping, and submitted all the documents they had with them. On November 8, the Udiyar family was informed by the External Affairs Ministry that on October 28, a missing person complaint had been filed regarding Udiyar with Kapit police.
Police approached
DG Shipping on December 5, informed the Udiyar family that the documents submitted by them were made by a bogus agent. After finding that letters given by Pathan to Udiyar from The Great Eastern Shipping Co. LTD. and Solid Maritime SDN. BHD were fake, Divya registered a complaint on December 27 with the Mulund police.  Her statement was recorded on December 30. The matter was escalated to the Indian High commission in Kuala Lumpur and an inquiry was launched. The Royal Malaysian police were informed of the incident and a detailed report was sought.
"On January 16, the Kapit police conducted an inquiry of 9 persons on board a ship and they were informed that they hadn't seen Manikandan falling into the Rejang river. They only suspect that he may have fallen into it. During the search and rescue operation not a single body has been found in the river. We have taken all the necessary actions and efforts to locate him and are still ongoing," said a letter by Malaysian police to the Indian Commission.
Accused in Malaysia
After Divya's complaint, an FIR was registered against Pathan under IPC Sections 406 (criminal breach of trust) and 420 (cheating) at Mulund police station. "We have registered an offence against the agent who allegedly took the victim to Malaysia and claims to be in the same country as of now," said an officer from the Mulund police.
Assistant Police Inspector Sanjay Mohite, the investigation officer said, "The accused in the case, a 27-year-old, is not an agent, but has himself gone to Malaysia for work. We contacted him through WhatsApp. He said he is in Malaysia but said he doesn't know the whereabouts of Udiyar since October 25. Udiyar's friend Jadhav fell ill and came back to India."
A highly placed source in the Directorate General of Shipping said, "There are registered people who can send people overseas for jobs. But in this case the person and the documents provided by him are bogus. The accused has travelled to Malaysia and that means he is certainly not a registered agent."