BJP leaders dictating terms to the ED officers, claims Sanjay Raut; stop playing the victim card, Devendra Fadnavis hits back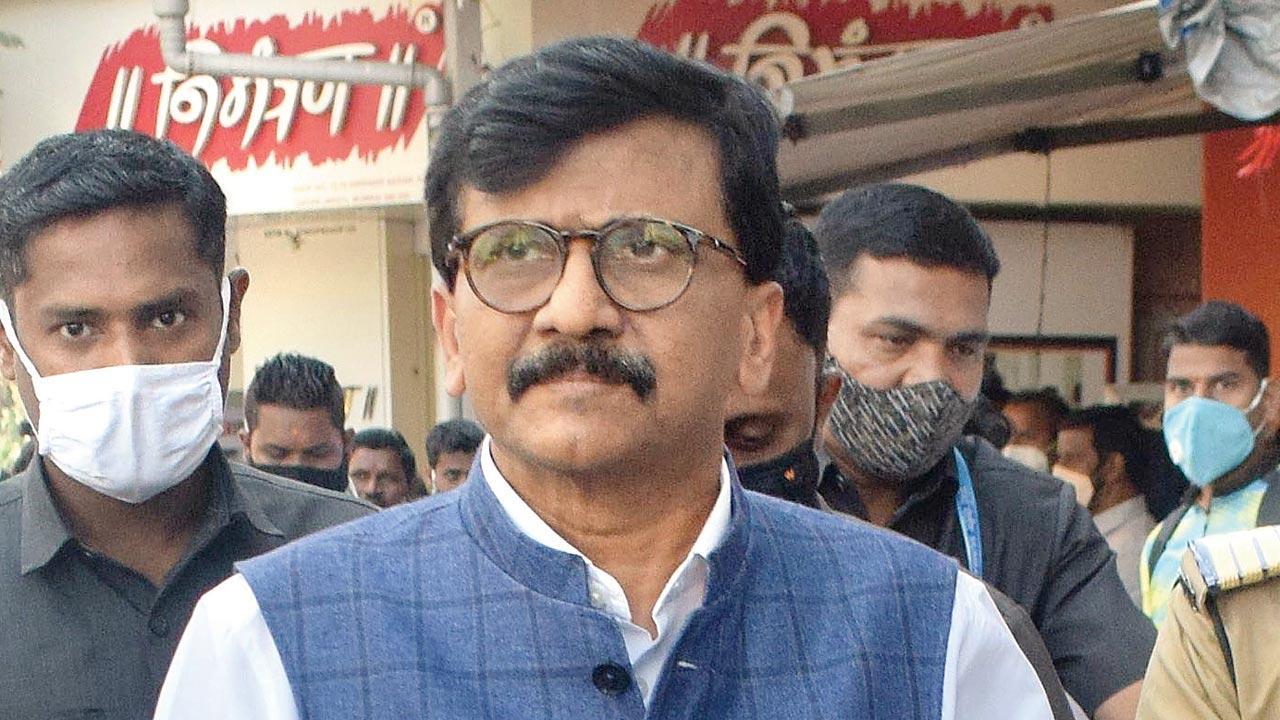 Sanjay Raut said he and other leaders would happily go to jail if the BJP wished, but they will ensure that their detractors were also put up in the cell next to the MVA leaders'. File pic
Shiv Sena MP Sanjay Raut has alleged that ever since the Sena parted ways with the Bharatiya Janata Party (BJP), his party leaders, their families and friends were being systematically targeted by using law enforcing agencies such as the Enforcement Directorate (ED) against them.
He added that he was offered a role in toppling the Maha Vikas Aghadi (MVA) government, but since he rejected the offer, he was told that he, some cabinet ministers and leaders would have to pay a heavy price by spending many years behind bars like a former union minister.
Raut has said this in a letter written to the Rajya Sabha chairman and Vice President M Venkaiah Naidu on Tuesday. He shared the letter on social media and addressed media persons on Wednesday morning. "This letter is just the information. My next step will be holding a press conference at Shiv Sena Bhavan, and later, I will address another press conference in front of the ED office. Watch what happens next," he said.
Challenge to Fadnavis
Raut said BJP leaders were dictating terms to ED officers, picking up MVA leaders, their families and friends for inquiries. He said he knows which BJP leaders visit the ED office to brief the officers. "I challenge [the leader of the opposition] Devendra Fadnavis. Every day, a person goes to the ED office. A person speaks every day like a drunkard. If we enter their homes, they will find it difficult to travel to Nagpur. The Shiv Sena is Mumbai's dada [boss]," he added.
Raut said the ED questioned a florist and decorator who provided services during his daughter's wedding. "The florist was asked how much he was paid in cash. He told them that he didn't charge anything because he was a family friend, but they were threatened at a gunpoint."
He said he and other leaders would happily go to jail if the BJP wished, but they would ensure that their detractors were also put up in the cell next to the MVA leaders'. He said in the letter that he is not scared and he would not bow down. "I will continue to speak the truth, both in the House and outside it. However, for the government to use agencies like the ED to harass my family members, friends, relatives and even those not concerned with me, speaks of a decay in our political system," he further said.
Vulture no threat to lion: Fadnavis
Reacting to Raut's statement, Fadnavis said in Goa that Raut should stop playing the victim card. "Main unko yehi kehna chahata hun, sher kabhi kabhi gidhado ki dhamakiyonse dara nahi karte [the lion never gets scared of a vulture's threat]. He entertains us every morning with his statements. He is an editor and he knows which statements make good headlines."
Fadnavis said Raut should approach the courts if he had any grievances. "The Modi government doesn't victimise anyone. Raut should stop playing the victim card."
BJP leader Kirit Somaiya who has been pursuing the allegations against Raut and other MVA leaders alleged at a media conference that a company linked with the Raut family's business partner was rejected by the Pune Metropolitan Region Development Authority for its COVID-19 care centre, but was given the contract by the Mumbai civic body to run a centre in Worli. He said the Raut family's other business partner was already behind bars and being interrogated. "I want to assure Sanjay Raut and CM Uddhav Thackeray that all these cases will be probed," he said.